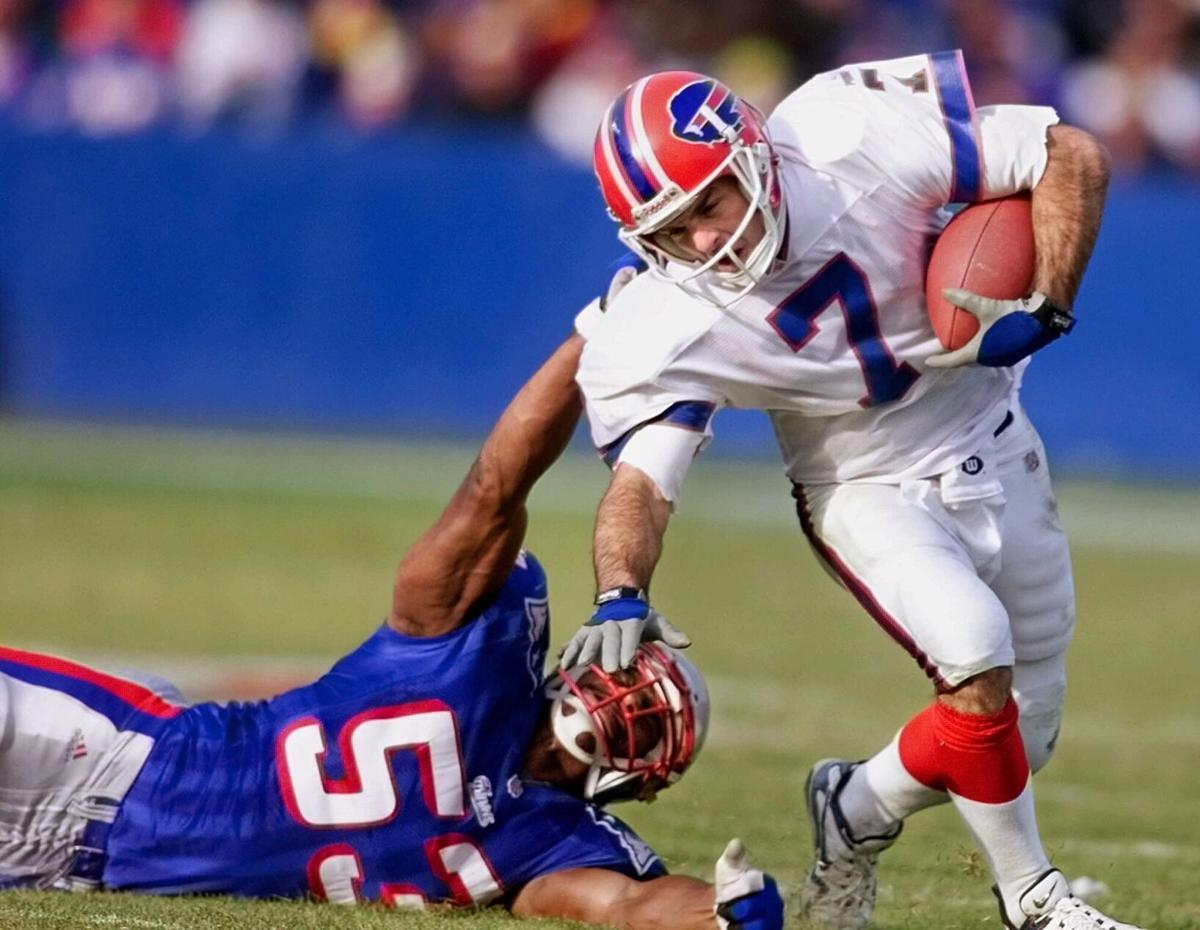 The last time the Buffalo Bills swept the New England Patriots it was such a nonevent that Doug Flutie, Thurman Thomas and Steve Christie, who kicked the game-winning field goal in overtime, don't even remember it.
Flutie completed his final 12 passes, Thomas churned out a team-high 115 yards from scrimmage and Christie ended it with a 23-yarder with 1:48 remaining in the extra session, but not before Adam Vinatieri missed three field goals for New England, including one at the end of regulation and another in OT.
"What?!" Christie said last week, his incredulity giving way to laughter. "That never happened. OK, I don't even remember that game."
It was Dec. 26, 1999, the day after Christmas, Bills at Patriots in the second-to-last week of the regular season. New England had been eliminated from playoff contention a week earlier, and Buffalo was heading toward the postseason for the second year in a row (and 10th time in 12 seasons), during the tail end of a stretch that included its unprecedented four consecutive Super Bowl appearances.
It was an ugly game. The Bills had dominated the Patriots, 17-7, a month earlier at Ralph Wilson Stadium, allowing only a long touchdown pass late in the fourth quarter, but this time slogged to a 13-10 final, overcoming an anemic start and three fumbles to improve their record to 10-5 and complete the season sweep of New England.
It's been 21 years, and they haven't done it since.
That can change Monday night in Foxboro. A week after the Dolphins plunged a dagger into the Patriots with a 22-12 triumph in Miami, eliminating New England from postseason contention for the first time since 2008 and ending its NFL-record streak of 11 consecutive playoff berths, the AFC East champion Bills can twist the knife.
"To say they can sweep the Patriots, it would be kind of a landmark thing," Flutie said, "because of the dominance of the Patriots over the last 20 years. It's really kind of marking the end of an era of their dominance and a shift in power in the AFC East.
"Miami and Buffalo are strong. And the Patriots, even though they managed to win six games so far, they've not been good. They find a way to compete and be close, but they just aren't a good football team. It's fun to see. It's a transition of power. And I'll tell you, what I want more than anything, the Bills have to finish strong in order to keep momentum going into the playoffs."
Buffalo opened as six-point favorites, the first time in Bill Belichick's 21-year tenure in New England that the Bills are favored at Gillette Stadium.
The Patriots have won 35 of the last 41 meetings and haven't been swept by a division rival since the Jets and Dolphins did it in 2000, an NFL record 19 consecutive seasons.
"That's insane," Thomas said. "I don't know about the rest of the guys over at One Bills Drive playing now, but I'm going in there thinking, 'Yeah, you know what? This means a lot. We won the division. Sure, that's fine. But you know what? I want to sweep the Patriots.'
"That should be the start of something, right? Maybe we do this for the next five years and sweep them every year, but it has to start somewhere, and I think these guys have to realize, you know what, it's our division now. Screw everybody else."
Twenty-one years since the last time it happened, a game that appeared unremarkable in the moment seems in retrospect an extraordinary fulcrum in the fortunes of each franchise.
The Bills' 13-10 overtime victory marked the final loss in Pete Carroll's tenure as coach of the Patriots, who weeks later hired Belichick.
"Wow," Flutie said. "So it really did mark the beginning of the new era for them."
It allowed the Bills to clinch a playoff berth the next day, when the Jets defeated the Dolphins on Monday Night Football in Miami in what was Dan Marino's final home game before he retired.
"Not even a clue of what the hell you're talking about," Thomas said. "I'm thinking 10-5, we're in no matter what."
And it set the stage for a "meaningless" regular season finale against the Colts, in which Buffalo started Rob Johnson in place of Flutie, leading to a controversial quarterback switch for the playoffs and one of the most painful moments in Bills history.
"Hey, I think I know why I forget," Christie said. "Was our playoff game that year the one against the Titans? The Throwback? That's why I forget. Because after that, I think everybody forgot about the whole season. After that whole throwback thing, yeah, that makes sense.
"That's why nobody can remember that game. Because it was overshadowed by the 'Music City Miracle.' That totally makes sense."
At this point in time, the Patriots weren't the Patriots.
And as far as the Bills were concerned, Miami remained public enemy No. 1.
"Dan Marino versus Jim Kelly, that whole thing, that was a legitimate rivalry," Christie said. "That was back in the day. That's when people went nuts for 'Squish the Fish.' It was just crazy back then."
Carroll never had a losing record in his three seasons with New England. He replaced Bill Parcells, who left following the team's 35-21 loss to the Packers in Super Bowl XXI. But the franchise saw diminishing returns each season.
In 1997, his first season, the Patriots finished 10-6 and reached the second round of the playoffs. In '98, they went 9-7 and fell in the wild-card round. In '99, they raced to a 6-2 start but staggered to 8-8, losing six of their final eight games.
Is Carroll fired if the Patriots split with the Bills and finish with a 9-7 record?
The Dolphins would have edged them for the final playoff spot, on account of their own season sweep, but it might have been more difficult for Robert Kraft to ax the coach with two years remaining on his five-year contract. Or it might not have played out any differently, his departure a fait accompli.
"You can go the other way," then-Bills coach Wade Phillips said. "If I don't get fired (with an 8-8 record the next season), maybe they don't go into a swoon for 20 years."
At the time, the rubber match with the Bills was one to forget for both teams.
"And I remember games," Flutie said. "Trust me. I can go back to high school, Pop Warner, college, you name it. And I usually remember the games. It was probably a very mediocre game for me and one we were kind of fortunate to win and we were just getting to the playoffs.
"And that's actually my last start of the season, too. Jesus."
Flutie completed 22 of 35 pass attempts for 212 yards without a touchdown or interception, but he was just 10 of 23 until midway through the fourth quarter. The reigning NFL Comeback Player of the Year completed his final 12 passes, leading the Bills on a game-tying touchdown drive in regulation and into field goal range twice in overtime.
Buffalo's offense had flailed at times under Flutie throughout the season, but its defense was suffocating.
The Bills finished the 1999 season ranked No. 1 in the NFL in total yards allowed (4,045), tops against the pass (2,675), fourth against the run (1,370) and second in points allowed (14.3 per game).
Drew Bledsoe completed just 10 of 21 pass attempts for New England, with no touchdowns or interceptions. He was sacked six times, twice by both Bruce Smith and Sam Rogers, once each by Pat Williams and Shawn Price. The Patriots were limited to 225 yards of total offense.
"Maybe I intentionally – we only scored 10 points – maybe I want to forget it," Flutie said. "You think I'd remember Adam missing three. I do remember lining up for the field goal and Christie kicking the field goal. That I remember. God. I can't. You're going to make me go find some highlights."
Vinatieri, kicking into a stiff wind, squanders New England's first possession by missing short from 44 yards.
Then Christie boots a 39-yarder on the Bills' opening drive for a 3-0 lead.
From there, the teams traded punts – and fumbles on back-to-back plays – throughout the first half, until a penalty put Vinatieri in position to connect from 38 yards as time expired in the second quarter, tying the score at 3-3 at halftime. At this point, both teams had less than 100 yards of offense.
The score remained unchanged heading into the fourth quarter, when running back Jonathan Linton fumbled for the second time. It was picked up by defensive tackle Chad Eaton, who ran 30 yards while most players stood around, unaware of the live ball, until Flutie cut him off and dove at his legs, upending the 303-pound lineman at the Buffalo 14.
The Bills unsuccessfully challenged the play. Linton clearly fumbled, but it appeared Eaton had been down by contact. The officials saw it differently, and the play was upheld. On the next snap, Terry Allen raced 14 yards for a touchdown, right up the middle of the field, giving the Patriots a 10-3 lead with 12:15 remaining in regulation.
After trading punts, Flutie took over, orchestrating an eight-play, 59-yard touchdown drive. He hit Sam Gash to convert on third-and-3, then connected with Peerless Price for 24 yards and Eric Moulds for 19 yards to the 1-yard line. Linton scored on his fourth consecutive crack at the goal line, including a play negated by a facemask penalty, with 4:23 remaining in the fourth quarter. Christie's extra point tied the score at 10-10.
Vinatieri butchered a 33-yard field goal attempt wide right at the end of regulation.
"Oh my goodness," Berman said. "We've hit wedges like that. But the Bills finally get a wide right to their favor."
The Patriots won the coin toss and drove into field goal range on their first possession of overtime, but Vinatieri missed another 44-yard attempt. He was on target but just short.
"And he hasn't missed since!" Thomas joked. "I really at that point in time don't even remember him being on the team."
Moulds fumbled on the Bills' first possession of overtime at the Patriots 21-yard line, but Buffalo forced a punt that Lee Johnson shanked 24 yards, out of bounds.
The Bills took over at their own 42-yard line and marched 52 yards in 10 plays to win the game.
Flutie completed five passes, including an 11-yard strike to Moulds on third-and-4, and Thomas carried the ball on three consecutive plays, picking up 12 yards to the Patriots 6.
On third-and-1, with 1:48 remaining in overtime, Christie kicked the game-winning field goal from 23 yards away.
"I do remember that game going into overtime and Christie kicking the field goal to win it," Thomas said.
"I do remember Steve kicking a game-winner there," Flutie concurred, "and obviously that's the one, but it just didn't hit me as the Patriots game, or as sweeping the Patriots that season."
"Games like that, you kind of done and dust it sort of thing, where you get on the plane and you're like, 'Whew, got out of that one,'" Christie said. "And you forget about it. And you look forward to what was going on. And I guess because that game itself didn't clinch anything for us, maybe that's why it just doesn't stick out. Because it did depend on what happened on that Monday night."
The Bills didn't clinch a playoff berth until the next day, when Jets beat the Dolphins, 38-31, on Monday Night Football in Miami in Marino's final home game.
"Holy smokes," Christie said. "Who was the quarterback for the Jets then?"
Ray Lucas completed 11 of 23 passes for 190 yards and three touchdowns.
"Ray Lucas?!" Christie said. "Good night."
Marino was 29 of 52 for 322 yards and three touchdowns, but also tossed three interceptions.
The Dolphins lost six of their final eight regular season games but made the playoffs.
The next two weeks, Buffalo will never forget.
The Bills, guaranteed the No. 5 seed in the playoffs, deactivated Flutie and started Rob Johnson for the "meaningless" regular season finale against the Colts on Jan. 2, 2000, in Orchard Park.
The Colts, led by the 23-year-old Peyton Manning, had sewn up the AFC East title and first-round bye but were still playing for the No. 1 seed and home-field advantage throughout the playoffs.
And Johnson smoked them, leading the Bills to a 31-6 victory and igniting an offense that had struggled all season under Flutie.
Johnson, who'd thrown just two pass attempts all season, went 24 of 32 for 287 yards and two touchdowns while spreading the ball to eight different receivers. Moulds finished with eight catches for 110 yards and Andre Reed had five catches for 23 yards, a week after being held without a reception in the victory at New England.
Johnson led touchdown drives of 83, 80 and 82 yards on the Bills' first three possessions, igniting an offense that had mustered just five drives of at least 80 yards all season with Flutie at the helm.
"Rob Johnson had a hell of a game," Thomas said.
"I remember all that," Christie said. "We beat the Colts. And the Colts didn't care because they were already in."
Ralph Wilson, the Bills' owner, pushed Phillips to start Johnson instead of Flutie in the team's playoff game at Tennessee, given his success in the finale, a stance Phillips said he understood.
Johnson completed 10 of 22 passes for 131 yards, no touchdowns or interceptions against the Titans. He was sacked six times and fumbled twice, losing one, but Christie kicked a 41-yard field goal to give the Bills a 16-15 lead with 16 seconds to play.
Everyone knows what happened next.
"Now I remember that (expletive)," Thomas said.
"People say maybe Doug would have made the difference, certainly," Phillips said, "but we were ahead with whatever seconds left in the game. Christie kicked the field goal that really should have won the game. And it still was a forward lateral, but that's never going to change."
Sweeping the Patriots weeks earlier escapes them.
"I don't remember too much about it," Phillips said. "I remember him kicking the field goal to win the game at the end, because we obviously needed the game to get in the playoffs. And then we were locked into the playoffs the next week, so that's when we played Johnson at quarterback, the last game of the year, and won that one pretty big."
"Certainly for me, it was just overshadowed by what happened in the playoffs and Wade firing (special teams coordinator) Bruce DeHaven," Christie said. "And that was the end of the Bills, as far as I was concerned."
Buffalo, up against the salary cap, also released Thomas, Reed and Smith, the last remaining players from their four consecutive Super Bowl teams, after the season, marking the end of an era.
They missed the playoffs in each of the next 17 years.
"It's really encouraging right now the way they're playing," Flutie said. "It's not like they're limping into the playoffs or anything. They've really been playing well."
By winning the division, the Bills have qualified for the postseason for the third time in four seasons and will host a playoff game for the first time since 1996.
They can secure the No. 2 seed in the AFC by winning their final two games, beginning Monday night at New England, but the home finale against the Dolphins could also wind up being "meaningless."
"That's always very interesting to me from a coaching perspective," Christie said. "How do you plan for that? And having been part of the Bills-Colts scenario … it does matter. Sometimes it matters a whole lot, when you don't think it will.
"I'm a firm believer that you keep playing and you just keep the momentum going and knocking New England off is just part of the journey. I'd like to see them beat Miami, too, even if it doesn't mean anything. Any division game is just that. And I understand the possible playoff scenarios. But … you want the guys to be sharp and you want them ready to go for whoever we're going to get in the playoffs."
The wild card game could be against Miami or Indianapolis, and with the Patriots out of the picture, we've come full circle.
The Bills, Dolphins and Colts could be in the playoffs together for the first time since 1999.
"How about that?" Christie said. "Incredible, really. It's funny how things change, but here we are again."