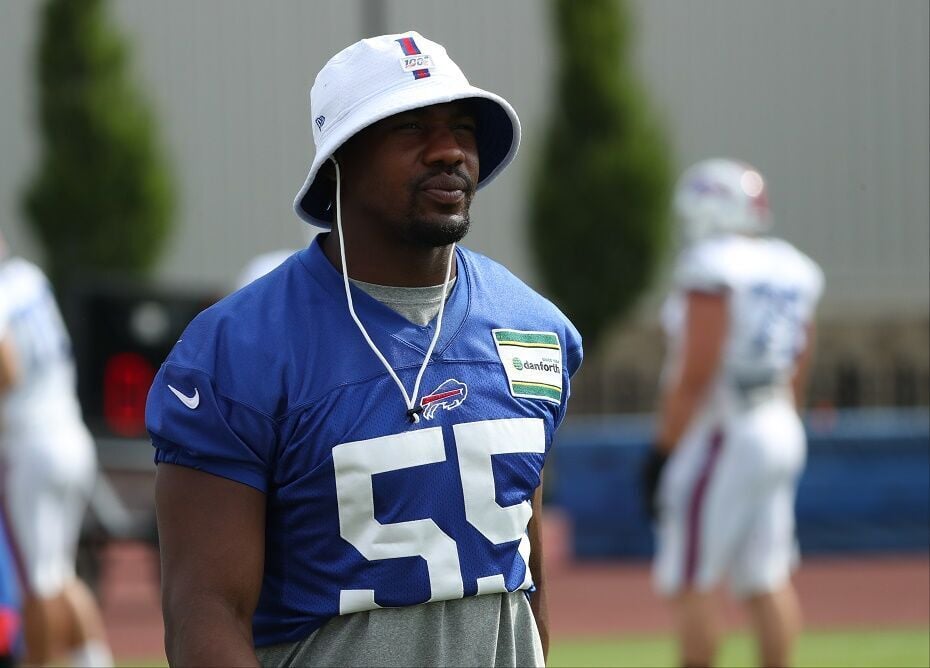 The latest flashpoint in the movement for social-justice reform prompted Buffalo Bills coach Sean McDermott to consider joining other NFL teams in canceling practice Thursday.
The decision was made to press on with the session, as scheduled, at Bills Stadium. However, McDermott said there has been and will continue to be plenty of dialogue within the club in the wake of the shooting of Jacob Blake by police in Kenosha, Wis., and resulting protests that have spilled into sports.
"I can tell you that I thought about (canceling practice), we thought about it from the administrative side," McDermott told reporters during a Zoom call before the full-pads workout, designed to simulate game conditions. "We've had and will continue to have ongoing conversations about things that are going on in our world and the result of those things."
Nine NFL teams, including the New York Jets – against whom the Bills are scheduled to open the season Sept. 13 – called off practices in the aftermath of the decision by NBA, WNBA and MLS players and six MLB teams not to play Wednesday night.
At the behest of McDermott, Bills players held a meeting Wednesday night to share their views about the events that have sparked outrage. In separate Zoom calls with reporters Thursday, defensive end Jerry Hughes and running back Devin Singletary said the exchanges were healthy and necessary to keep the team united. They also said that they and their teammates are contemplating what steps they will take in using their platform to collectively raise awareness about social injustice.
Hughes described the the Blake shooting as "a horrible, disgusting, tragic incident that took place."
"I'm still trying to understand why the people who are sworn to protect and serve Americans are still shooting Americans in their backs," Hughes said. "You know, they're still shooting and killing Americans by stepping on on their necks and things like that. Doc Rivers said it best: 'This is a country that my ancestors, your ancestors, have worked so hard for and we love this country. We love being in this country. We just want the people who live in this country to respect us and to treat us like humans as well.'
"So, you know, Dr. King, he laid it out beautiful in his 'I Have a Dream' speech. We're still waiting for those days to come where African-American men and women will be treated with the same respect as other Americans have been getting throughout this entire time in this country. So, I'm still disgusted, heartbroken as to what's going on because these things, these acts, these violent acts by police officers have been taking place since my great grandparents were alive."
Singletary said the Wisconsin shooting was "hurtful to see" and hit home with him as a young black man.
"It's still going on, it's been going on, it's just being brought to light now," Singletary said. "That could have been my brother, that could have been my cousin, that could have been a family member. Know what I'm saying? You don't ever want to see that. What's right is right and what's wrong is wrong, and that's wrong. So, something's got to give. ... We know we won't be able to fix it overnight, it's going to take time. But we need to see some some type of progress."
Bills co-owners Terry and Kim Pegula released a statement supporting the players in the NFL and other sports who have demonstrated on behalf of social justice reform.
"We applaud the athletes who have taken a stand this week, and all athletes who have spoken out against racial injustice," the statement said. "The sports community has the power to lead the discussion and affect change. We remain committed with players, coaches, and staff in our dedication to eradicating racism and inequity. This is bigger than sports."
McDermott described the stands taken by players, coaches and staffs around the sports world as "admirable."
"Actions need to be taken," the coach said. "Each and everyone has their own opinion as to what is the right thing to do. We continue to try to do the right things in our organization. I certainly can't affect or impact what other decisions are made outside of our organization. But inside of our organization, we're always going to try and do the right thing."
Asked whether any of his players approached him about not practicing, McDermott said, "We don't make anybody do anything they don't want to do around here. We're an open team. My door is always open. They know where we my heart is and where the organization's heart is. They understand that always, they have that option. … These are emotional conversations, these are emotional feelings and emotional decisions."
Protests aren't the only way NFL players, coaches and staff are trying to make an impact. Another is through their wallets. In 2019, the Bills' charitable donations in connection with the league's Inspire Change Initiative totaled $269,000, including matching contributions from club ownership and the NFL.
In late March, the money was donated to 16 Western New York charities, as chosen by the players. The causes on which they focused were racial equality, community-police relations, youth programs and food relief. The outreach came in the aftermath of the killing of George Floyd in May in Minneapolis that spurred widespread demonstrations.
Due to the coronavirus pandemic, the Bills' players couldn't make the donations in person, so they did so via Zoom calls. Hughes, offensive tackle Dion Dawkins and some of their teammates participated in the presentations.
"I feel like, for the most part, it's us doing our part together to help our community and give back in the best way that we see fit," Hughes said in a recent Zoom call with The Buffalo News. "A lot of us kind of do it individually, going out to the different Boys and Girls Clubs, trying to do different things with a bunch of after-school programs. But we felt like, coming together as a team and being able to do so under the social justice umbrella, we could really impact a lot more people and for the greater good."
The charities receiving funds were the Belle Center; Big Brothers Big Sisters of Erie, Niagara & the Southern Tier; Boys and Girls of Buffalo; Breaking Barriers; Buffalo-area Engineering Awareness for Minorities; Buffalo Police Department; FeedMoreWNY; Gateway-Longview Inc.; Gloria J. Parks Community Center/University District Community Development Association; MISSION: IGNITE Powered by Computers for Children; OLV Human Services; Rural Outreach Center; Say Yes to Education; Special Olympics New York, Inc.; Summer Food Relief; and Youth Employment Coalition.
"We've all grown up in this country and we all understand what takes place for African American men and women and how, socially, they have been killed in an unjust fashion," Hughes told The News. "So, we felt like it was big this year to kind of really make sure that we get the guys to come together, so that way we can go out and help educate the youth, help give back in any way that we can. If you're lacking in any type of educational supplies and need any kind of words of encouragement, we could be there for them as people have been throughout our life, and just try to continue to do some good in the midst of all this."
Amplifying the Blake shooting was NFL commissioner Roger Goodell's acknowledgement this week that the league "should have listened sooner" to concerns raised by Colin Kaepernick four years ago. Kaepernick started a movement throughout sports by not standing for the National Anthem before a preseason game when he was with the San Francisco 49ers.
In July, the league announced that players will be allowed to wear helmet decals honoring victims of systemic racism for their home openers. Teams also can post messages in their end zones such as "It Takes All of Us" and "End Racism" for those games.
McDermott said Thursday it has yet to be decided, within the team, if players will kneel for the National Anthem this season or take another group action.
"It's something that is obviously very serious," McDermott said. "It's a situation we take very seriously here, as I said from the start, and those conversations are ongoing and will continue. We have not, at this point, put an end to those conversations in terms of coming to any finality on anything."
Dawkins, who recently received a $60 million contract extension, said he and his teammates have a responsibility to use their wealth and platform to help others.
"I think that the community needs people that they can lean on," Dawkins said in a Zoom conference call with The News. "When guys have platforms, it can be an easy tool for people to just go, 'Let's listen to what those guys are saying and ride in the passenger seat with them and let's just keep this thing moving and let's address everything that needs to be addressed together.' "
Hughes said his awareness of social justice issues has grown substantially in the 10 years he has spent in the NFL. He acknowledges that feeling was nowhere near as prominent while he was at Texas Christian University.
"I think we, as young African-American males, felt like by the time we came into our 30s, that this issue would kind of be resolved," Hughes told The News. "And we see that our country is still dealing with this racial barrier. For us to kind of use our platform to be able to connect with kids from certain demographics, from certain areas all around the country, I think it's great for us to kind of do just because we all have children now that we have to raise in this country. And you don't want them to have to deal with certain things that we have dealt with growing up and we certainly don't want to be able to put that on them as to where it needs to end or be resolved by the time they come of age.
"I think this has been perfect for us, because of where we're at in our lives. I'm 32, other guys (on the team) are in their 20s, but we all have children and we all understand that in order for us to make a change in this country, to make the world a truly a better place, especially our country, for our kids growing up here, we have to be a lot more vocal."
On Thursday, he made pointed remarks to reporters about criticism that athletes have received for addressing social justice and other issues not pertaining to sports.
"Not to offend anyone, but sometimes ignorance needs to be educated," Hughes said. "And I think, when people tell us athletes, 'Just play football, focus on stuff like that,' we have to remind them that once we take off that football jersey and we go home to our respective states or even by me driving home to my house here in Buffalo, N.Y., I'm viewed as a black man, not a football player, not Jerry Hughes. I am a black man. If they're looking for a black man with curly hair on the streets, 6-2, I fit that description. That's who they're going to come after. And I think people have to understand that.
"I think the more and more we talk about it, the more light we bring into the situation that, 'Yeah, I play football, but no one knows that once I take my helmet off.' And they need to understand that this is what my father goes through, my siblings, my kids, people who look like me, they go through this on a daily basis where they can't throw out an NFL card that, 'Oh, OK, well, I'll lower my gun and take my finger off the trigger because you play in the NFL.' A lot of people aren't rewarded that fame pass, as I like to say."