Year of the Deer: 10 wins that helped propel Bucks to NBA's best record
As the Milwaukee Bucks prepare to face the Detroit Pistons in the first round of the NBA playoffs after finishing with a league-best 60-22 record, take a chronological look back at 10 key victories from the franchise's best regular season since 1980-81.
Oct. 19: Bucks 118, Pacers 101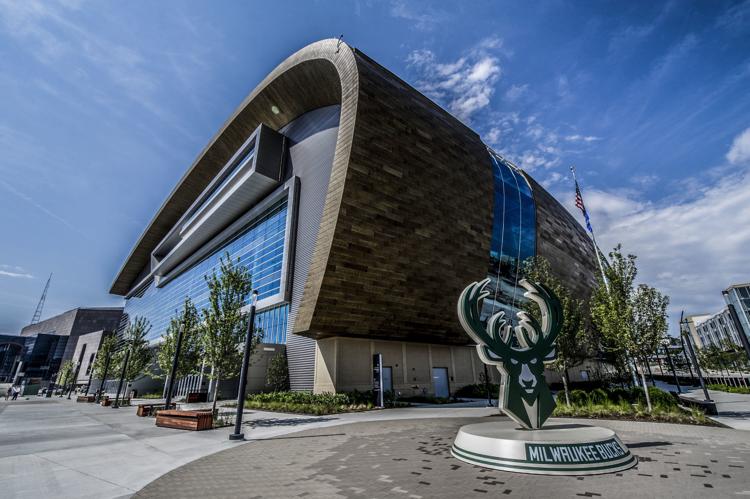 While the Fiserv Forum had been hosting events — including Bucks preseason games — for a couple of months, the building's true opening night came Oct. 19, 2018, when the Milwaukee Bucks defeated the Indiana Pacers, 118-101, in the first regular-season NBA game at the newly opened arena. 
Giannis Antetokounmpo had 26 points and 15 rebounds and Khris Middleton added 25 points as the Bucks hoisted up 47 3-point attempts in a sign of things to come under first-year coach Mike Budenzholer.
Despite Antetokounmpo missing all seven of his 3-point attempts, Budenholzer made it clear from the start that he wanted the team's star to keep firing from long range.
"As far as shooting, I want him to shoot. If he's open, I want him to let it fly," Budenholzer said after the Bucks started the season 2-0. "I want him to be confident. Again, he can be a lot better. I'm sure tonight he's going to go home and think about all they ways he can be better, and for us, that's exciting."
After the win, Antetokounmpo talked about how perimeter shooting is part of Budenholzer's philosophy.
"That comes from coach," said Antetokounmpo, who was 0 for 10 beyond the arc in the first two games of the season. "He wants to shoot the ball. Like, I was 0 for 7 today, but I'm going to keep shooting."
Middleton had five 3-pointers, including a four-point play that put the Bucks up 111-88 with 5:03 remaining.
Nov. 8: Bucks 134, Warriors 111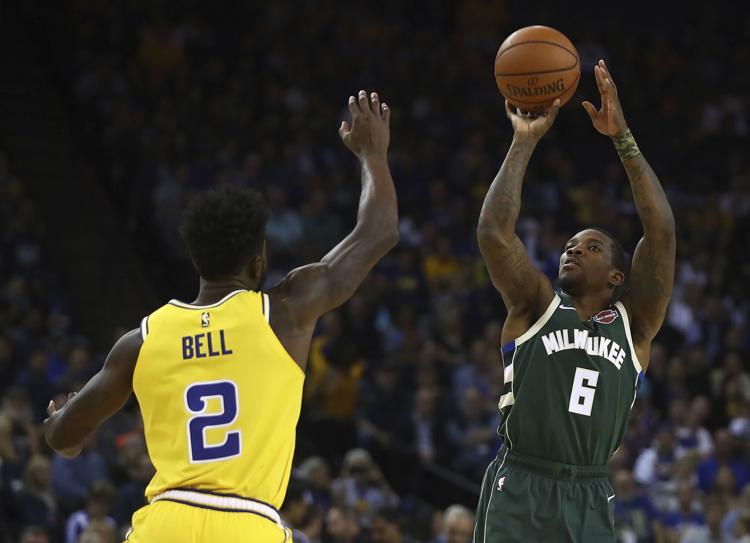 Bucks guard Eric Bledsoe finished with 26 points after scoring seven straight during a big third quarter for Milwaukee, while Giannis Antetokounmpo added 24 points, nine rebounds and four assists as the Bucks snapped the Warriors' eight-game winning streak, handing Golden State its first home loss of the season.
Even though the Bucks were still months away from locking down the best record in the NBA, Antetokounmpo knew even then how important the win over the Warriors was. 
"That we've arrived," Antetokounmpo said then of the message the victory sent. "As a team we played really hard, we moved the ball real well and we made shots.
The two-time defending NBA champions were already missing All-Star Draymond Green and then lost Stephen Curry midway through the third. Despite the two-time NBA MVP straining the adductor muscle in his left leg and not returning to the lineup until Dec 1, Golden State finished the regular season as the top seed in the Western Conference.
Malcolm Brogdon scored 20 points and Khris Middleton had 17 and six assists as Milwaukee won for the second straight time at Oracle Arena after a 116-107 victory on March 29. The Bucks outscored the Warriors 41-28 in the third and shot 65% inside the arc (43 of 66) overall.
"To come in here and play the defending champs and have a win like this, it's huge," Brogdon said. "It's huge for our confidence. I think it sends a message around the league, but regardless we have to continue to play hard every night and play on both ends."
Nov. 21: Bucks 143, Trail Blazers 100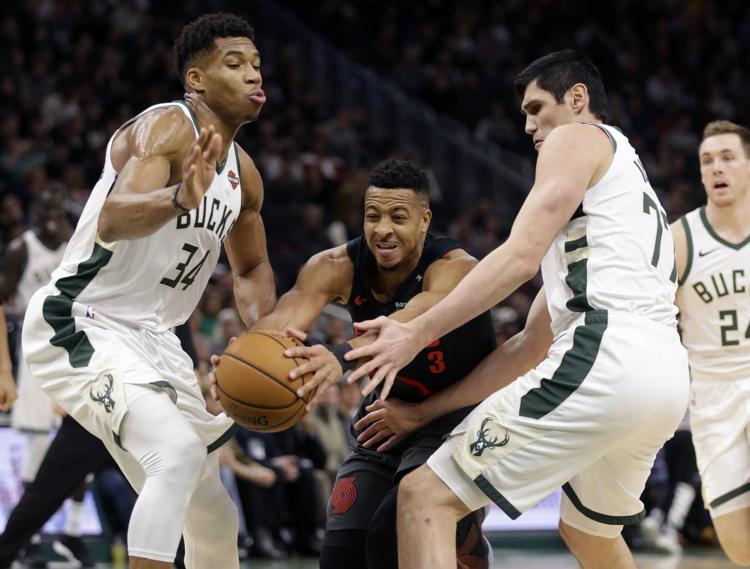 Giannis Antetokounmpo scored 33 points and finished an assist short of a triple-double in three quarters to help the Bucks avenge an early season loss to the Trail Blazers in dominating fashion.
Milwaukee, which lost at Portland 118-103 on Nov. 6, led the entire way en route to a 143-100 victory in Milwaukee, picking up its 13th win in 17 games.
CJ McCollum and Damian Lillard each had 22 points for the Trail Blazers, who entered with the best record in the Western Conference and slipped to 12-6.
Milwaukee led 31-20 after one quarter and extended it to 72-50 at the half. The Bucks led 109-79 entering the final period. The 43-point margin of victory was the Bucks' largest since defeating Charlotte by 50 points, 137-87, on Jan. 10, 2000.
Khris Middleton had 21 points and Malcom Brogdon and Eric Bledsoe added 16 points apiece for the Bucks, who outrebounded Portland 59-39.
Antetokounmpo, who had 25 first-half points on 11-of-14 shooting, added 16 rebounds and nine assists in 30 minutes as the Bucks moved to 13-4, the best 17-game start to a season for Milwaukee since 1980-81, which was also 13-4.
Dec. 21: Bucks 120, Celtics 107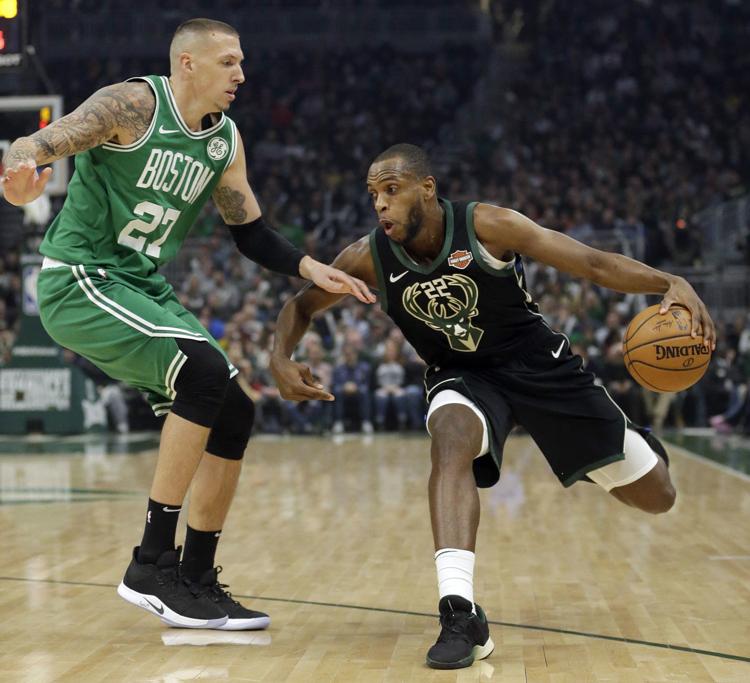 Giannis Antetokounmpo scored 30 points and got the Bucks rolling on an early 16-0 run that put Milwaukee in command for good in a 120-107 win over the short-handed Celtics in Boston. 
Khris Middleton had 21 points and nine rebounds and Tony Snell scored 15 as Milwaukee picked up its sixth win in seven games.
After falling behind 10-1 in the first quarter, Antetokounmpo got Milwaukee's first field goal 2:59 into the game on a dunk that started the Bucks on a 16-point run and dazed the Celtics, who never recovered.
"We haven't lost twice to the same team this year," Antetokounmpo said after the win. "It's a good feeling, coming in here and getting a win in here because they play so well at home."
Kyrie Irving had 15 points, nine rebounds and seven assists for the Celtics, whose frustrations after their third straight loss carried over and led to a lengthy closed-door meeting after the game.
Boston's locker room remained closed for nearly 40 minutes after the game ended. Players wouldn't get into specifics about what was said, but it was clear that inconsistent play following an eight-game winning streak was one of the topics discussed.
"It was well needed," Boston's Jaylen Brown said after the meeting. "It was definitely well needed and we're trying to move forward in the right direction."
While Boston struggled at times throughout the season and didn't live up to NBA experts' lofty preseason predictions, the Celtics were able to secure the fourth seed in the East and homecourt advantage in a first-round matchup with the Indiana Pacers after finishing the season 49-33.
Jan. 31: Bucks 105, Raptors 92
Giannis Antetokounmpo scored 19 points, newly named All-Star reserve Khris Middleton had 18 and the Bucks beat the Raptors 105-92, ending Toronto's season-best home winning streak at 10 games.
"It's big for us but we've got to stay humble, keep working hard, keep working on our game and keep moving forward," Antetokounmpo said after the victory. "We know we're going to be back here eventually."
D.J. Wilson scored 16 points, then a career high, and Eric Bledsoe had 14 as Milwaukee clinched the season series with its third victory in four meetings with Toronto.
The victory ensured Milwaukee would have the best winning percentage in the East through Feb. 3, which meant Bucks coach Mike Budenholzer got to represent the conference at the NBA All-Star Game on Feb. 17 in Charlotte, North Carolina.
"It's a great honor," Budenholzer said. "It says a lot about our team. The players are the ones who put the coaching staff in that position. I'm incredibly grateful to our entire roster."
Milwaukee had not won the season series against Toronto since 2012-13.
"It was a great playoff atmosphere, a very good test for us," Milwaukee center Brook Lopez said.
With the Bucks holding off the Raptors for the top seed in the East, if the teams advance far enough to meet in the playoffs, the matchup would come in the conference finals with a trip to the NBA Finals hanging in the balance. 
Feb. 27: Bucks 141, Kings 140 (OT)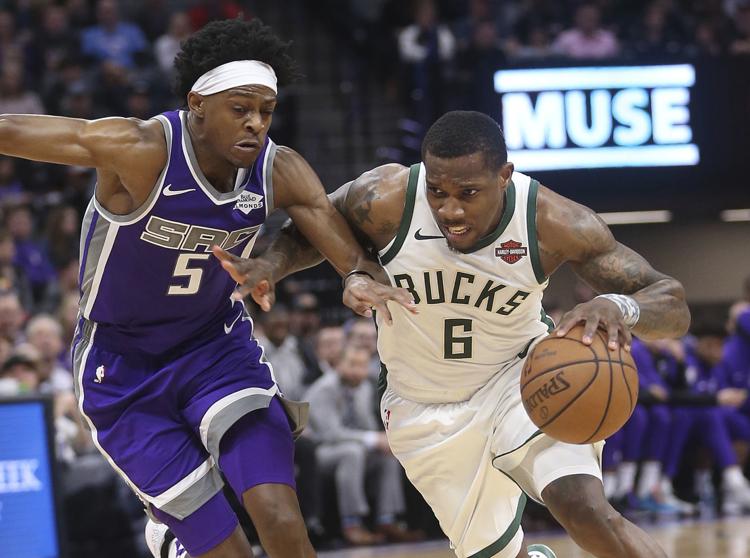 With Giannis Antetokounmpo watching from the bench because of a minutes restriction and Khris Middleton joining him after cramping up, Milwaukee coach Mike Budenholzer leaned on two other starters in overtime.
Eric Bledsoe and Malcolm Brogdon were up to the task.
Bledsoe scored five of his 26 points in overtime, Brogdon added 25 points and a 3-pointer late in the extra period while Milwaukee's two All-Stars rested, and the Bucks beat the Sacramento Kings 141-140.
"It builds a lot of confidence," Budenholzer said. "All year we've been talking about different guys can step up and make plays. For Malcolm to make a shot, for Bled to make all the big plays he did, it speaks well for us going forward."
Bledsoe added 13 assists and 12 rebounds to help the Bucks to their sixth straight win. Nikola Mirotic, appearing in his fourth game for the Bucks since being acquired in a mid-season trade, scored 21 points while connecting on 5 of 8 3-pointers.
Winning while Antetokounmpo and Middleton sat down the stretch made it sweeter for Milwaukee.
"We've got the best record in the league for a reason," Bledsoe said after the overtime victory. "Even though those are our two best players we still have a full, complete team out there playing."
Antetokounmpo scored 17 points in 25 minutes and made a pair of key baskets for Milwaukee late in the fourth quarter, but spent nearly all of overtime on the bench with a grey towel wrapped around his shoulders in his first game back from a sore right knee. He came back with 11.8 seconds remaining and made three inbounds passes but did not take a shot.
March 15: Bucks 113, Heat 98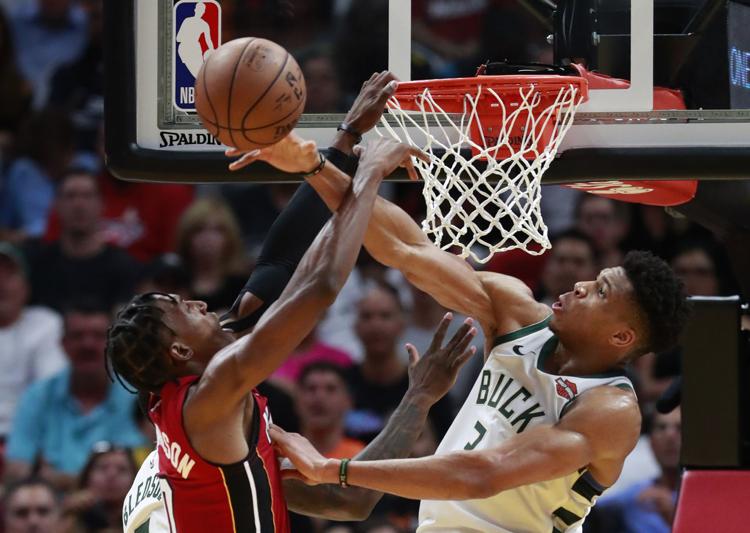 There was no yelling and screaming in the Milwaukee locker room at halftime. A little bit of film got reviewed, a couple adjustments got discussed, and the Bucks believed a 20-point deficit could be overcome.
They were right.
Giannis Antetokounmpo scored 33 points and finished an assist shy of a triple-double, and the Bucks tied a franchise record for second-half comebacks on the way to beating the Heat 113-98 in Miami.
"It doesn't matter if you're down 20, 15, 10," Antetokounmpo said after the comeback win. "We're going to keep playing hard. It's a process. You've got to win games like this. You've got to face adversity when you're playing on the road. In the playoffs, it's not going to be easy. We want to be a great team and that's why we keep playing hard."
The Bucks were 1-100 all-time — 0-77 on the road — when trailing by 20 or more at the half. They trailed 72-52 at the half against the New York Knicks on Feb. 18, 1977, and won 124-123.
Milwaukee also became the first team in NBA history to trail by at least 20 at the break and wind up winning by at least 15 points.
The Bucks lost Malcolm Brogdon in the first quarter to a sore right heel. Brogdon, the 2016-17 Rookie of the Year, remains sidelined with a plantar fascia tear, though the Bucks remain hopeful he will return during the playoffs. 
March 26: Bucks 108, Rockets 94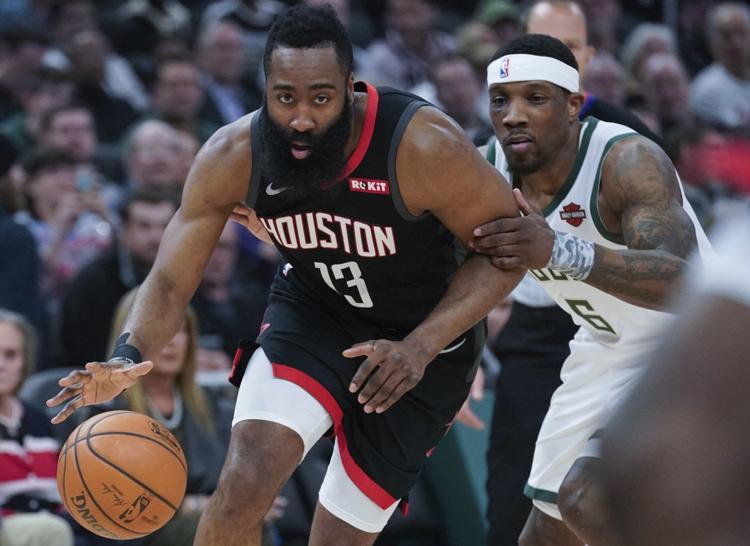 Eric Bledsoe stepped to the front in a marquee matchup between the Milwaukee Bucks and Houston Rockets.
With top-billing going to MVP front-runners Giannis Antetokounmpo and James Harden, the feisty guard turned in one of his best all-around performances of the season as the Bucks pulled away for a 108-94 victory at Fiserv Forum.
Bledsoe scored 23 points, including 16 in a decisive third quarter, and tightly guarded Harden for most of the game.
"I just try to play to my strengths," Bledsoe said.
Antetokounmpo had 19 points and 14 rebounds for Milwaukee, which improved to an NBA-best 56-19 with the victory and inched closer to securing homecourt advantage throughout the playoffs.
Harden scored 23 points and Chris Paul had 19 for Houston, which lost for just the third time in 17 games. Harden shot just 9 of 26, including 1-for-9 from 3-point range with Bledsoe closely guarding him throughout most of the game.
"We had our open shots. We couldn't knock them down," Harden said. "We competed but they went on a run in that third quarter and that was it."
After a tightly contested first half, the Bucks grabbed control in the third quarter, sparked by Bledsoe's clutch shooting. Leading by five at halftime, Milwaukee built a 19-point lead in the third. Bledsoe went 4 of 5 on 3-pointers in the period after missing his only two attempts in the first half. His third-quarter output, which included a single-handed 11-0 run, nearly matched the 18 points scored by Houston.
"Everybody got energy out of that and we played even harder," Antetokounmpo said after the win. 
April 4: Bucks 128, Sixers 122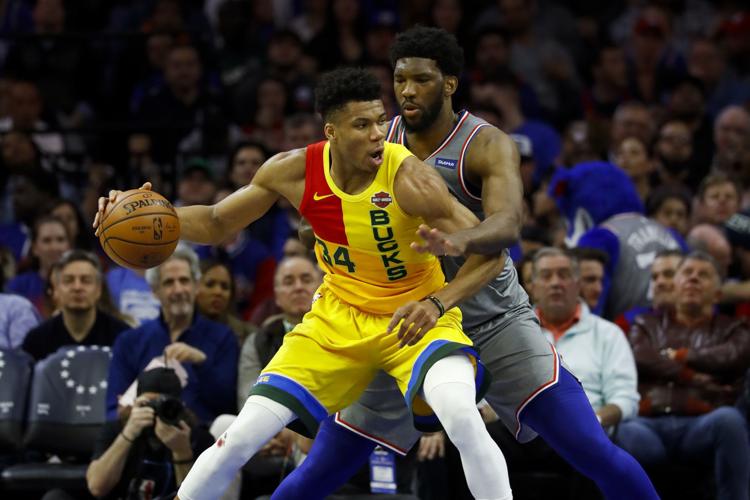 Giannis Antetokounmpo helped Milwaukee lock up the No. 1 seed in the East — and home-court advantage throughout the playoffs — with another MVP-worthy performance, outdueling Joel Embiid and finishing with 45 points and 13 rebounds to lead Milwaukee over Philadelphia and clinch the top spot in the conference.
"I was just trying to make plays and try to find the opportunity to attack," Antetokounmpo said after the win in Philadelphia.
Antetokounmpo reached 25 or more points and 10-plus rebounds in a game for the 42nd time this season.
"He's been doing it all for us this whole season," Bucks All-Star Khris Middleton said.
Middleton added 22 points and George Hill had 20 for the Bucks, who locked up home-court advantage with three regular-season games remaining.
"It's been a really special year," Bucks coach Mike Budenholzer said. "I'm very proud of the team."
Embiid returned from a three-game absence and had 34 points, 13 rebounds, 13 assists and three blocks. He tipped his cap to Antetokounmpo.
"He's a helluva player," Embiid said. "You know every time you go against him it's a challenge. He's really good."
April 7: Bucks 115, Hawks 107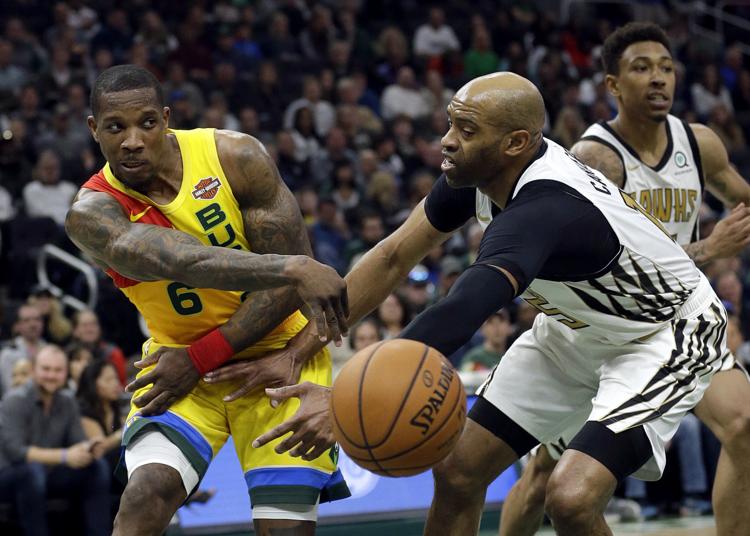 Giannis Antetokounmpo was in a perfect position to put the Bucks' 60-win season in perspective.
Antetokounmpo scored 30 points and Khris Middleton had 21 to send Milwaukee to a methodical victory over the Atlanta Hawks at Fiserv Forum, giving the Bucks 60 wins for the first time since 1981.
"Six years ago, my first year here, we won 15 games," said Antetokounmpo, who was a 19-year-old rookie in 2013-14. "Now, we have four times that amount. It's big. Our goal coming into the season was to get 60 wins. You definitely have to appreciate it because it's pretty special.
"Now, we have to refocus and look forward to the playoffs."
The Bucks, who had already clinched the best record in the Eastern Conference, led from the outset as the Hawks rested leading scorers John Collins and Trae Young.
"It was great for them to close it," said Bucks coach Mike Budenholzer, who coached Atlanta to 60 wins in 2014-15. "Khris has a knack for hitting those big shots and it's great of Giannis to see a 3 go down to kind of finish the night. Those two guys are special. It makes a big difference."
---
Sources: Associated Press, nba.com, basketball-reference.com