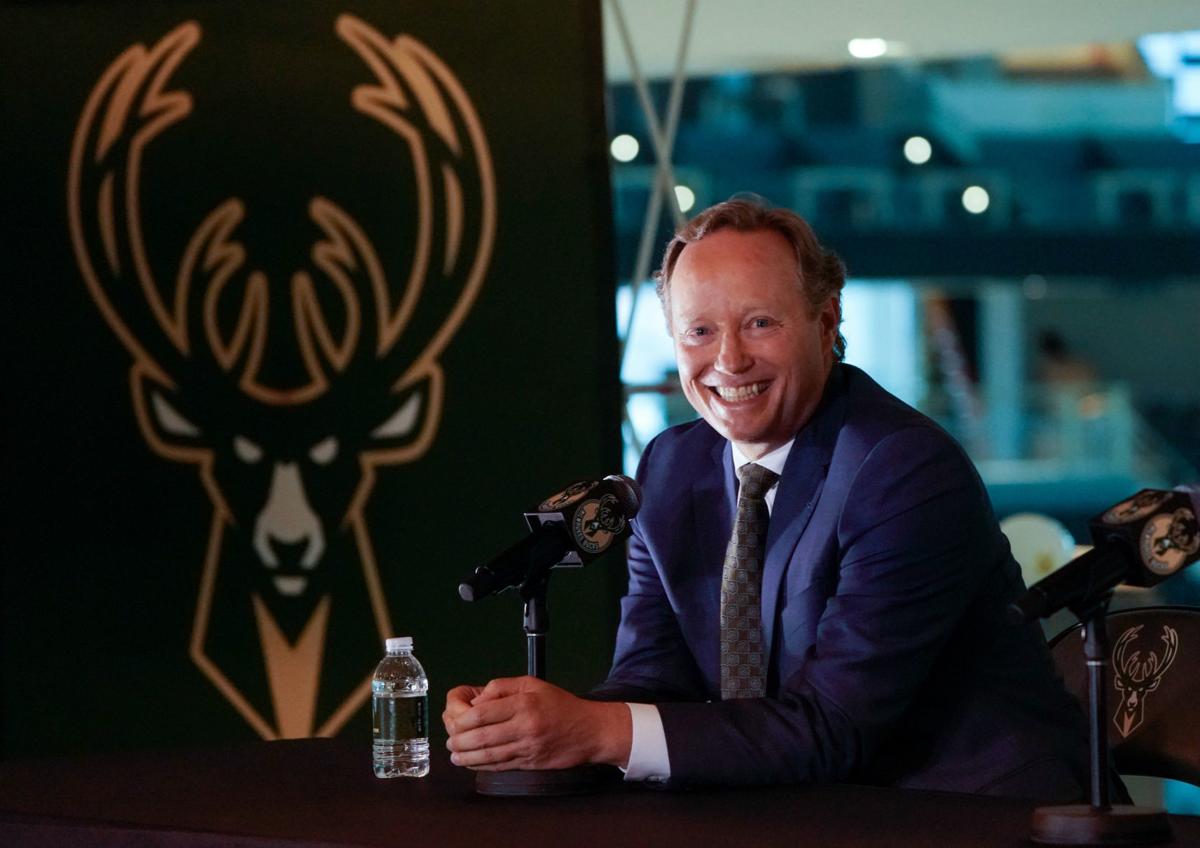 MILWAUKEE — The breakfast new Milwaukee Bucks coach Mike Budenholzer shared with star players Giannis Antetokounmpo and Khris Middleton during the interview process last week was very informative.
First, it showed how much the Bucks had fixated on Budenholzer even as they looked at other coaching candidates. Second, it gave Budenholzer an idea what Milwaukee's two best players wanted.
"Do they like berries or bacon or ham?" he said Monday, four days after he became coach of the Bucks. "What do they want with their breakfast?"
Budenholzer was kidding, of course, so don't get the wrong idea. The Bucks didn't hire a coach to fetch coffee for his players every morning. Instead, they hired a coach with a legitimate chance at taking their stalled-out team to the next level because he has a track record of developing players and has already built winning NBA teams.
When the Bucks finally got around to holding an introductory news conference for Budenholzer on Monday, one thing became evident: The collaboration of Budenholzer and Antetokounmpo will determine the Bucks' future.
"There's a lot of reasons to be excited about coming to Milwaukee, but there's no doubt Giannis is one of (the biggest)," Budenholzer said. "He's so important to our success. I think he embraces his leadership role and how he needs to grow and improve and get better along with all of the rest of us. So the excitement level is through the roof."
Budenholzer and general manager Jon Horst spoke extensively Monday about the coach and the organization being the right fit. Clearly, the Bucks thought hiring a coach who had a winning record over the past five seasons in Atlanta and who learned from NBA legend Gregg Popovich with San Antonio for the previous 16 seasons was the boost the team needed at this point. And Budenholzer cited the importance of having owners who want to win, a general manager willing to work in tandem with the coach and players who have remaining growth in their games as an ideal situation.
You have free articles remaining.
"The longer the process went on, the greater the fit felt," Budenholzer said. "When you're building a team ... lots of times fit is almost more important than anything. How do people fit together on the court? How do people fit together in the front office and the coaching staff and ownership? That became the overwhelming feeling, that this was a great fit for me and my coaching staff that I'm excited about bringing and working with these players. I just think there's so much potential here."
It starts on the court, where the Bucks never consistently played to the level of its talent. Budenholzer's job is to develop the players like he did in Atlanta and create a culture of competitiveness and unselfishness like he saw during his time as an assistant coach in San Antonio.
But let's not kid ourselves here, the Bucks' future is tied directly to Budenholzer's ability to maximize Antetokounmpo's many talents. Though he has moved into the upper echelon of NBA stars, the "Greek Freak" is still only 23 years old and he needs to get better for his team to get better. Antetokounmpo has three years remaining on his contract before he could hit free agency, so it is imperative that the Bucks make the jump from making the playoffs to contending for titles and do it quickly.
The Bucks had attractive options among both head coaches and assistants, but likely due to the urgency of their situation, they chose the safe route, taking a proven team-builder in Budenholzer.
"We wanted to interview and spend time with a lot of quality candidates and experience mattered," Horst said.
"There's no doubt that we've done some things well here. We've had some success. (But) finding the person, the right fit for this team, the right systems, the right ideas, the right principles and philosophies to help this group take the next step was paramount. Ultimately, after going through our process, it was clear to us that Bud was the guy to do that."
Budenholzer showed he can build a team in Atlanta, where he was considered a good coach but a poor general manager, leading to a talent drain that resulted in going from 60 wins in 2014-15 to 58 losses last season. That 60-win Hawks team didn't have a star, but Budenholzer saw in San Antonio how a partnership between a coach (Popovich) and a star (Tim Duncan) can set the tone for an entire team.
On Monday, Budenholzer called Antetokounmpo a nightmare to coach against. He spoke passionately about turning the Bucks into a better defensive team and said Antetokounmpo's unique defensive ability was the key to that.
"(As for) how I think we can use and implement him defensively and offensively, it started some at breakfast and it'll probably continue down in the weight room today and tomorrow and the next day," Budenholzer said. "Those conversations I look forward to having with Giannis, and listening to Giannis, too. I think he's a smart player at 23. I think he has an IQ and an understanding of the game. I think together he and I will probably push each other. But I look forward to pushing him. I think he believes it and I believe it, he's going to get a lot better as we watch him over the years."
If he does, the Bucks should follow.