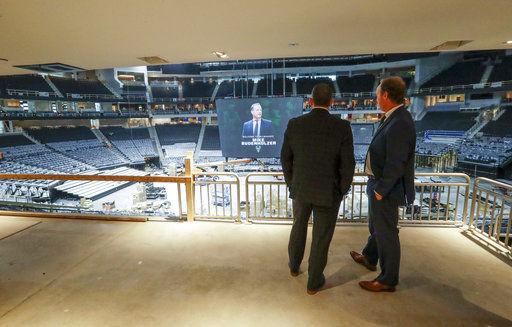 MILWAUKEE — For the first time in nearly a year, the Milwaukee Bucks will play in front of their home fans.
The city of Milwaukee granted the team permission to allow up to 10% capacity at the 17,000-seat Fiserv Forum. The Bucks plan to reach that number gradually, starting Tuesday night when 250 people — friends and family of players and a few season-ticket holders — will be allowed to watch the Bucks face the Toronto Raptors.
"This is a day we've been looking forward to for almost a year," Bucks president Peter Feigin said during a news conference Tuesday morning. "The fans are the lifeblood of our game."
If all goes well, the Bucks plan to allow 500 fans in for Thursday's game, also against the Raptors; 750 on Friday against Oklahoma City; and the full 1,800 fans — allowing with up to 500 staff members — Sunday night against Sacramento.
The 10% limit is expected to remain in place for four weeks while the team and city evaluate both arena operations as well as the city's COVID-19 statistics. After reviewing the situation, the Bucks could raise capacity to 25% for the start of the yet-to-be-released second half of the NBA schedule.
"It's going to be a phased approach," Feigin said. "Our principle is very simple: how to we crawl, walk and run at the same time as we restart our season with fans." 
After returning from the pandemic hiatus last summer, the league finished the season in a controlled bubble setting but allowed teams to return to their home arenas to start the new season, with the decision to allow fans left up to each individual team.
The Bucks, in consultation with local and state officials, opted to begin their season without fans or media but began working on a safety plan over the last few weeks that would allow the team to open its doors again.
"It takes more than a village to get trough this," Feigin said.  
Tuesday will mark the first time since March 4 of last season but those attending these first few games will notice a remarkably different environment than last time they went to a game.
How it will work
Tickets: Current season-ticket holders and those who purchase a 2021-22 full-season ticket package will be eligible to a presale for single-game tickets, which begins Wednesday at noon. Another presale for the team's email subscribers will begin Thursday morning, with any remaining inventory available to the general public later that afternoon via the team's website and mobile app. Tickets will be sold in pods of two or four seats to ensure social distancing throughout the seating bowl and all tickets will be distributed electronically, via the Bucks Mobile App.
Entry: A timed-entry system will be in place to reduce congestion at the arena entrances while fans will self-scan their mobile tickets to further reduce interaction. 
Seating: Fans must remain seated at all times while in their seats (other than standing for the national anthem). Seats in between pods will be closed off and may not be used. Fans are not permitted to bring in bags. Items larger than 4"x6"x1" will not be permitted
Concessions: All concession orders will be placed via mobile ordering, either with a mobile device or at self-service kiosks, and all payments will be cash-less. After placing an order, fans will receive a text message when their order is ready and a QR code used to pick up that order at a designated pick-up station.
Masks: All fans will be required to wear a face covering at all times inside the facility, except when actively eating or drinking. In addition, all fans seated within 30 feet of the court will be required to receive and pass a COVID-19 rapid test that will be administered outside of the arena beginning three hours before tip-off.
---
Social media buzzing after Giannis Antetokounmpo announces 5-year extension with Milwaukee Bucks