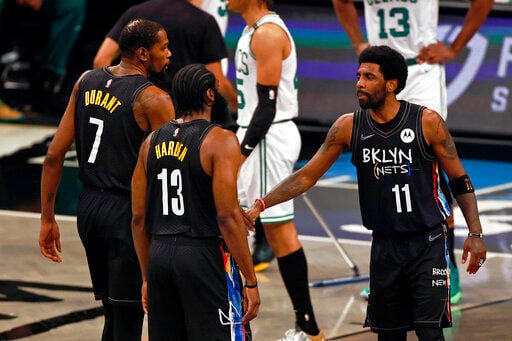 NEW YORK — The Nets' role players have been nowhere to be found. While Kevin Durant's greatness carried the Nets to a come-from-behind victory over the Bucks in Game 5, Durant will need his supporting cast to step up if Brooklyn wants to finish its second-round series in six games on Thursday.
The supporting cast on a star-studded team is often referred to as "the others," and the others put up a dud in Game 5 at home, just like they did in Games 3 and 4 in Milwaukee. Durant scored 49, Jeff Green came off the bench and scored 27 and Blake Griffin scored 17 to power the Nets to an unlikely win without Kyrie Irving (ankle) and with a hobbled James Harden (hamstring) on Tuesday.
Had Durant not played all 48 minutes, however, the Nets likely would not have won and would instead be staring elimination in the face in a Game 6 in Milwaukee.
Durant played those minutes because the role players didn't hit the shots needed to buy him a break. Joe Harris shot 2 of 11 from the field and just 1 of 7 from downtown. Bruce Brown shot 1 of 5, Mike James missed his only shot and Landry Shamet was one of the few productive players in the game, scoring nine points in his 28 minutes.
Even Harden was used more as a decoy than an actual playmaker or scorer: After a spirited pregame warmup, he shot just 1 of 10 and 0 of 8 from downtown.
Nets head coach Steve Nash attributed the off shooting night to Harden's abrupt change in status. The Beard went from out to doubtful to questionable to active in a 24-hour span.
"I thought it took us a while to get going. Obviously getting James back was different. Having James back in the capacity he was in is different," Nash said after practice on Wednesday. "Having (Irving) out is different. So I think a lot of it was just more change, more newness and we kind of figured some things out throughout the game but it took us a while."
Harden's status change doesn't excuse the role players' performances in Games 3 and 4, when he was ruled out with right hamstring tightness.
Harris, in particular, has struggled since his hot start to the series. After shooting 8 of 16 from deep in Games 1 and 2, the Nets' sharpshooter has hit a wall and shot just 4 of 20 from deep in Games 3, 4 and 5.
Nash says Harris is "due" for a hot shooting game and that he hasn't spoken to the league's most efficient 3-point shooter about his slump because he has confidence he'll catch fire soon.
"Every time he shoots the ball, I think it's going in, and that hasn't changed in the last three games and it won't change tomorrow night," Nash said. "We all go through stages where the ball doesn't go in the basket, and that happens, but that doesn't diminish my kind of respect and confidence in Joe at all."
The Nets need their role players to step up. The jig is up on Harden, who when not fully healthy is not nearly the threat to score and make plays as the name on the back of his jersey would suggest. The Bucks doubled Harden and defended him the full length of the floor in Game 5, but a reasonable adjustment from the Bucks would be to force the ball into Harden's hands, making an injured player shoulder more of the offense than he is capable of on fickle legs.
The load won't be Harden's to bear if the role players show face in Milwaukee for Game 6.
"I don't know at all what James will look like for the next game compared to last night, but I think there are certain things that he will feel more comfortable with just from a comfort of having played more basketball, from having a game under his belt, having felt it out there," Nash said. "That can only make him more comfortable and improve if physically he's OK, and so far, he is. I don't know. Maybe they will try to target him more. It's not really what they do, it would be a departure in some ways. But they may, they may. And we will be ready for that as well."
Nash says he doesn't think Irving will travel with the team to Milwaukee for Game 6 and instead will stay in Brooklyn to rehab his sprained right ankle. Nash also did not know what grade Irving's ankle sprain is. He is only doing off-court work right now and "is getting some manual therapy and some modules and just trying to get the swelling down and to speed the recovery as quickly as possible."
Green played arguably his best game of the season in Game 5, scoring 27 points off the bench and making seven 3s on eight attempts. Nash called his game an "incredible performance." Durant echoed those comments.
"That was huge - huge - for us and we needed every one of those shots," said Durant. "Landry came in, knocked down some good ones. Blake knocked down some shots, too. Feel like they're just leaving them open. We're going to need that in Game 6, everybody shooting but more so playing with that energy that we did."
Battle of NBA stars: 5 things to know about Milwaukee Bucks' second-round matchup with Brooklyn Nets
SHORT-HANDED SEASON SERIES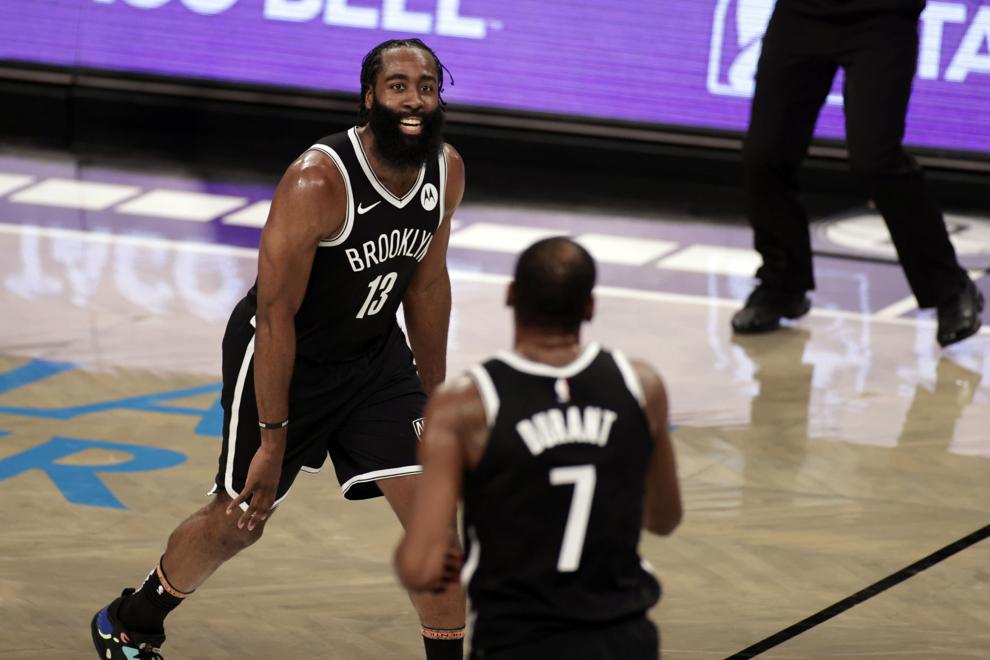 Brooklyn never had its three stars together against Milwaukee. Irving missed the Nets' 125-123 home victory on Jan. 18 in their second game after acquiring Harden from Houston. Durant and Harden (above), who have combined for two MVP awards and seven scoring titles, put up 64 points that night.
THE SHOW GOES ON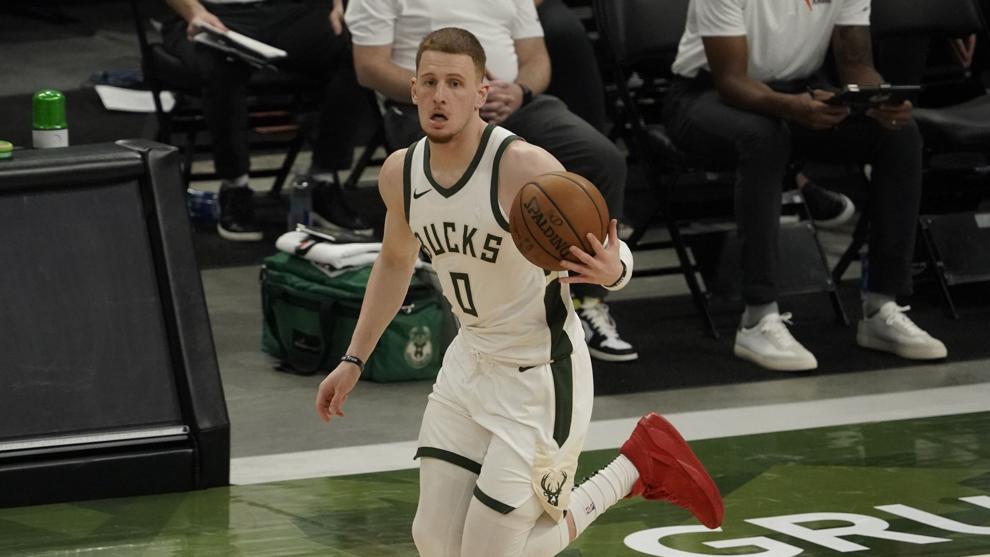 The Bucks have already lost starting guard Donte DiVincenzo (above) for the playoffs after he tore a ligament in his left ankle during Game 3. But Nash said versatile forward Jeff Green is improving from a left foot injury that sidelined him the final three games of the first round.
"We've said it since the injury happened, we've got to move forward, we've got to step up," Bucks coach Mike Budenholzer said Friday. "Everybody's just got to continue to be themselves; execute, defend and compete, which is a lot of things Donte does well."
BROOK IN BROOKLYN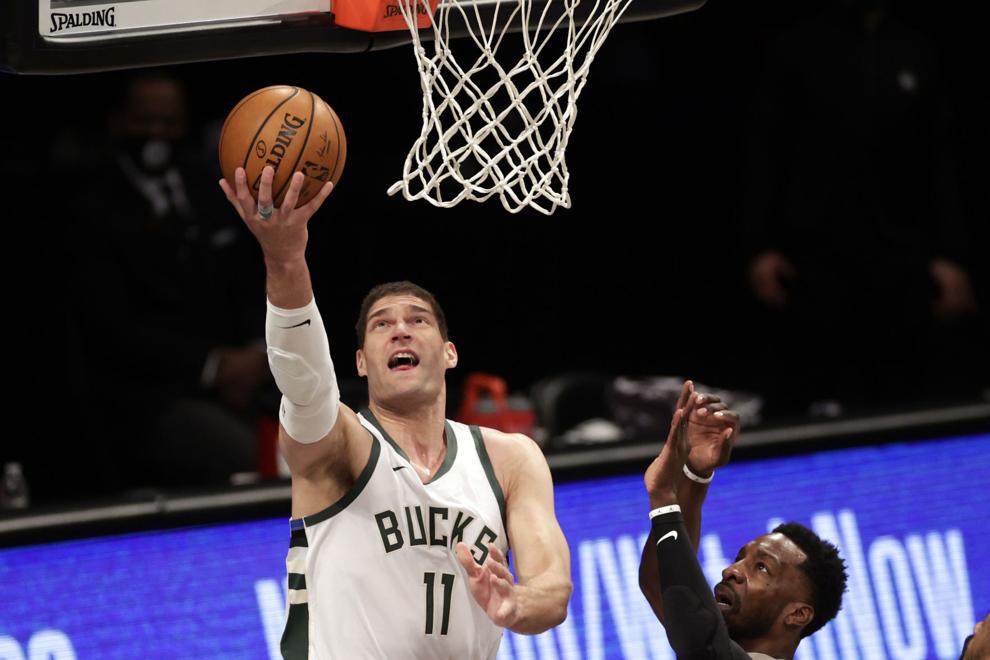 Bucks center Brook Lopez (above) will be back in Barclays Center, having played for the Nets in Brooklyn and New Jersey. He scored the most points in franchise history.
"I think I'm excited to go back and play in Brooklyn, play on that court again in Barclays, but obviously we're going to be pretty focused once tipoff comes," he said.
FORBES FOR 3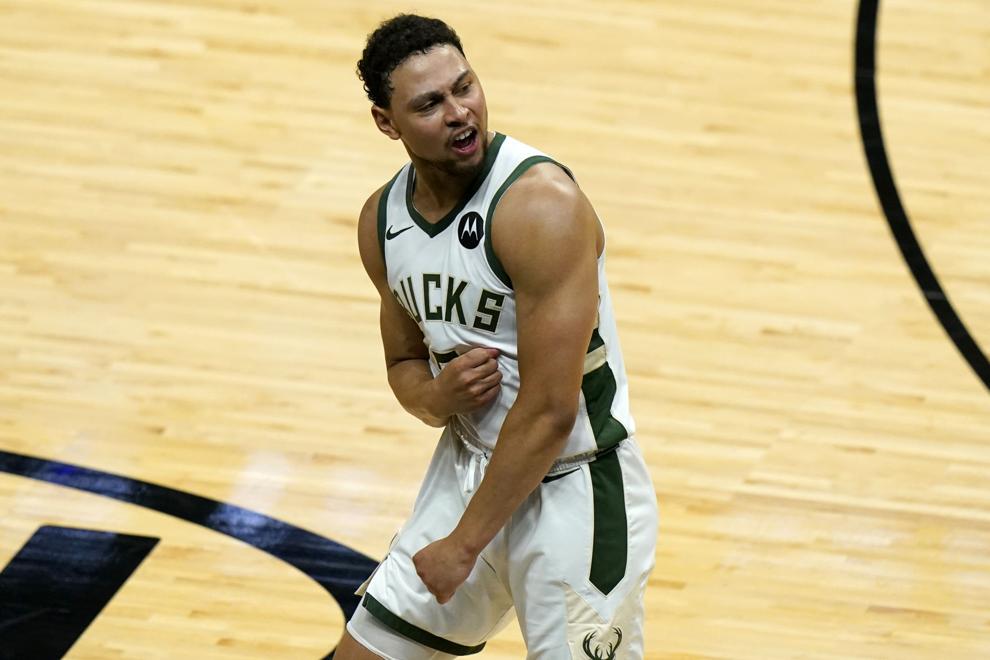 Bryn Forbes (above) averaged 18.3 points and shot 16 of 30 from 3-point range during the final three games of the Bucks' first-round sweep of Miami. He was a combined 7 of 12 from beyond the arc in the Bucks' two-game sweep of the Nets in May.
BUCKS ON THE BOARDS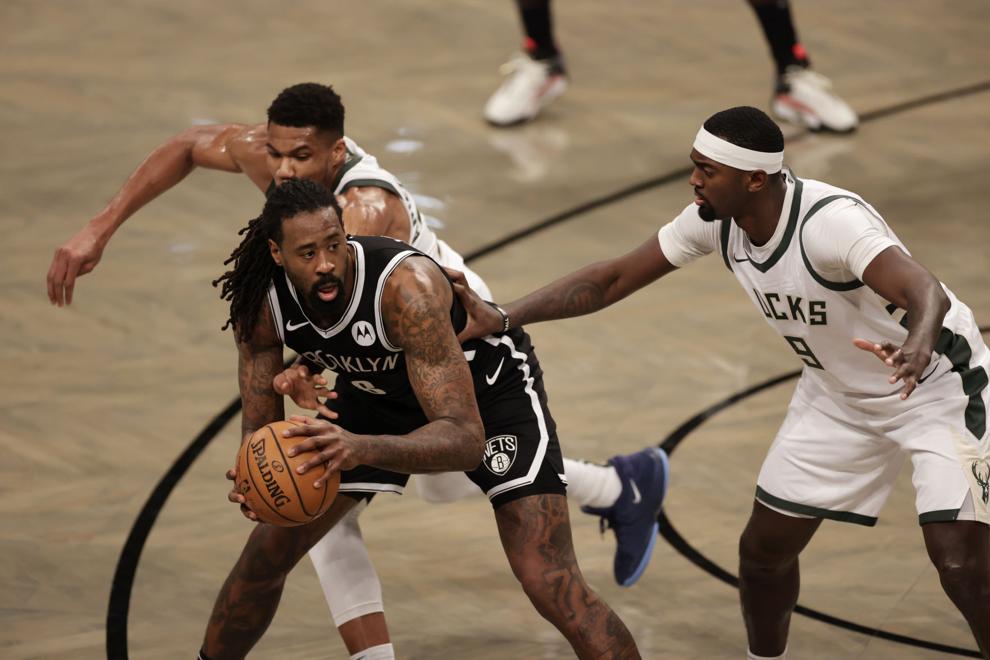 Milwaukee had a double-digit rebounding edge in each game against Miami and dominated the glass by a margin of 16.8 boards per game. The Bucks' size advantage may make Nash consider reinserting former starting center DeAndre Jordan (above) into the rotation.
Watch now: Bucks coach Mike Budenholzer previews Milwaukee's second-round matchup with Brooklyn Nets