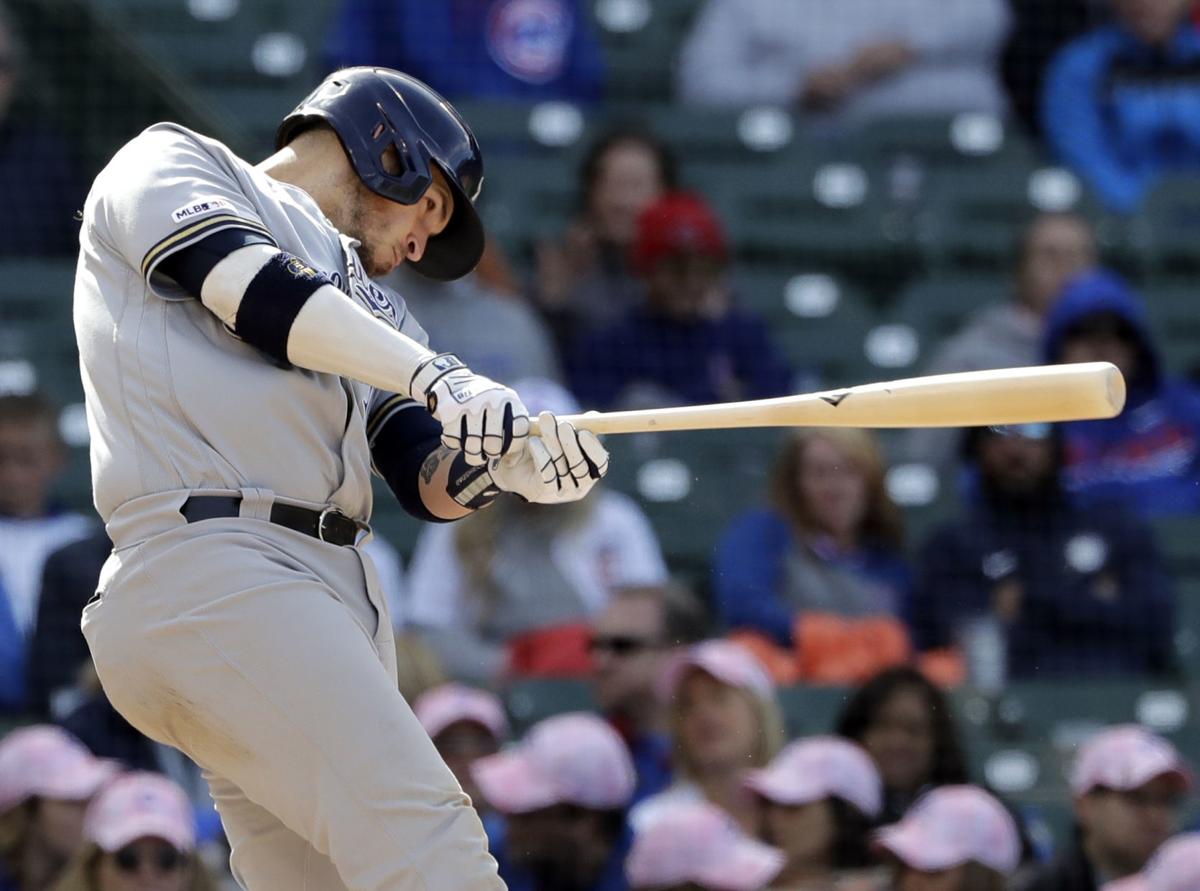 MILWAUKEE — The big spending is officially over.
Unofficially, it was over some time ago. Like, say, after the Milwaukee Brewers added catcher Yasmani Grandal and infielder Mike Moustakas, two free agents that will cost them $23 million this season, shortly before spring training.
Those big-ticket signings highlighted an offense-first offseason for the Brewers and pushed their payroll over $120 million, the largest in franchise history. The signings also meant the Brewers were unlikely to add an elite free agent pitcher even though two of them, starter Dallas Kuechel and closer Craig Kimbrel, remained on the market until just last week.
The Brewers could have used either one and, in fact, had been connected to both on the rumor mill. They chose instead to put their money into improving the offense this season. And while it stings that both pitchers ultimately joined teams — Kimbrel the Chicago Cubs, Keuchel the Atlanta Braves — that the Brewers figure to battle in the National League playoff race, the acquisitions of Grandal and Moustakas have had the desired effect on Milwaukee's offense.
Indeed, you can make a good argument that the Brewers should have blown their budget to bits and signed Kimbrel or Keuchel, but you can't argue that they didn't spend what money they had wisely. With Grandal and Moustakas providing strong support behind reigning NL MVP Christian Yelich in the batting order, the Brewers offense has gotten off to a considerably faster start this season than it did a year ago.
On Sunday at Miller Park, Grandal walked to lead off the eighth inning and Moustakas followed with the tie-breaking two-run home run in the Brewers' 5-2, come-from-behind victory over the Pittsburgh Pirates, completing a three-game sweep of Pittsburgh and putting their record at 38-28, a season-high 10 games over .500. Offense has been the biggest reason the Brewers have kept pace with the Cubs in the NL Central Division and Grandal and Moustakas have been in the middle of everything.
"They've been outstanding, both of them," manager Craig Counsell said. "They've been huge parts of our offense. Both are very consistent. (Grandal) just grinds out at-bats. He's very disciplined, really knows what he wants to do. And for Moose, his swing's just in a great place. It really is. The ball's going all over the field. He's very dangerous to me when the ball's going all over the field. There's hard hits and they're to all areas. Even the shift stuff has gotten tough (to employ) with him. He's hitting enough balls to the opposite field that it's becoming difficult to shift him. They've been very important, consistent, middle-of-the order bats for us."
You have free articles remaining.
Moustakas and Grandal have been hot for two weeks. In the past 15 games, Moustakas hit .344 with nine home runs and 14 RBIs while Grandal hit .302 with five home runs and nine RBIs. More important, they've had exactly the effect they were supposed to have on the offense.
They lengthened the lineup, giving the heart of the order more consistency and the bottom more pop. With shortstop Orlando Arcia having a breakthrough season at the plate, the Brewers are productive even after they get through the meat of the order.
Since Grandal is a switch-hitter and Moustakas hits from the left side, they have given Counsell lineup flexibility, allowing him to load up against left-handers or right-handers. With the Brewers facing a lefty Sunday, the lineup had seven guys hitting right-handed along with Yelich and Moustakas, who are two of the four hitters in the major leagues with 20 or more home runs.
The batting order has been so deep and balanced that the Brewers have been able to withstand season-long slumps by power hitters Travis Shaw and Jesus Aguilar and diminished production from leadoff man Lorenzo Cain.
"It's just dangerous from one through 13," Moustakas said. "Once we get these other guys going, it's going to be even that much better. It's fun to show up to work every day and see your name in the lineup and see the other eight guys that are playing. It's a deep lineup."
Moustakas said Yelich, who is hitting .340 with a major league-best 24 home runs and 53 RBIs, is "on a different planet." Yelich said Moustakas, who has 20 home runs and 43 RBIs, is "swinging it better than I am." But Moustakas played the final two months with the Brewers last season, making Grandal the only true addition to the lineup.
With 13 home runs, 32 RBIs and a .377 on-base percentage, Grandal is among the best hitting catchers in baseball. He is the catalyst for an offense that has hit 31 more home runs and scored 46 more runs than it did after 66 games last season. Its batting average has gone from .248 to .254.
"He's a switch-hitting catcher that hits in the middle of your lineup," Counsell said. "There's not many of those. He's allowed you to put a catcher in the middle of your lineup that's difficult to match up against."
Both Grandal and Moustakas are tough matchups, which is a major reason Milwaukee's record is only one game off last season's pace. The Brewers will probably need to add pitching help at some point — Madison Bumgarner, anyone? — if they want to get back to the playoffs, but at least their offense is providing bang for their bucks.