MILWAUKEE – After nearly pitching himself out of baseball last season, Wade Miley suddenly finds himself right in the middle of the NLCS as the starting pitcher Saturday for the Milwaukee Brewers in Game 2 against the Los Angeles Dodgers.
Miley, 31, was on the endangered species list after suffering through a miserable 2017 season, going 8-15 with a 5.61 ERA for the Baltimore Orioles.
The Brewers, looking to add some depth to their pitching options, signed him to a minor league contract with an invitation to spring training. He impressed them enough to win a job in the rotation before suffering a strained groin in his last spring training start and opening the season on the disabled list.
Some players in that situation might have had reason to wonder if the team would stick with them, but Brewers general manager David Stearns quickly eased Miley's mind.
"I can tell you this, David had beat me to the training room that day and we had a small conversation immediately after it happened," Miley said. "So I really wasn't worried about having to go anywhere else.
"I liked what he said, and yeah, it's just an exciting time now. You look back seven months later and we have an opportunity to play for the NLCS and potentially go to the World Series."
Miley returned to pitch on May 2 but the Brewers' patience was tested again when he left his next start in the first inning with an oblique strain that sidelined him for two more months.
The Milwaukee Brewers survived a late rally by the Los Angeles Dodgers for a 6-5 win in Game 1 of the NL Championship Series on Friday night a…
The team's faith has been rewarded as Miley put together a 5-2 record with a 2.57 ERA in 16 starts. The key was his decision to rely primarily on his cutter, throwing it nearly half the time.
"I just spent some time in the offseason trying to, I guess, recreate myself," Miley said. "Get back to throwing strikes and being able to command the zone and it's paid off a little bit."
Manager Craig Counsell said there was never any doubt in his mind that Miley would have a spot in the rotation when he got healthy. His concern was that while Miley was rehabbing on his minor league contract that some other team would come along and give him a major league deal to steal him away.
"I think the fact that he chose to stick around says a lot about him, because he could have gone anywhere else," Counsell said. "I give him a lot of credit for sticking it out in that situation and trusting us that he was going to be part of this."
Roster change
The Brewers made one roster adjustment from the NLDS to the NLCS, adding left-handed reliever Xavier Cedeno to the active list in place of outfielder Keon Broxton.
Counsell said that Cedeno offers flexibility in the bullpen with a lefty that could come in handy with the Dodgers' heavily platooned lineup. With Gio Gonzalez and Miley set to start the first two games, the Brewers would've had just one lefty in the bullpen, Josh Hader.
The downside, he said, was the loss of a potential pinch-hitter, pinch-runner and defensive replacement in Broxton. With a shorter bench, a pitcher may have to take an additional at-bat in some games, he said.
Uecker show
Bob Uecker, the radio voice of the Brewers for 48 years, threw out the ceremonial first pitch Friday.
He warmed up for that effort with a classic Uecker press conference, telling rambling stories about his various careers and explaining his ability to stay relevant at age 83 with each new generation of players.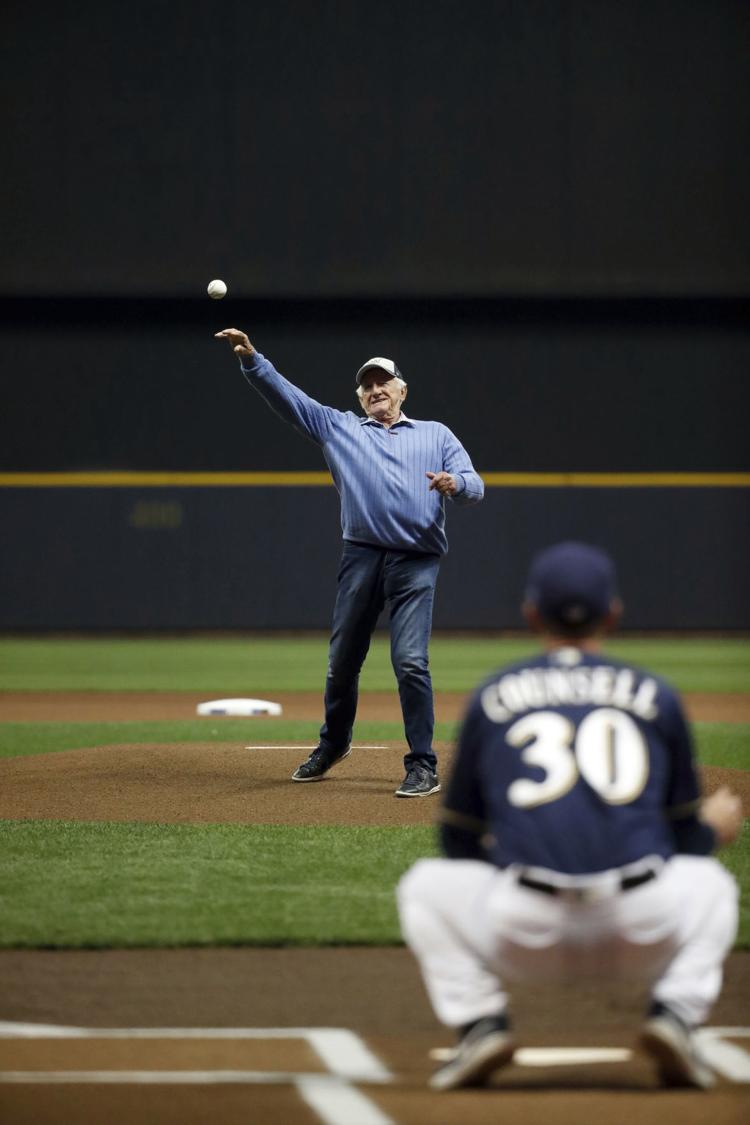 The key, he said, is that, all joking aside, he's been in their shoes.
"I think for the most part they know that I played and I think that's where the relationship really comes in," Uecker said. "I've been on the same side where you've got a 10-game losing streak and you gotta talk to the press. I know what that's like."
Counsell attributed Uecker's staying power with players to his ever-present good humor and one-of-the-guys mentality.
"We do a radio show every day before the game," Counsell said. "It's a four-and-a-half minute radio show that takes us 20 minutes to do. That's one of my favorite parts of the day, that I get to laugh with him and we get to swap stories and have fun and tell jokes. And his are better than mine.
"It's a thrill for me every day. And I think the bottom line is that Bob belongs in a baseball clubhouse, man. He fits. He gets it. His sense of humor doesn't have an age span. It plays to all audiences. And so the guys love having him around."