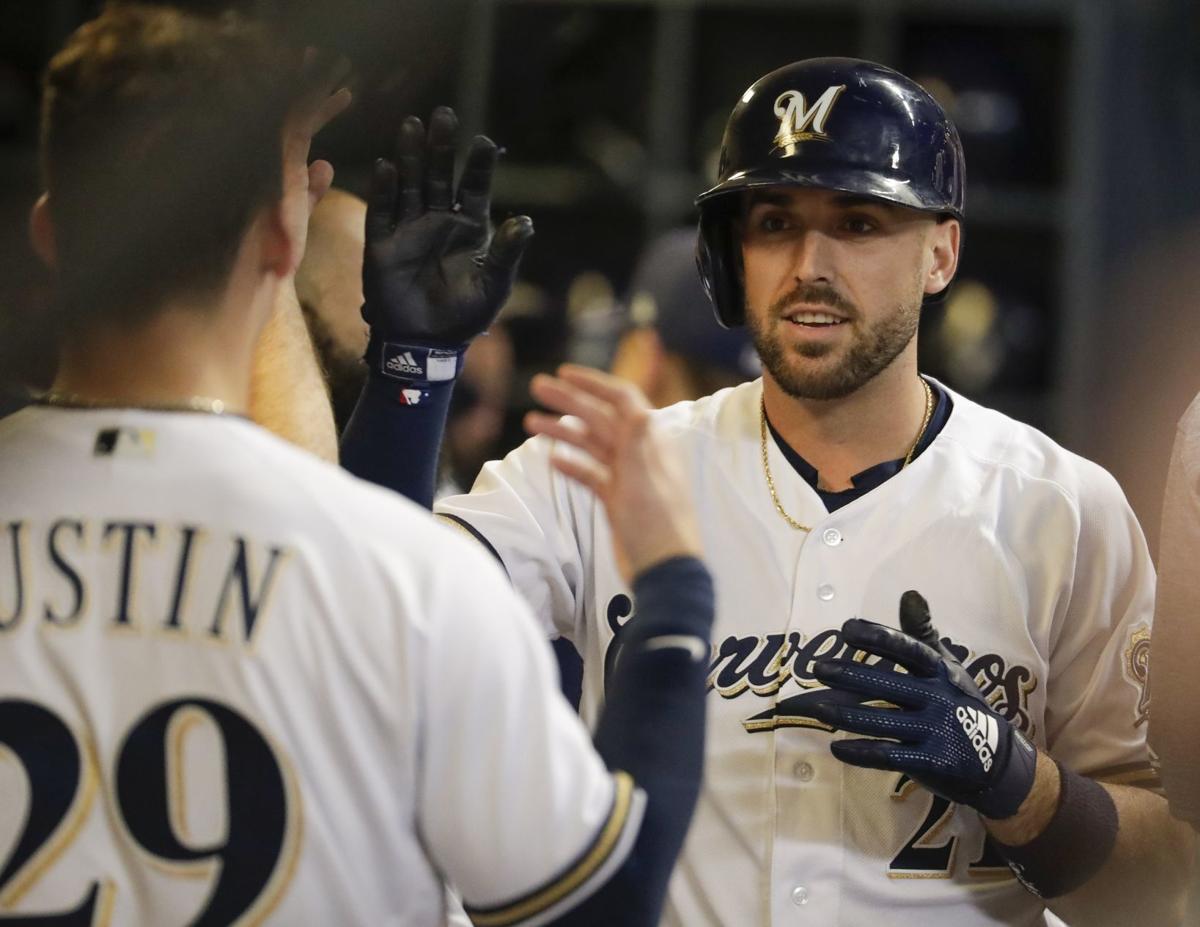 MILWAUKEE — Travis Shaw, Jimmy Nelson and Junior Guerra have all played integral roles as the Milwaukee Brewers burst out of their rebuild and into contention ahead of schedule.
All three could be playing elsewhere next season.
Shaw, Nelson and Guerra — along with Tyler Saladino and Alex Claudio — were not tendered 2020 contracts ahead of a Monday night deadline to make offers to arbitration-eligible players and will become free agents.
The decision to non-tender Shaw comes as something of a surprise. An abysmal 2019 season (157/.281/.270, 7 HR, 64 RBI, .551 OPS) made him a potential non-tender candidate at season's end, but the news earlier in the day that free agent Mike Moustakas had signed a four-year, $64 million deal with the Cincinnati Reds combined with a perceived lack of internal replacements might have changed plans for Brewers president of baseball operations David Stearns.
Shaw earned $4.6 million last year but by rules of baseball's collective bargaining agreement, the Brewers could offer no more than a 20 percent pay cut next year. Unwilling to take a chance on paying even more after an arbitration hearing, Stearns decided to make what he called a difficult decision.
"We were actually having conversations with Travis and his representative all day today trying to determine whether there was a fit here that worked both sides and, ultimately, at this point we just couldn't find that fit," Stearns said in a conference call after the deadline.
Acquired in a trade with Boston ahead of the 2017 season, Shaw hit 63 home runs with 187 RBIs in 296 games during his first two years with the Brewers.
"He was a big reason why we were able to have a couple of competitive years and he played a big part in helping us become a competitive franchise again," Stearns said. "It was a difficult decision. Ultimately we did our best to look at Travis' performance prior to this year, we looked at his performance this year. We talked with Travis and his representation about his beliefs and how he thinks everything is going and at the end of all those conversations, we just couldn't line up today and so the outcome was a non-tender."
Parting with Nelson was just as difficult, especially after the amount of work he put in rehabbing after a devastating shoulder injury in Sept. 2017 that cut short a career season. Nelson missed all of 2018, but when he finally returned to the mound this year he looked little like the pitcher who was establishing himself as one of the National League's best before the injury. With a likely $3.7 million price tag next season, Stearns didn't see the right fit.
"He's done an admirable job throughout this rehab process to get back to the point where he's able to pitch at the major league level," Stearns said. "Given the parameters that are in place in the salary arbitration process and what those dollar figures have to look like to go through salary arbitration with him, it wasn't something we were prepared to do."
Guerra, the first player Stearns acquired after taking charge of the Brewers' baseball operation following the 2015 season, performed well after moving to a bullpen role last season but, at 35 years old and standing to earn approximately $3.5 million, he didn't fit into Stearns' plan.
Claudio, 28, was in line to earn approximately $2.2 million while Saladino was likely to get around $1 million.
Along with the tender decisions, Milwaukee agreed to terms on 2020 contracts with outfielder Ben Gamel and shortstop Orlando Arcia, both of whom also were arbitration-eligible.
Arcia's future was cloudy after the Brewers traded for Padres infield prospect Luis Urias last week but Stearns said the team wasn't ready to give up on Arcia, who was once the club's top prospect.
"Orlando is a player who has had periods of brilliance during his major league career and he's also a player who's struggled at points in his career but he's only 25 years old," Stearns said. "He was amenable to negotiating and doing a deal pre-tender and we were able to find a value that worked for both sides."
You have free articles remaining.
The moves leave Stearns with plenty of payroll flexibility to shore up what has quickly become a decimated roster, though a significant portion of those savings will likely be spent on Josh Hader, Corey Knebel and Brent Suter, all arbitration-eligible players this winter.
Milwaukee projects to save around $15 million in salary in 2020 by cutting the five players.
"The way the arbitration system is set up, sometimes you're forced to make difficult decisions if it doesn't appear that allocating the payroll to specific players in the way the arbitration would dictate would be the most effective use of those dollars," Stearns said. "I expect us to invest in players throughout the course of the offseason and having a little bit of payroll flexibility doesn't hurt that."
Catcher Yasmani Grandal and pitchers Drew Pomeranz, Chase Anderson and Zach Davies exited earlier in the offseason.
Marlins acquire Aguilar, Villar
Infielder Jonathan Villar was acquired Monday by the Miami Marlins from the Baltimore Orioles for minor league left-handed pitcher Easton Lucas.
The Marlins also claimed first baseman Jesús Aguilar off waivers after he was designated for assignment last week by the Tampa Bay Rays.
Both players are former Brewers.
Villar batted .274 with 33 doubles, 24 home runs, and 73 RBI in 162 games for Baltimore in 2019. The switch-hitter had 40 stolen bases, 111 runs scored and 176 hits.
He made $4,825,000 and likely would have received a salary of about $10 million next year had he been eligible for arbitration.
Aguilar was an All-Star for Milwaukee in 2018, when he had 35 home runs and 108 RBIs. This year he had 12 homers and 50 RBIs for the Brewers and Rays.
Aguilar is expected to share time at first with Garrett Cooper, who had 15 homers and 50 RBIs for Miami this year.
Villar is a career .261 hitter. He had a career-best 62 stolen bases for the Milwaukee Brewers in 2016. He has played shortstop (385 games), second base (333), third base (54) and the outfield (13).
---
The Associated Press contributed to this report.