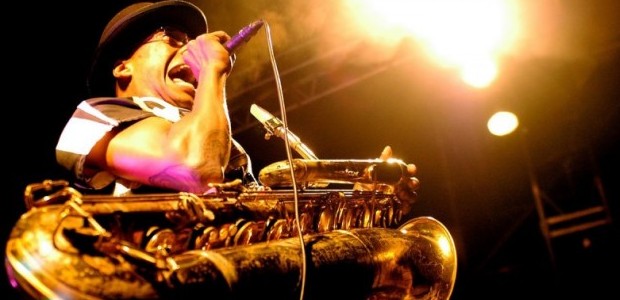 Was Fishbone a punk rock band? A hip-hop band? A metal band? A rock band? A ska band? None of the above? All of the above?
The answers, in order, are yes, yes, yes, yes, yes, yes, and yes.
The African-American band burst out of Los Angeles' cultural melting pot in the 1980s with a bizarre genre-smashing sound and a live show that was the stuff of legend. Each band member, from wild man Angelo Moore to super-cool bassist Norwood Fisher, seemed to have been plucked from a different band (or, in Moore's case, a different planet), and yet the band jelled beautifully together.
For a while, anyway. The new documentary "Everyday Sunshine," which plays at the Wisconsin Film Festival on Sunday, April 3, at 4:15 p.m. at the Chazen Museum of Art, chronicles the rise and fall (and possible rebirth) of the influential band.
The film features testimonials from a slew of musicians, from Red Hot Chili Peppers' bassist Flea to Ice-T to Gwen Stefani, pointing to Fishbone's influence in breaking down genre and racial barriers in popular music. But the most memorable sections of the film are intimate and revealing interviews with all the band members, from Moore and Fisher, who have soldiered on with Fishbone, to those who left the band due to personality conflicts.
The film was co-directed by Lev Anderson and Chris Metzler. In a phone interview, Anderson noted that he worked on another film about an outsized personality that played at the Wisconsin Film Festival, "The Real Dirt on Farmer John."
Anderson went to his first Fishbone concert with his father when he was 10. As a student at Beloit College in the mid-'90s, Anderson went down to Chicago to interview the band for his college radio show.
"It was a trip," he recalled. "I was just interviewing them on the bus with all sorts of things going on. That's when I knew that these guys were real characters on a personal level, not just on stage but in their personal lives."
You have free articles remaining.
That experience stuck with him, and more than a decade later, he and Metzler approached the band after a show in San Francisco and offered to make a documentary.
Fishbone was a band ahead of its time, coming to prominence in the late '80s when the music industry had rigid genre distinctions based on race, and didn't know what to do with an African-American band that played rock music. It was also a time when a band really needed major-label support and radio airplay to survive; today, with the music industry imploding, those things aren't as important.
"Now a band like them can do pretty well, which I think is what gives them the optimism to keep going," Anderson said. "You can distribute your album through the Internet. Most bands nowadays make most of their money off touring anyways."
In addition to meeting heavy resistance from the record industry, the band had more than its share of personality conflicts. The relationship between the fiery Moore and the cool-headed Fisher has often been strained, and the nadir of band relations came in 1993, when the band's guitarist, Kendall Jones, fell under the sway of a religious cult run by his father. Fisher attempted to forcibly remove Jones from the cult, and ended up being charged with kidnapping. (He was found not guilty.)
Anderson said he thinks it was ultimately therapeutic for the band to talk about some of that strife on camera for the film.
"While we worked on the film, they were probably talking about stuff, with us or with each other, that they might not have talked about," he said.
"Everyday Sunshine" started playing at film festivals last summer, and Anderson said it will get theatrical distribution this summer. The film has served to raised the profile of Fishbone, who have often played post-screening shows to a new generation of fans.
Anderson said that while the film will obviously be dear to fans of the band, it's enough of a human story to entertain audiences who have never heard of Fishbone. He laughed when recalling a screening and Fishbone show in the small city of St. George, Utah, before a bewildered but appreciative crowd.
"They acted like a UFO had landed," he said. "They were like, 'I've never seen anything like this in my whole life.' If we can rock out the Mormons in Utah, we can do that everywhere."