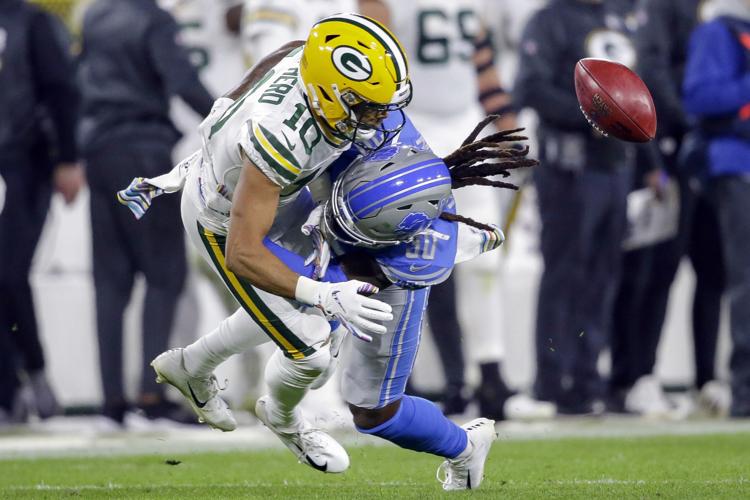 After back-to-back road games at Kansas City and Los Angeles, it might've slipped — pun very much intended — some folks' minds how many issues the Packers and their opponents had with the apparently slippery track that Lambeau Field was for the team's Oct. 14 prime-time win over Detroit and the team's Oct. 20 win over Oakland in a game that started at noon. Considering each game was played at a different time of day, there was no rhyme or reason to why slipping was such an issue in both games.
Presumably, the Packers should be at an advantage since it's their home field, but they slipped as much as the Lions and Raiders players did — most notably, rookie wide receiver Darrius Shepherd (above) having his feet go out from under him on an out route near the goal line, causing Rodgers' pass to hit him in the facemask and carom into the hands of a Lions defender for an interception.
Asked after those two games what was amiss, LaFleur replied, "The grass has been slick out here, but we'll just keep continuing to try to get the right shoes on. Our guys have to be mindful of that as well. That's why when they go out there in warmups, they have to see how their footing is. Sometimes you have to alter the way you play the game. Some of it is adjusting and trying on different cleats and some of it's just understanding that, sometimes you've got to adjust your game a little bit in terms of if you've got a slick surface."
On Friday, LaFleur said it'll still be a trial-and-error process before the game, with the weather forecast calling for cloudy skies and a 20 percent chance of precipitation with a high of 35 degrees and a low of 20.
"It's not like we're practicing in Lambeau," LaFleur said of testing various cleats during the week. "... So that's something that the guys are going to have to adjust to in the pregame and get a feel for."
---
Jason Wilde covers the Packers for ESPN Wisconsin. Listen to him with former Packers and Badgers offensive lineman Mark Tauscher weekdays from 9 a.m. until noon on "Wilde & Tausch" on 100.5 FM ESPN Madison.