You're receiving this weekly newsletter because you have some role or level of access related to the production of podcasts for Lee Enterprises.
If you're bummed to find this in your inbox and don't want to receive it anymore I'm sure there's an unsubscribe button ... somewhere.
---
Ahoy!
Good morning, pod posse pardners!
Hope everyone's doing well out there!
Recently rediscovered my old iPod and the darn thing charges up and plays music and everything despite being 14 years old so I am out here just jamming out to everything I crammed into its then ungodly large 80 gig storage space. Biggest find so far was a DJ mix of 90s music called "Radio Friendly Unit Shifter" that for sure evokes an onion's worth of nostalgia layers. Just one of those strange little tech artifacts that is imbued with so many memories and somehow has managed to avoid being bricked by any sort of Steve Jobsian planned obsolescence.
Any which way, here's the email!
---
Paywalled Shows
We're working on some cool new stuff over here that's worth sharing. We're officially going to have our first subscriber only podcast feed for a new Nebraska sports product called Sip 'N Sam Showdown. It's going to be sort of a blend of Husker Extra and the Pick Six podcast, two of Lee's most popular sports programs.
Lots of nitty gritty details are still getting sorted, but the process is going to be to have a dedicated feed that anyone and everyone can sign up for and into that feed we'll put truncated episodes that will get monetized with advertising and give a taste of the larger paid episodes. The larger episodes will get a separate feed with a unique link for each subscriber that will be accessible behind a paywall through Supporting Cast.
This is the first time we're dabbling with something like this, but it's been out there as something to explore for a while now so it's needless to say pretty exciting to see how it will work in the coming months for its own sake but more importantly to open the conversation of applying it to other shows.
---
Music!
You should check out pixabay for music you can use to freshen up your show. Only caveat is to make sure you're crediting the artist(s) if that's specifically outlined in the licenses.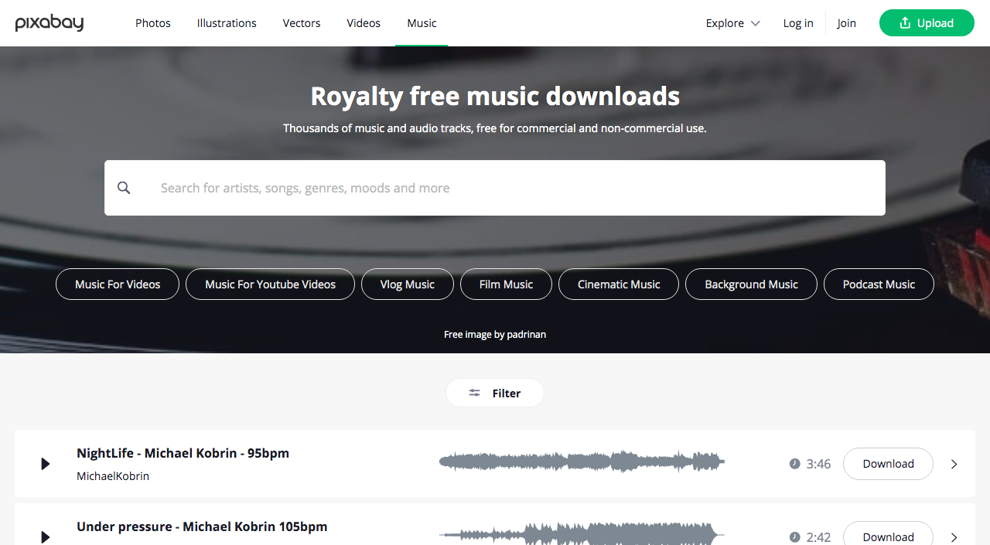 ---
Anything else?
That's about it on my end for this week. Still working on lots of odds and ends on my side of your inbox, but don't hesitate to holler if there's something I can do to help with anything you guys are working on and I'll lend as big an ear as I can.
Stay safe out there and I'll see ya here next week!
---
Podcast Operations Manager
2001 Fish Hatchery Road • Madison, WI 53713
---
"The fool doth think he is wise, but the wise man knows himself to be a fool." ― William Shakespeare, As You Like It