Pegasus Games
You Need To Play!
6640 Odana Rd
[in the Market Square Shopping Center]
Madison
,
WI
53719
Last Updated: August 7, 2017
| | |
| --- | --- |
| Sunday | |
| Monday | |
| Tuesday | |
| Wednesday | |
| Thursday | |
| Friday | |
| Saturday | |
Welcome to
Pegasus Games
---
Thank you for visiting Pegasus Games!
Pegasus Games has been supplying gamers with the very best in games and accessories for over 30 years!
Pegasus Games specializes in finding games that are fun for the whole family, from classics to brand-new board game titles.
The staff at Pegasus Games is knowledgeable and eager to help you find exactly what you're looking for!

Some of the Things We Carry
---
Role-Playing games such as:
• Dungeons & Dragons
• Pathfinder
• Star Wars
• Shadowrun

Independent Role-Playing Games
• The Dresden Files
Board Games
• Catan
• Betrayal at House on the Hill
• Ticket to Ride
• Munchkin
• Pandemic
• Evolution
Collectible Card Games and Supplies for:
• Magic the Gathering
• Pokemon

Miniatures Games
• Warhammer
• Warmachine/Hordes
Classic Games
• Chess
• Backgammon
• Cribbage
Let us help you find the best game for a gift, or for you!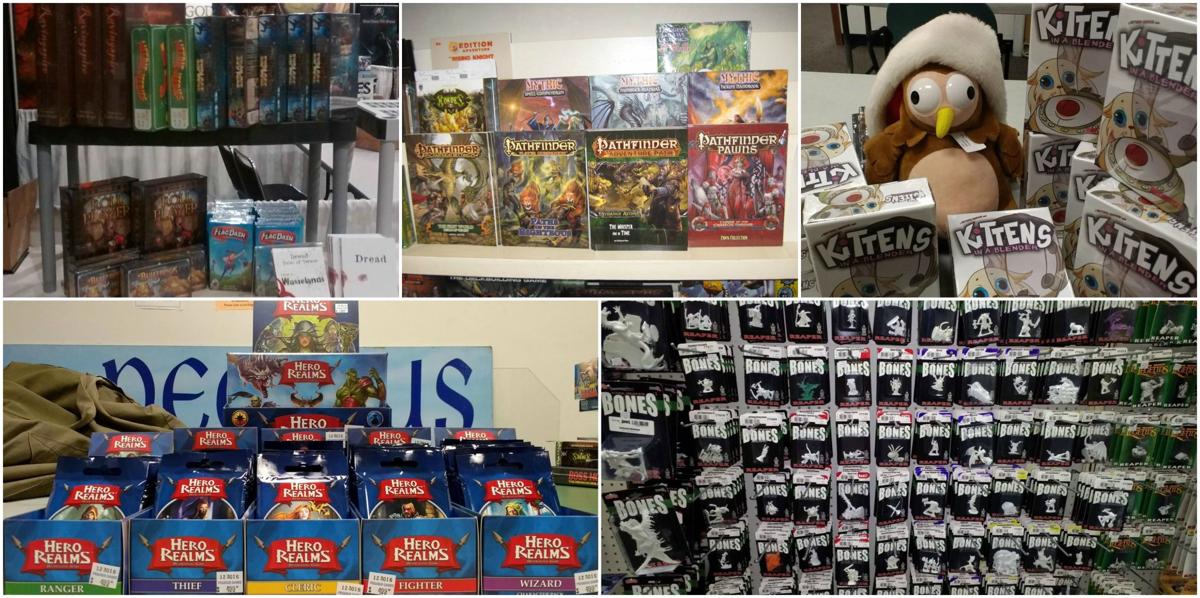 Testimonials
---
"I called months ago about a game that might be coming out in the next year. Just got an email telling me it did come out and they got one for us. Great customer service and attention! Thanks so much!"
Liz C.

"Great store, great selection, fun staff! All the new games are here or they'll order them for you."
Ann H.

"The atmosphere of Pegasus games is great. The staff is knowledgeable about the products the store carries, but also products you may be looking for but they don't have. The staff is also quite friendly. I love going here with my friends to try out new games, or play tried and true ones. This is a gamer's haven."
Randi L.

"Pegasus's friendly and knowledgeable staff are full of excellent game recommendations for all sorts of families and gamers. I recommend picking their brains for suggestions of new games to play(many of which they have store copies to try out yourself) - it's the primary way I learn of all the cool new games!"
Matthew D.

"So many sweet games, including some indie offerings. Good service, owners are really nice human beings who play lots of games themselves. Great place to shop for gifts."
Tristan B.

"Staff is always friendly and helpful, worth the drive. Nice to my kid, that goes a long way."
Mark P.

This place makes the 10 year old in me cry real tears if I have to leave empty handed."
Aubrey L. E.

"Great fun for the whole family, while sparking creativity combined with a great staff and community that treat you like family, what more could you ask for in a game store?"
Timoteo D.

"My goodness. They're holding a game for me for a week until I can fit the hour and a half drive into Madison. Who else would do that? Thanks gang!"
Andrich P.

"Amazing people working here. You guys were awesome and helpful during the zombicide game day. Can't wait to come back."
William F.


Contact Information For
Pegasus Games
6640 Odana Road
[in the Market Square Shopping Center]
Madison, WI 53719

Accepts:

American Express

Cash

Discover

MasterCard

Visa
Pegasus Games
Madison's number one-stop shop for all your RPG games and accessories.
We carry the latest and greatest from all your favorites, including:
Dungeons & Dragons
Magic The Gathering
Pokemon
Catan
And much more!
Stop in today to join our Loyalty Program!
Loyalty Members Receive:
$1 spent = 1 point (some exclusions)
200 points = $15 off
Double Point Days:
SUNDAY: Pokemon, DiceMasters
MONDAY: Games Workshop, Star Wars X-Wing & Armada
TUESDAY: HeroClix, Accessories (dice, sleeves, storage)
WEDNESDAY: Warmachine/Hordes
THURSDAY: Magic the Gathering (NOT singles)
FRIDAY: Role-Playing Games, Star Wars Destiny
SATURDAY: Board and non-CCG card games
For more information on Pegasus Games' Loyalty Program, Stop in today!
Contact Information For
Pegasus Games
6640 Odana Road
[in the Market Square Shopping Center]
Madison, WI 53719