Beltone Hearing Aid Center
| | |
| --- | --- |
| Sunday | Closed |
| Monday | |
| Tuesday | |
| Wednesday | |
| Thursday | |
| Friday | |
| Saturday | Closed |
About Beltone Hearing Aid Center
Hearing Testing, Sales & Service of Hearing Aids.
Beltone makes high quality hearing care available to more people. We do this by developing technically optimal hearing solutions without ever losing focus on the individual's needs. We are proud to provide the hearing impaired with the best hearing care available, from products to counseling to service.
Family owned business for over 45 years. Beltone has been fitting and servicing the Hearing Impaired for over 75 years. Your hearing is important to us.
10 Warning Signs of Hearing Loss
1. People seem to mumble more frequently.
2. You hear, but have trouble understanding all the words in a conversation.
3. You often ask people to repeat themselves.
4. You find telephone conversation increasingly difficult.
5. Your family complains that you play the radio or TV too loudly.
6. You no longer hear normal household sounds, such as the dripping of a faucet or the ringing of a doorbell.
7. You have trouble hearing when your back is turned to the speaker.
8. You have been told you speak too loudly.
9. You experience ringing in your ears.
10. You have difficulty understanding conversation when in a large group or crowd.
If you experience these problems repeatedly or in combination, they may indicate a hearing loss.
To find out for sure, visit your Beltone Hearing Care Center for a hearing evaluation.
Accepts:
American Express
Discover
Insurance
MasterCard
Visa
Walk-ins are welcome, appointments are preferred and can be made by calling (800) 432-4761.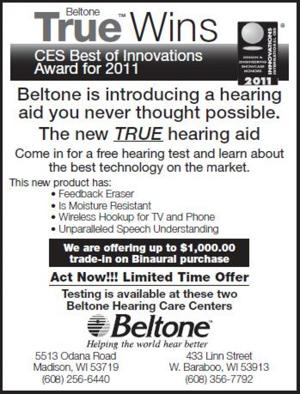 National TV Commercial Beltone Pre-Log Week of January 18th - Eastern Time NETWKDAYDATESTARTENDLENPROGRAM TRAVMon1/189:20 AM9:20 AM15Anthon…