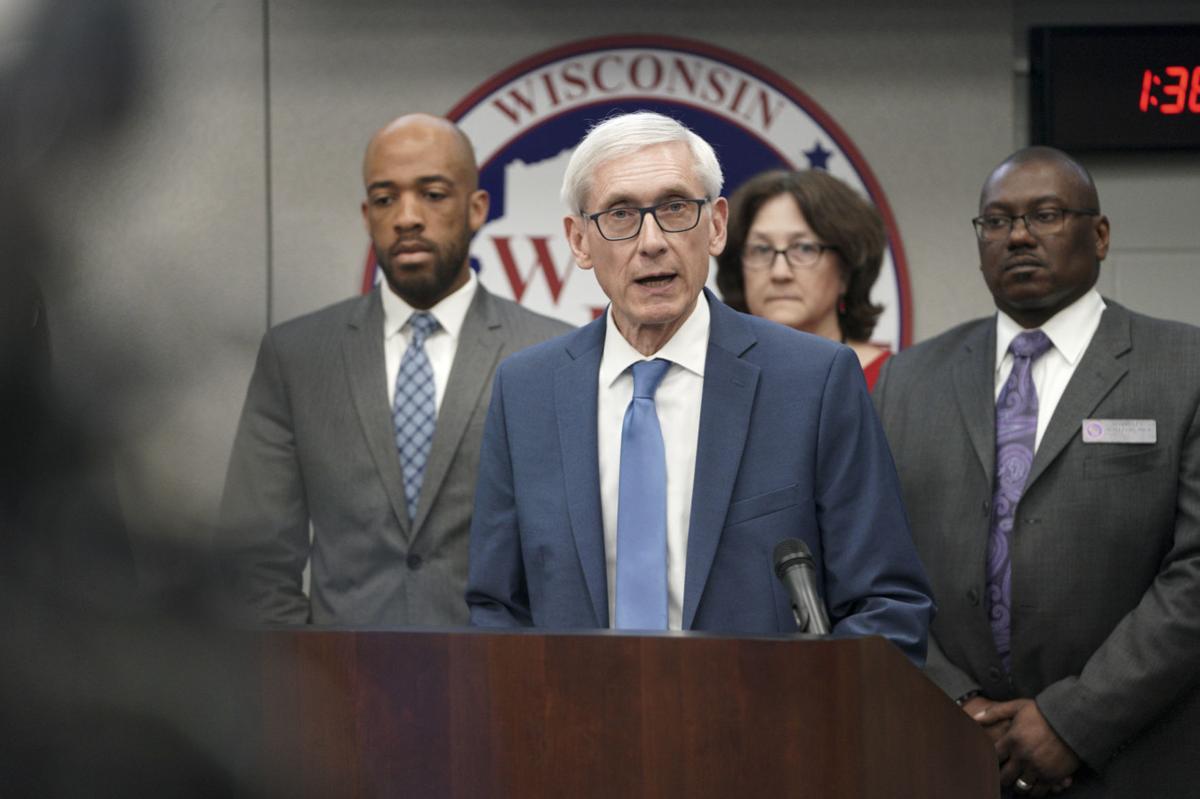 We Wisconsinites are resilient, and we are responsible. That resilience and responsibility is critical in the face of the coronavirus outbreak.
"While we may not be able to control every aspect of this experience, we can control how we respond," wrote Dane County Executive Joe Parisi in a piece published Sunday by The Capital Times. "Difficult times provide us opportunities to rise to the occasion — to bring out the best in us."
We share Parisi's Wisconsin sensibility. We echo his hope.
But we know that officials must take the next big step when it comes to educating and organizing this state of 5.8 million people to get ahead of this pandemic. That means that Gov. Tony Evers needs to make it clear that Wisconsin will follow the lead of other states in mandating a lockdown that is sufficient to slow the spread of a virus that could overwhelm our health care system.
The governor seems to want to avoid the term "lockdown." His latest intervention, which he issued Tuesday, is referred to as a "Stay At Home" order. We would have preferred that the governor use the now broadly-accepted term "lockdown," as that would have emphasized the seriousness of the circumstance and the absolutely necessity of quick and decisive action in a perilous moment.
As his order is implemented, the governor must now provide maximum clarity regarding the importance of actually staying at home.
That clarity is necessary because Wisconsin is in a race against time.
The Milwaukee Journal Sentinel headline on Sunday morning said it all: "Cases soar … as coronavirus carves ever deeper into daily life in Wisconsin." The news the paper reported was grim: "The impact of the coronavirus outbreak on Wisconsin deepened and widened Saturday, with nearly 300 confirmed cases, four deaths, and daily life coming to a virtual standstill."
In a heartbreaking statement, the family of a man who died in Fond du Lac County, 55-year-old Dale Joseph Witkowski, warned against remaining in denial about the threat posed by this virus.
"We ask you to be serious about COVID-19. Please do not panic, rather, educate yourself and your family. Please do not blame or shun, rather be supportive and compassionate, especially with the people who have tested positive for this virus," they wrote in an online obituary. "We responded too slowly as a country and now we are seeing devastating effects in our country, state and community, and for us, our family. Knowledge and mindful, safe practices are what is needed now."
The governor needs to put an exclamation mark on the message that, in order to save lives, it is vital to adopt those safe practices. Yes, we must be flexible enough to allow essential personnel to move about and to keep necessary industries operating. And there is nothing wrong with Evers saying, "You can still get out and walk the dogs — it's good exercise and it's good for everyone's mental health — but please don't take any other unnecessary trips, and limit your travel to essential needs like going to the doctor, grabbing groceries, or getting medication."
But this baseline flexibility must not lull Wisconsinites into thinking they can neglect the core message that we all have a role to play in helping slow the spread of COVID-19 so we can flatten the curve of rising infection numbers. That is critical because, as Evers notes, it is the only way that we can "ensure our doctors, nurses, and health care workers have the opportunity to do their important work."
We can see that the governor is cautious about speaking in bold language. We know these are jarring times for Wisconsin. But Evers will best serve Wisconsin by speaking in clear and unequivocal terms.
He can and should acknowledge the economic pain the coronavirus outbreak is causing. To ease that pain, he must work even more closely with federal representatives like U.S. Rep. Mark Pocan, D-Town of Vermont, to implement innovative programs that protect small businesses, keep workers on the job (even if it is only part-time from home) and maintain a strong and flexible unemployment insurance program.
The governor must also assure that Wisconsin's historic commitment to civil liberties and civil rights is respected. When the Bush administration and its allies adopted the Patriot Act in the aftermath of the 9/11 attacks, this newspaper opposed them at every turn. We'll maintain this vigilance, calling out federal and state officials — be they Republicans or Democrats — who abuse out liberties now.
Evers can maintain the proper balance by addressing issues directly — and by communicating the message that locking down and staying at home will save lives.
That is no longer a debatable point.
We reviewed mounds of data from around the world and around the U.S. before coming to this conclusion. To our view, the research coming from the Imperial College of London's COVID-19 Response Team is most convincing. A World Economic Forum report summed things up well and wisely: "The study's models show that, painful as lockdown may be for many of us, it works. Without any lockdown or social distancing measures, we can expect peak mortality in approximately three months. In this scenario, 81% of the UK and U.S. populations would be infected, with 510,000 dying in the UK and 2.2 million dying in the U.S. In contrast, isolating confirmed and suspected cases and social distancing the elderly and vulnerable would 'reduce peak critical care demand by two-thirds and halve the number of deaths.'"
At the very least, we want the latter result. And, as good Wisconsinites, we hope for much better.
But we're convinced that the only way to do this is by staying at home.
Read the World Economic Foundation report and the Imperial College COVID-19 Response Team study.
Read up on what works. Lock down. Stay at home. And hold tight to the knowledge that Wisconsin can and will get through this.
Share your opinion on this topic by sending a letter to the editor to tctvoice@madison.com. Include your full name, hometown and phone number. Your name and town will be published. The phone number is for verification purposes only. Please keep your letter to 250 words or less.
Concerned about COVID-19?
Sign up now to get the most recent coronavirus headlines and other important local and national news sent to your email inbox daily.