A collection of recent letters to the editor published in the Wisconsin State Journal.
Cephus deserves second chance -- Regina Rhyne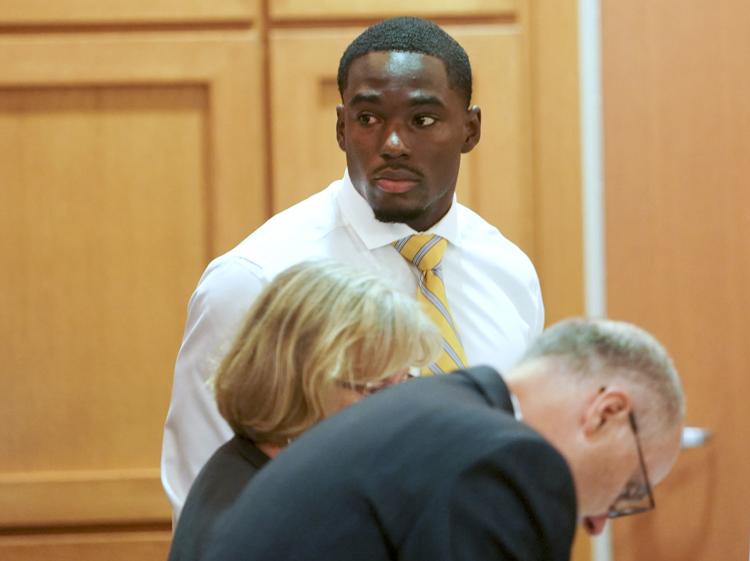 As a mother of two sons, I was glad to see former Badgers football player Quintez Cephus acquitted. Too many times over the course of my 50 years of living in the Madison area, I've seen young black males get raked over the coals -- all because of one night of gallivanting with girls they didn't really know, without realizing the consequences of their behavior.
I suspect Cephus was warned by his parents about how to avoid the temptations that awaited him while in attendance at UW-Madison, but due to his celebrity, he didn't take heed. Due to the severity of the charges, this young man's life was placed on hold. Not only was he suspended from the football team, he was he was also expelled from the university, because of a student disciplinary policy that has a lower burden of proof. In other words, "same script, different cast."
Negotiations should begin immediately to reinstate Cephus to the football team, while allowing him to continue his education at the start of this upcoming semester. Doing this, would be a huge step towards justice. It would enhance his healing process and brighten his future.
Regina Rhyne, Fitchburg
Assault weapons have only one purpose -- Jerry J. Murphy
Another week passes and three more mass shootings have killed innocent civilians -- many of them targeted due to their race or ethnicity.
When will our elected "leaders" wise up and realize that assault rifles serve no legitimate purpose in the hands of civilians? These weapons were developed for warfare, not public gatherings.
Until our politicians are no longer bought and paid for by the National Rifle Association and the gun manufacturers, and assault weapons are banned from private ownership, we will all be looking over our shoulders every time we go out in public.
It's time for our federal officials to step up with reasonable firearm legislation, including background checks and banning these weapons of mass destruction.
Jerry J. Murphy, firearms owner, Monona
Oppose the NRA to stop gun violence -- John Hallinan
Gun violence is the normal for this country. It has been for some time.
If we weren't willing to do anything about guns when first graders were gunned down in Newton, Connecticut, or when 58 people were slaughtered in Las Vegas, or 17 students were killed at Marjory Stoneman Douglas High School in Parkland, Florida, why should we expect anything to change now?
More guns in the street make the streets more dangerous, not safer as the National Rifle Association keeps claiming. If shoot-em-up video games were the cause of all these attacks, countries like Japan and Korea would have some of the highest murder rates -- not some of the lowest.
The NRA, led by right-wing zealots, funded by gun makers and supported by the Russians, has bought and paid for a Congress and state legislatures across the country. Lawmakers refuse to pass any meaningful gun control legislation.
If people want to see a change in gun violence, we need more one-issue voters who oppose the NRA than support it.
John Hallinan, Stoughton
WILL's principle should be consistent -- Bob Jokisch
I see that the Wisconsin Institute for Law and Liberty is requesting that the Wisconsin Supreme Court take up its case challenging the governor's use of his partial veto authority.
I was pleased to see that Rick Esenberg, president of WILL, believes strongly in the principal of separation of powers, stating: "This case is not about politics, it's not about personalities. It's about an important principle, and that is the principle of separation of powers, which we believe is not a formal matter or historical artifact, but an important guarantor of liberty."
I would ask everyone to remember these words when redistricting comes along, and hold WILL accountable to be consistent on the principle of the separation of powers and not try to remove the governor from the redistricting process.
Bob Jokisch, Sun Prairie
'Red flag' laws can be abused -- Pete Papageorge
Gov. Tony Evers' politically-motivated "red flag" law won't give law-abiding gun owners any protections.
Here we go again, taking advantage of a tragedy to install more regulations and laws that do little to stop criminals but harm law-abiding citizens. Red flag laws sound great, but nobody offers protections for law-abiding citizens who may be subject to false accusations by members of the community or even from simple disputes among family members.
As a law-abiding and responsible gun owner, I am not seeing anything that gives me a sense of security.
Criminals do not obey the laws -- so no matter how many gun free zones, universal background checks, weapons restrictions and red flag laws are put into place, the criminals will always have the weapons and the means to wreak death and destruction. Law-abiding citizens will be the ones subject to disarmament and restrictions concerning our safety and well-being.
I will be moving to a rural setting in the next few years, and that 20-minute wait for a sheriff's deputy to respond is too great when dealing with criminals. I will be properly armed to defend my family and property until law enforcement arrives.
Pete Papageorge, Oshkosh