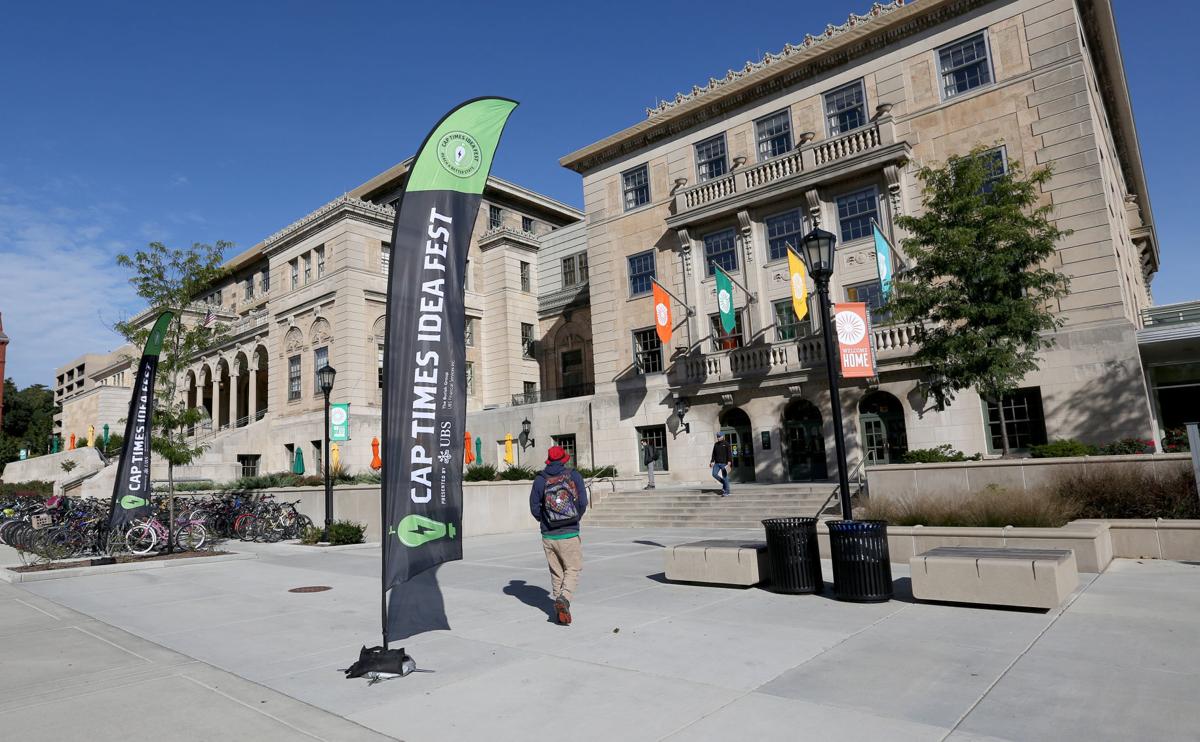 Are you a political junkie? A social justice devotee? A futurist? A fun seeker? Cap Times Idea Fest has got you covered.
This is the third year of the festival. Our aim in 2017 was to create an event worthy of any Madison calendar of notable events, and we think this year's just-completed program proves we've arrived.
The festival builds on our mission: to help our readers understand the most important topics, challenges and opportunities shaping their lives here by listening, investigating, explaining and hosting lively community events that celebrate what makes us special.
For you, it provides a unique opportunity for an in-person experience to be informed, entertained and surprised by our more than two dozen sessions in and around the University of Wisconsin Memorial Union. This year's festival is Sept. 13 and 14 — Friday night and Saturday. (We checked: It's a bye week for Wisconsin football.)
Instead of just reciting aggregated highlights, here is how we think the festival will appeal to six audience segments, though we suspect many of you will be interested in several.
The political junkie: Predictably, there's plenty here.
Our Friday night keynoter is Eric Holder, the former U.S. attorney general who now chairs the National Democratic Redistricting Committee, which focuses on election gerrymandering and voting rights.
Is there a political center? That is the question Scott Klug, our former GOP congressman, will explore as he moderates a national panel of former elected officials and analysts.
U.S. Sen. Ron Johnson and former Lt. Gov. Rebecca Kleefisch, both Wisconsin Republicans, will be featured in one-on-one sessions.
Top-notch Washington Post journalists Carol Leonnig, Alexandra Petri and Catherine Rampell will discuss the Trump era and the 2020 political landscape.
The moderator of that session will be Post associate editor and Cap Times friend David Maraniss, who will also moderate a conversation with Joaquin Castro, a San Antonio congressman and House Intelligence Committee member, about immigration and other topics.
We'll also focus on Wisconsin politics in 2020 in a panel that features noted pollster Charles Franklin among others.
The social justice devotee
Esteemed UW-Madison professor Armando Ibarra has organized a powerful panel on how Latinos in Wisconsin are organizing to push back against white nationalist and anti-immigrant agendas.
We'll explore what comes next on youth justice as Wisconsin closes its large youth prisons and replaces them with smaller, county-run facilities and how that relates to alternatives to incarceration.
Paul Higginbotham, who, before he retired, was Wisconsin's only African American Appeals Court judge, will talk about what needs to happen to make the state's legal system more fair.
We also have an arts panel exploring the question: How can theater be more inclusive?
Madison has plenty of gatherings for tech insiders, but Idea Fest presents macro trends for a general audience, most prominently through the appearance of Judy Faulkner, the CEO and founder of Epic. The health care information technology giant she created decades ago has fueled the growth of Madison's thriving tech sector.
We'll explore whether Madison can supercharge its economy — rivaling cities like Seattle and Austin — with other health care technology through a panel discussion with local start-up executives organized by the venture capital group HealthX Ventures.
An outstanding panel of local leaders will explore the question: "How Does Madison Not Become Seattle?" That city has experienced severe issues with homelessness, skyrocketing housing costs and traffic gridlock in its growth over the past two decades. Urban League of Greater Madison President and CEO Ruben Anthony, Exact Sciences CEO Kevin Conroy, Wisconsin Alumni Research Foundation head and former Seattle resident Eric Iverson and Madison Mayor Satya Rhodes-Conway will speak.
Noted agriculture journalist Pam Jahnke will host a panel on the future of family farms in Wisconsin.
Another future-focused session is about improving public dialogue through the Local Voices Network project. Noted UW political scientist Kathy Cramer will speak and, after that talk, there will be unique opportunities for attendees to participate.
Still another future-focused session is about media credibility and will include, among others, Farhad Manjoo, an op-ed writer for The New York Times.
The Wisconsin Alumni Foundation is presenting a session on good news in the fight against Alzheimer's disease in a discussion featuring leading UW experts, including Dr. Cynthia Carlsson, the head of the Alzheimer's Disease Research Center.
We will also present a panel on social media in the next generation. Experts, including Dr. Megan Moreno of the Social Media and Adolescent Health Research Team, will talk about the ways social media affects youth both positively and negatively.
Maraniss will talk about his new book, "A Good American Family," exploring lessons about his father and the McCarthy era. This will be something special — the moderator will be Cap Times Editor Emeritus Dave Zweifel, who knew and worked for David's father, Elliott, at the Cap Times and has known David since his childhood.
Best-selling author Chloe Benjamin will talk about her novels "The Immortalists" and "The Anatomy of Dreams" and what it is like to live and write in Madison.
The fun seeker: Hey, we're not all about the talk, far from it.
We kick off Friday night with Smarter Than You Trivia, (Cap Times team kicked butt last year, just saying), we've arranged for some of Madison's best food carts on the Library Mall for lunch Saturday, and we will present a performance tied to Idea Fest by the improv comedy troupe Monkey Business Institute as we wrap things up Saturday evening.
We are also presenting two fun live podcasts — one about dining with noted chef Yia Vang, who founded an acclaimed pop-up restaurant in Minneapolis, and another featuring Ana Marie Cox, who brings her well-known Crooked Media podcast to Idea Fest by interviewing Blair Braverman, an Iditarod sled racer from northern Wisconsin and the author of "Welcome to the Goddamn Ice Cube."
The topper is that there are many cool sessions I haven't even mentioned. So study the program, plot your path, but by all means, please come. You'll be supporting the future of Cap Times journalism in the process.
Share your opinion on this topic by sending a letter to the editor to tctvoice@madison.com. Include your full name, hometown and phone number. Your name and town will be published. The phone number is for verification purposes only. Please keep your letter to 250 words or less.