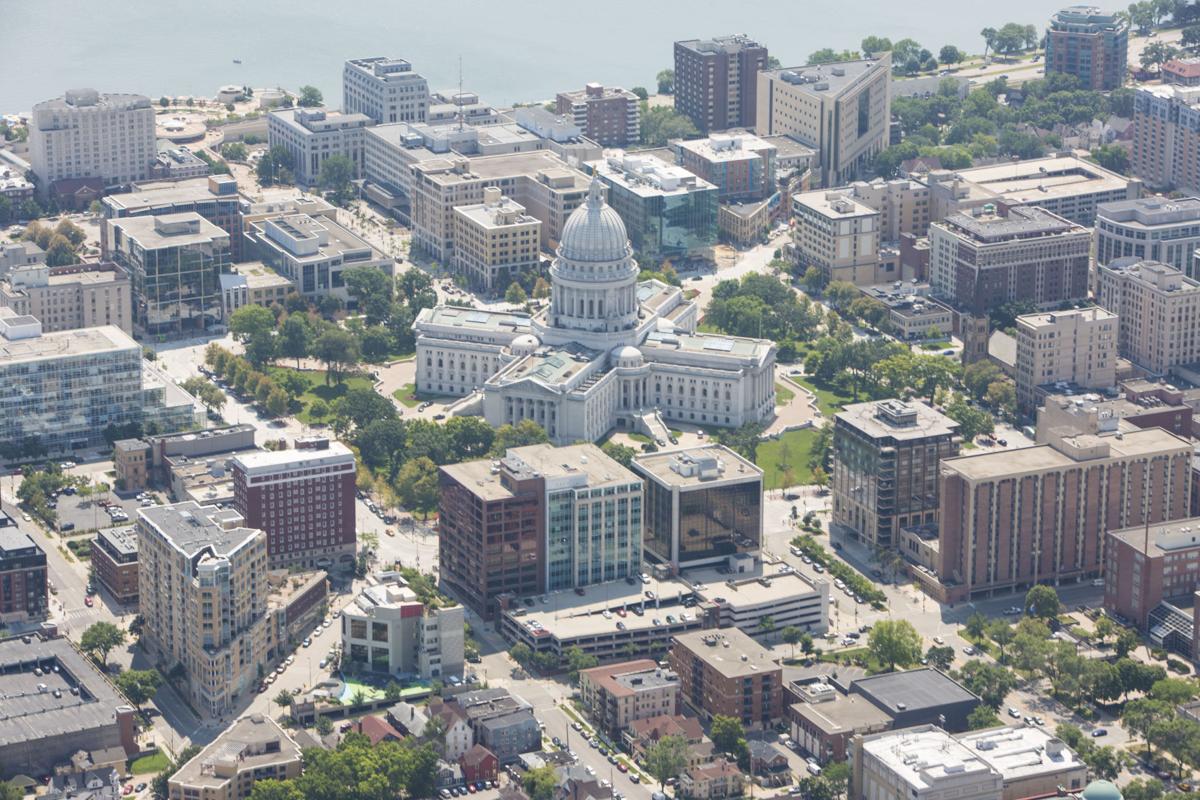 Earlier this month, Time magazine proclaimed 2020 to be the "worst year ever," citing the coronavirus pandemic, the economic downturn and racial upheaval.
In choosing our theme for this fall's Cap Times Idea Fest, we struck a less dire tone: "2020 changes everything." As I look back on what Madison experienced this year, I settled on three headings.
In 2020, we learned that:
Madison is a genuinely caring city — a bastion of generosity, decency and compassion. It's a town filled with heroes.
Has it ever been more evident that altruism is a rampant personality trait in this town? That starts with the doctors and nurses in our enormous health care sector donning face masks, face shields and space-age protective gear to risk their lives in the pandemic.
But that goes for many others as well, people like Dwayne Collins, an environmental services technician at University Hospital. As Cap Times reporter Katelyn Ferral wrote about Collins, who cleans the rooms of pandemic patients: "The work of doctors, nurses and other health care professionals has rightly been championed during the COVID-19 pandemic. Less visible is the work of those clocking in every day to wield mops, sanitizer and scrub brushes to keep lifesaving hospitals sanitary and safe."
Collins exemplifies the countless thousands of people who are out there in masks and shields all day, every day. We are lucky that they keep this city running in retailing, in offices, in dining, in all sorts of service work and myriad other settings.
My Cap Times and philanthropic Evjue Foundation roles bring me into contact with scores of people, many in nonprofit settings, who bring energy and passion to crucial causes from food insecurity to homelessness. This worst of years has brought out their best.
Many could be making more money with less emotional stress elsewhere. Instead, they work to help those who are suffering the most. Our difficult year has reminded me how many heroic people we are blessed to have in Madison.
Madison remains a Shangri-La for affluent white people, but many, especially in communities of color, still struggle.
The Black Lives Matter protests in Madison this year again underscored the chasm between what it means to be white and not white in this city. That's not new. We've been struggling with a school achievement gap for decades. Our self-image as open-minded has always collided with the testimony of non-whites about barriers they face daily, and how that makes them feel.
The damage that rocked State Street and the Capitol Square brought the topic of what it means to be Black in Madison to the fore. It also highlighted the rift between the city's longtime Black leaders and a younger generation more inclined to confrontation.
That later group successfully focused this year on getting police officers removed from high schools, even as some of us felt many of the officers who worked inside schools were deeply devoted to keeping kids out of "the system."
There is also the ongoing conundrum — the "chicken and egg thing," you might call it — that makes it hard for Madison to attract a critical mass of professionals of color. If that goal were attained, there probably would be more gathering places and cultural connections available to people of color, but because we lack those, it makes recruitment much harder.
Beyond that is the seldom-discussed tension between the Black and Latino communities over resources and focus. Leaders in neither community want to talk much about it, but it is a subplot.
So where does that leave us? As someone who has never lived here while being Black or Latino or Native American, it leaves me committed to listening and eager to hear about new ways to help.
Madison is extraordinarily lucky to have grownups in leadership positions everywhere, inside the public sector and out. In a city whose dominant political split is between the center left and the far left, maybe we should try to get over the post-election noise and simply rejoice in Joe Biden and Kamala Harris.
There is plenty to be sad about across the national political landscape. But the liberals who dominate Madison should push back against feeling bad with this simple mantra — Donald Trump lost despite the enormous advantages of incumbency.
Yes, outside Dane County, you have ongoing authoritarian-style governance by our political rivals, most of them Republicans. These cynical politicians will only be stopped when they are finally forced to pay a political price.
So far, that hasn't happened. But inside Dane County, let's remember that we are blessed with public sector leaders who are honest and energetic.
I have known many local leaders for decades, and so many of them deserve accolades. They include Dane County Executive Joe Parisi, who has accomplished more with a pragmatic, humble style than many better-known politicians; Madison Mayor Satya-Rhodes Conway, whose budget priorities seem to align with Madison's liberal but not far-left electorate; and University of Wisconsin-Madison Chancellor Rebecca Blank, who deftly navigates the labyrinthine politics that surround our flagship campus on both ends of State Street.
There are also people like Shiva Bidar and Marsha Rummel, longtime city council members who are not seeking re-election. They have spent untold hours for the minimal remuneration and maximal flak that comes with being an alder for, respectively, their near-west and near-east side districts.
Finally, there are people like Kevin Conroy, the Exact Sciences CEO who seems almost as devoted to the quality of life in Madison as he is to his company's stock price, and Judy Faulkner, the Epic Systems CEO who eschews the public spotlight but who has propelled a prosperous Madison-area economy more than any single person in modern history.
Yes, 2020 has been Madison's worst year in living memory.
That said, we are damn lucky to be here.
Share your opinion on this topic by sending a letter to the editor to tctvoice@madison.com. Include your full name, hometown and phone number. Your name and town will be published. The phone number is for verification purposes only. Please keep your letter to 250 words or less.