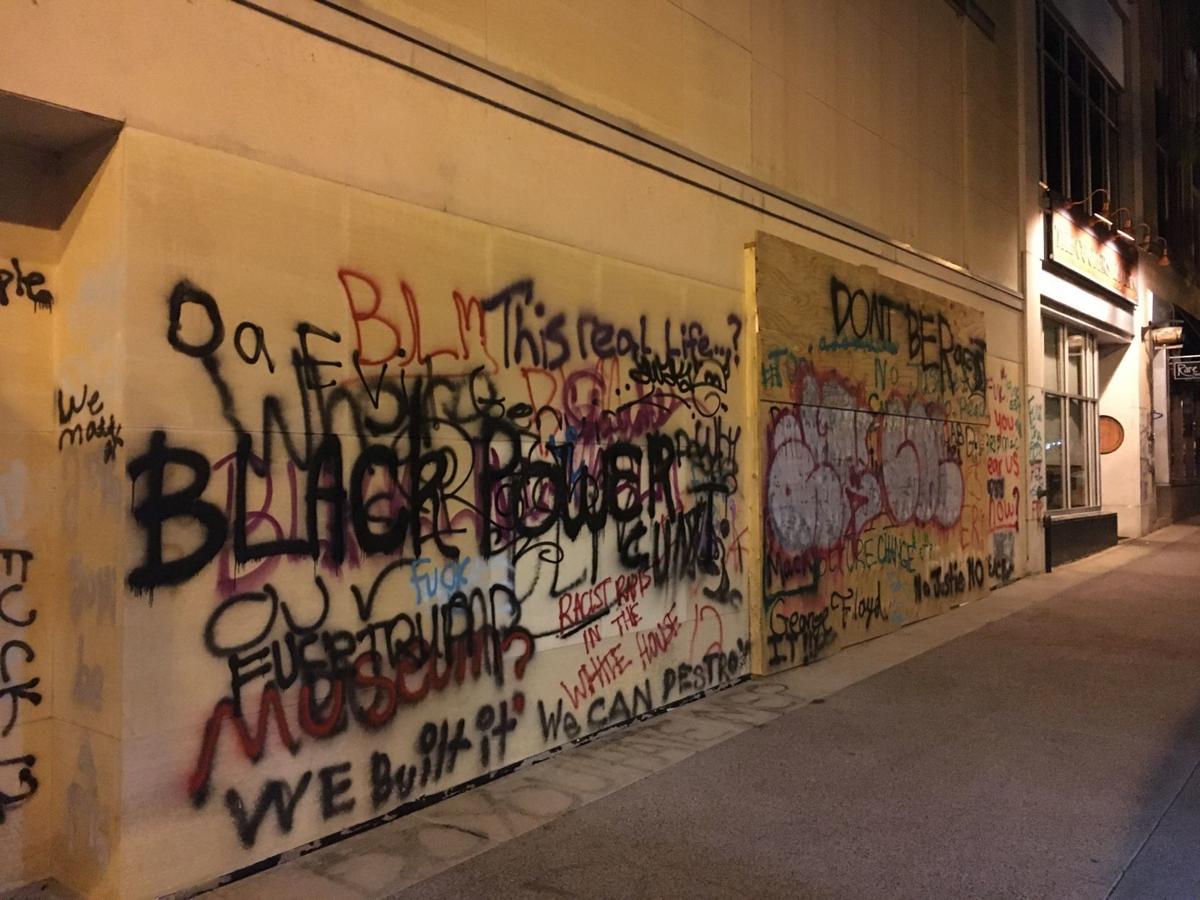 One evening late last summer, standing where King Street meets the Capitol Square, two women approached me. One of them wore a white sash, the other carried a Styrofoam tree of suckers. They were on a high like actors after opening night. One of them asked if wanted a sucker, and would I donate a dollar to her bachelorette party fund? Caught off-guard but showing little remorse, I told them no.
I walked away, processing how I felt about their question. I understand she was trying to make the bride-to-be feel special. They called after me, "We take Venmo!" On the other hand, it didn't seem right to give them charity when people within earshot were tucked in sleeping bags and under tarps on the Square without shelter. And how do the bachelorettes feel when these people ask them for money?
Last week, over five officers worked to violently arrest an activist named Yeshua Musa on the other side of the Capitol, outside The Coopers Tavern. The video shows the Catch-22 that a Black person faces when being detained by police these days: either they submit to the conditions of arrest that officers subjectively set, or they intuitively protest to potentially save their life — by asking questions, avoiding physical assaults and trying to position their body in ways that minimize their distress. The problem is, as officers arrive more and more desperate to detain the individual, they exert more force. Naturally, they escalate the situation and blow out of proportion what could have been a calm conversation, or less — they could condone them being Black. Instead, they're booked as "resisting arrest."
People who have never experienced arrest will see this as a justification, saying, "But he resisted arrest, that's illegal," when white people know now, from video evidence of cases across the country, what Black and brown people have long known: that even those who comply — even those in their own beds — aren't safe from the police.
I wasn't there, but from what I've read and watched, Musa was in and out of restaurants and their outdoor patio areas with his megaphone and baseball bat talking about disturbing them if they didn't make donations to a Venmo account. "Disorderly conduct," "disturbing the peace," "extortion," they call it.
In the last month, I've talked to a lot of white people about Black Lives Matter, incrementalism/revolution, and police reform/abolition. Putting aside how social media activism (pejoratively called slacktivism) has progressed, I'm curious how our system will change as a result of recent protests, if at all. More than ever, people agree with Black Lives Matter and #DefundThePolice, but I'm left wondering how far society is comfortable going.
I think, actually, it's always about white people's comfort, and that's the problem.
I'm white. In the last 15 years I've worked for a number of Madison restaurants, cafés and bars. When training someone to run food, I always tell people that even though you can carry four plates, you don't want to risk looking uncomfortable or dropping a plate because seeing you uncomfortable makes the customers uncomfortable. Sometimes, when the customer isn't right, you have to make them feel like they're right, like when they claim they said they wanted tomatoes, and they definitely didn't.
What COVID-19 and BLM have thrown into relief is that we have a group of people who are dying at disproportionate rates and suffering the same disparities they've always suffered, and a group of people who don't wear masks and want to be waited on during a pandemic. Especially in Madison, the disparity between these two groups of people couldn't be wider as COVID cases multiply.
Already, we have bars that ask Black people for two forms of ID, tell them they can't come in with white V-neck shirts, and won't play rap music when they're inside. Of course, we have restaurants with managers who are uncomfortable with breastfeeding mothers and ask them to leave too.
We also have restaurants that claim they're "too close to the bus stop" to display job postings for their kitchens outside their restaurant, and many restaurants hire white servers "with experience" because they "know how to talk to the customers better." Anyone who's ever waited tables knows that it's not the job itself that's hard but the pressure you put on yourself to make the most money you can (your tips pay for your health insurance).
Beyond food and drinks, the restaurant industry is about creating a place where people can escape to and be taken care of. In one way, I think it's one of the most beautiful ways to share culture: by feeding people, taking care of them, and making them feel good. It's also toxic in that it can be highly financially exclusive, allows people with money more chances to set the terms of social interactions, enlists lower-class people to act as their servants, and, as "Karen" has demonstrated, restaurants can become battlegrounds for leveraging that privilege however they can.
So it's disappointing to hear that the staff at The Coopers Tavern privileged the care and comfort of one kind of person over another's. Maybe they've struggled to make money through COVID-19 in ways that made their guests' comfort more important than Musa's peaceful protest. Maybe I'm being insensitive; maybe someone was hurt or feared for their life. I'm sure Musa has felt that way before too — and what is he to do about it, other than continue to be ignored?
I think it's important that, in addition to Instagram posts and donations, we also transform restaurants and bars into spaces where we hear Black voices, assume that they know something about racism that non-Black people don't, and allow them to set more of the terms around these social interactions. It's much easier, as a white person sitting at brunch, to hear someone call you a racist asshole and tell yourself, "I am racist and could do more to help," than to feel offended or annoyed by it.
During the White Coats for Black Lives protest earlier in June, Musa walked through the crowd livestreaming from his phone and asking people who they were and what their job was in health care. Many were put off by his questions, not wanting to speak up and answer his question while someone was at the mic giving their speech. One Black speaker, uncomfortable not hearing the chants and applause she's used to hearing from Black crowds, repeatedly asked, "Can I get an audience today?" of the quiet audience of health care workers. A few minutes after Musa had weaved his way through my area of the crowd, Vanessa McDowell, CEO of the YWCA, acknowledged Musa and his work: "He's trying to make you feel uncomfortable."
Robin DiAngelo, who writes about antiracism in her book "White Fragility: Why it's so Hard for White People to Talk about Racism," says, "We've got to start making it uncomfortable and figuring out what supports we're going to put in place to help us continue to be uncomfortable … Because the forces of comfort are quite seductive."
Learning takes time, effort, and — when you're talking social realities lived by other people — discomfort. It's much easier to avoid these issues. White people have little incentive to do this work, and we don't want to be perceived as racist if, in the process of unlearning, we accidentally reflect the racist things we've been taught. I think there's a lesson we can take from COVID-19: instead of assuming that you're not racist, assume you have it and do what you can to keep it from spreading.
Moreover, we have to remember that white people kind of want racism — or at least the social advantage it affords us, which is why, like COVID, we may be less bothered by it. We don't want it, exactly, but we know that if we have it, it'll mostly affect Black and brown people and the poor over healthy white people.
We have to be aware of these situations, where white people can get away with something that Black people can't. Like on Badger Game Day, how white people can drunkenly assault each other, or while protesting Gov. Evers' order to stay inside, we can walk around the Capitol holding rifles. Meanwhile, Yeshua Musa is arrested for carrying a bat and a megaphone.
For us to be more intent on drawing lines around what protests are ethical and what aren't — and allow that prejudice to lead our steps moving forward — we will only create new versions of white supremacy, like a new citizen board reviewing cases of brutality where white people are telling police everything they did was legal.
Many white people have admitted that we're ready to start listening. We won't understand what it's like to be Black. We also have to acknowledge that we won't understand how a Black person protests. They will twerk in the street after bar close. They will tap on windows and doors. They will ask us questions that we'll perceive as uncomfortable, and rightfully judge us for throwing back a drink at a bar, care-free. Their anger, their interrogations, their joy — all of it is a protest that we have to join in on.
Patrick Johnson earned his MFA in poetry at Washington University in St. Louis and completed his undergraduate at UW-Madison. His book of poems and short essays on the dark web, connection, and loneliness entitled Gatekeeper was published by Milkweed Editions in 2019. He is currently studying to become a physician assistant and lives in Madison.
Share your opinion on this topic by sending a letter to the editor to tctvoice@madison.com. Include your full name, hometown and phone number. Your name and town will be published. The phone number is for verification purposes only. Please keep your letter to 250 words or less.
Catch the latest in Opinion
Get opinion pieces, letters and editorials sent directly to your inbox weekly!