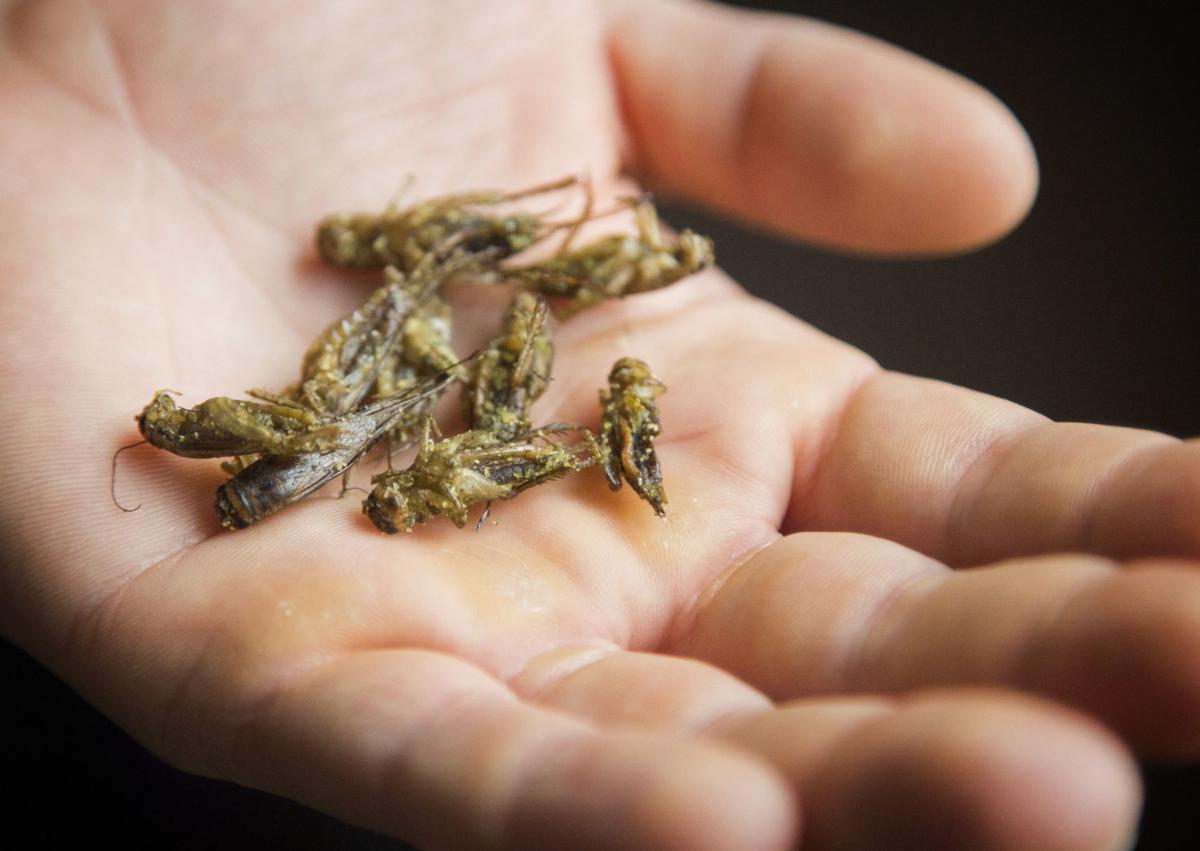 My son spent seven months helping to organize last week's exciting series of "Swarm-to-Table" events about insects as food, and I got infected by the excitement. Though I had eaten sautéed termites when living in West Africa, insect-eating mostly seemed exotic and interesting, if not a little disturbing. But the week's activities made clear to me not only why it's a very important, perhaps essential, field of enterprise and research, at this moment in human history — it also demonstrated to me that there's a wide variety of insects with taste profiles delicious enough to overcome my culturally informed revulsion at finding a carapace in my mac and cheese.
For a few days, my husband and I had the honor of hosting the world's preeminent expert on insects as food, Arnold Van Huis, from the Netherlands. And we ate fabulous dishes prepared by the New York chef and insects-as-food ambassador, Joseph Yoon. I came to love the fact that Joseph didn't believe in disguising crickets by serving them ground into flour, for example. He served us marvelous "bug-forward" dishes. A dinner guest at our house later in the week sampled some leftover black ants and was thrilled with their formic-acid zing.
As humans face inevitable food shortages globally by mid-century, and as climate change threatens ecological and economic disaster also at a global scale, eating insects makes a lot of sense. Insects convert feed into digestible proteins and food for humans at 10 times the efficiency of beef, and the edible portions of ready-for-market insects are twice that of beef. Insects use about one-fifth of the amount of water in producing a gram of protein and emit less than a quarter of the greenhouse gases associated with beef production.
The evidence is that insect-eating has been integral to human evolution and is a deep and historic part of many world cultures, even though some Euro-centric cultures have lagged behind.
There may be good health reasons for the duration and ubiquity of insect eating, which seems abnormal only to a relatively small part of the world's peoples. High in fats and digestible proteins, some insect species also confer benefits on human gut microflora, and others help mediate glucose metabolism, which can help address escalating rates of Type 2 diabetes. Research has shown that chitin found in insect exoskeletons can strengthen immune systems, reduce bacterial infections and help reduce body fat.
The United States lags behind Europe, China and other nations in creating major business enterprises based on raising insects for food and feed, but farmers are starting to recognize this new form of agriculture. Whether raising black soldier fly larvae, crickets, silkworm pupae or other species, farmers are learning how to produce healthy insects in disease-free facilities at a profit.
There is need for much more research, policy support and education to support this field, so having a major research institution like UW-Madison recognize its legitimacy and importance with last week's gathering is helpful and responsible. It turns out that one of the earliest international leaders in this field was an entomologist from Madison — the late Gene DeFoliart. It now rests with other researchers, policy leaders and nonprofit advocates to embrace a field that can help humanity weather some of the greatest challenges we have ever seen. Opening ourselves to the different flavors and pleasures of insects will speed us down that path.
Margaret Krome of Madison writes a semimonthly column for The Capital Times. 
Share your opinion on this topic by sending a letter to the editor to tctvoice@madison.com. Include your full name, hometown and phone number. Your name and town will be published. The phone number is for verification purposes only. Please keep your letter to 250 words or less.