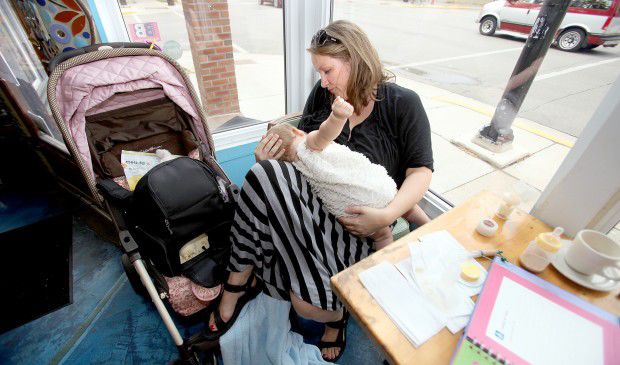 I realize this is a family newspaper. But I think that, in this day and age, it should be OK to talk about breasts — as long as the discussion is respectful and not prurient.
Breasts, of course, are a defining feature of the human race. We are, after all, mammals — a class of vertebrates. I refer to you a common definition: Mammals are "a warm-blooded vertebrate animal of a class that is distinguished by the possession of hair or fur, the secretion of milk by females for the nourishment of the young."
So, female breasts serve a very important function, although it is true that males of our species are often interested in breasts for other reasons.
Commercial infant formulas, of course, are an alternative to breast milk — and provide a large portion of the $70 billion in revenues gathered by the international baby food industry dominated by U.S. companies and Nestlé, a Swiss-based company with substantial operations here. But research clearly indicates that the natural product is the most effective way to nourish infants.
The director of Canada's Infant Feeding Action Coalition says four decades of research have established the importance of breast milk, which provides essential nutrients as well as hormones and antibodies that protect newborns against infectious disease. A 2016 study in The Lancet found that universal breastfeeding would prevent 800,000 child deaths a year across the globe and yield $300 billion in savings from reduced health care costs and improved economic outcomes for those reared on breast milk.
Having established all that, let's now consider Ecuador. Ecuador?
A resolution to encourage breastfeeding was expected to be approved quickly and easily by the hundreds of government delegates who gathered recently in Geneva for the United Nations-affiliated World Health Organization assembly. Ecuador was to introduce the resolution.
But the Trump administration, hungry for a foreign relations success — any foreign relations success — attempted to block the resolution and threatened little Ecuador with trade sanctions and loss of military aid if it introduced it.
As I'm sure you've noticed, Trump is failing miserably abroad. A prime example, of course, is the way in which our "dealmaker-in-chief" is being run in circles by the "little rocket man." Three visits to Pyongyang by his secretary of state subsequent to the overblown and worthless "Singapore Summit" have failed to provide a win for the U.S. on any front. We gave — cancelling joint "war games" with South Korea, for example. Kim Jong Un just took, thus enhancing his status home and abroad.
Incidentally, Ecuador has no nukes or missiles — just llamas and the Galapagos Islands. Ecuador, of course, caved to Trump.
The United States delegation, embracing the interests of infant formula manufacturers, worked to upend the breast-milk deliberations by removing language that called on governments to "protect, promote and support breastfeeding" and another passage that called on policymakers to restrict the promotion of food products that many experts say can have deleterious effects on young children.
Supporters of the resolution — virtually every other country present — were amazed and dismayed at the U.S. position. Health advocates scrambled to find another sponsor for the resolution, but at least a dozen countries, most of them poor nations in Africa and Latin America, declined citing fears of retaliation, according to officials from Uruguay, Mexico and the United States.
During the negotiations, the U.S. side also threatened to cut funding for the WHO, which would cause serious damage since we provide $845 million in annual funding, about 15 percent of its budget. You may remember that the WHO handles really important stuff like eradicating smallpox and administering Ebola vaccines.
And so what country rode in on a white horse? Russia. Russia introduced the resolution to the applause of the other nations present. I think that's what's called a public relations coup. Life, of course, is full of unanticipated consequences. But this is one we might have expected our "dealmaker" or his minions to anticipate.
Incidentally, the administration didn't level any threats at Russia. Make of that what you will.
In the end, the United States was largely unsuccessful. The final resolution, which was overwhelmingly approved, preserved most of the original wording, though American negotiators did get language removed that called on the WHO to provide technical support to member states seeking to halt "inappropriate promotion of foods for infants and young children."
So, we're left with the question: "What does Donald Trump have against children?" Separating children from their families at the border can no longer be considered an anomaly.
Lorin R. Robinson, Ph.D., is a writer and former chair of the journalism department at UW-River Falls. His current book is "The 13: Ashi-niswi."
Share your opinion on this topic by sending a letter to the editor to tctvoice@madison.com. Include your full name, hometown and phone number. Your name and town will be published. The phone number is for verification purposes only. Please keep your letter to 250 words or less.