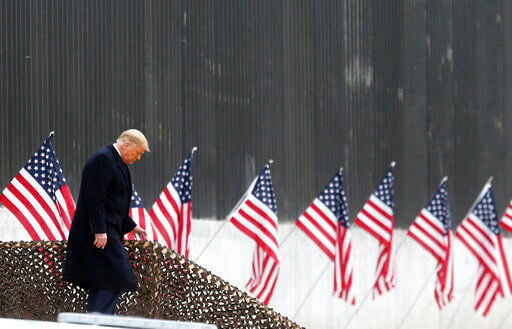 The last time an American leader breached every standard of decency sacred to this democracy was 70 years ago, in the person of "Low Blow" Joe McCarthy. But what happened during that Red Scare is not just terrifyingly familiar, it's unexpectedly reassuring in these knuckle-biting last days of the era of Trump.
Early on, President Donald Trump took a cue from Sen. McCarthy that sets them apart from other high-profile fibbers: there's no worse price to pay for a big lie than for a small one, so why not tell whoppers? In McCarthy's case, it was insisting that our government was riddled with Soviet spies and placing George C. Marshall, the general who masterminded the Allied victory in World War II, at the epicenter of a Communist "conspiracy so immense … as to dwarf any previous such venture in the history of man." Our current conspirator-in-chief denies the truth about the deadly coronavirus, insists that incontrovertible proof of a warming planet is bogus, and, to the last, swears his recent election defeat was winning "by a landslide."
The Washington Post, which tallied Trump's false and misleading claims, clocked him at more than 50 a day; when its overall count passed 22,000, the paper said it no longer can keep up.
Smearing political enemies is another weapon Trump has borrowed from McCarthy's arsenal. The mudslinging lawmaker from Wisconsin sprayed those he vilified with a hose of Communist red and mocked Margaret Chase Smith, the Maine senator who — with six fellow moderate Republicans — called out McCarthy, as "Snow White and the Six Dwarfs." The trash-talking Trump likewise paints his adversaries a treasonable blue, ridiculing the president-elect as "Sleepy Joe" Biden and soon-to-be vice president Kamala Harris as "Phony Kamala."
The parallels don't stop there. In lieu of solutions, McCarthy and Trump pointed fingers. When one charge against a manufactured enemy was exposed as hollow, they lobbed a fresh bombshell. When the news was bad, they blamed the newsmen. Each made his name into a ubiquitous brand. Neither had a master plan other than staying in power. Both shocked the world and themselves by rising as fast and far as they did.
Candidate Trump boasted to supporters in 2016 that "I could stand in the middle of Fifth Avenue and shoot somebody, and I wouldn't lose any voters." Sixty-two years before, polling pioneer George Gallup penned a chillingly similar prediction about the senator's minions: "Even if were known that McCarthy had killed five innocent children, they would probably still go along with him."
The link that bleeds from McCarthy's story in the 1950s into Trump's today isn't an imagined one. It was Roy Marcus Cohn, an attorney who, while just 25, already was a seasoned Red-hunter. Cohn served as McCarthy's imperious and ingenious protégé. Thirty years later, Cohn became Trump's bare-knuckled preceptor. This snarling front man channeled the senator's playbook to the eventual president.
But even McCarthy had limits. He fought hard and oftentimes dirty to win elections, for himself and his boosters — but when he or they lost, he accepted the results. He was a genius at seizing upon public fears and rifts, but stopped short of inciting his supporters to actual violence. Not so Trump.
With that pair of bullies and others like them, democracy and history always get the last words. Given the rope, each of our long lineup of homegrown zealots and dodgers — from Boston's "Rascal King" mayor James Michael Curley to Alabama's segregationist governor George Wallace and Michigan's Jew-baiting radio preacher Father Charles Coughlin — has eventually hanged himself. In McCarthy's case, he went eyeball-to-eyeball with an enemy too big to browbeat, the mighty U.S. military, in an act of bombast that led an Army lawyer to pose the withering question, "have you no sense of decency?" and gave his Senate colleagues the backbone to condemn him. With Trump, it was the public that rebelled, giving Biden decisive victory margins of 7 million popular votes and 74 electors.
McCarthy's name, meanwhile, has become an "-ism" synonymous with fear-mongering and reckless accusation, and he has stood as America's archetypal demagogue — until now. The word McCarthyism already is being displaced in the American lexicon by an ever scarier one: Trumpism.
Larry Tye is a former Boston Globe reporter and author of seven previous books, including bestselling biographies of Bobby Kennedy and Satchel Paige. His book "Demagogue: The Life and Long Shadow of Senator Joseph McCarthy" was released in July.
Share your opinion on this topic by sending a letter to the editor to tctvoice@madison.com. Include your full name, hometown and phone number. Your name and town will be published. The phone number is for verification purposes only. Please keep your letter to 250 words or less.