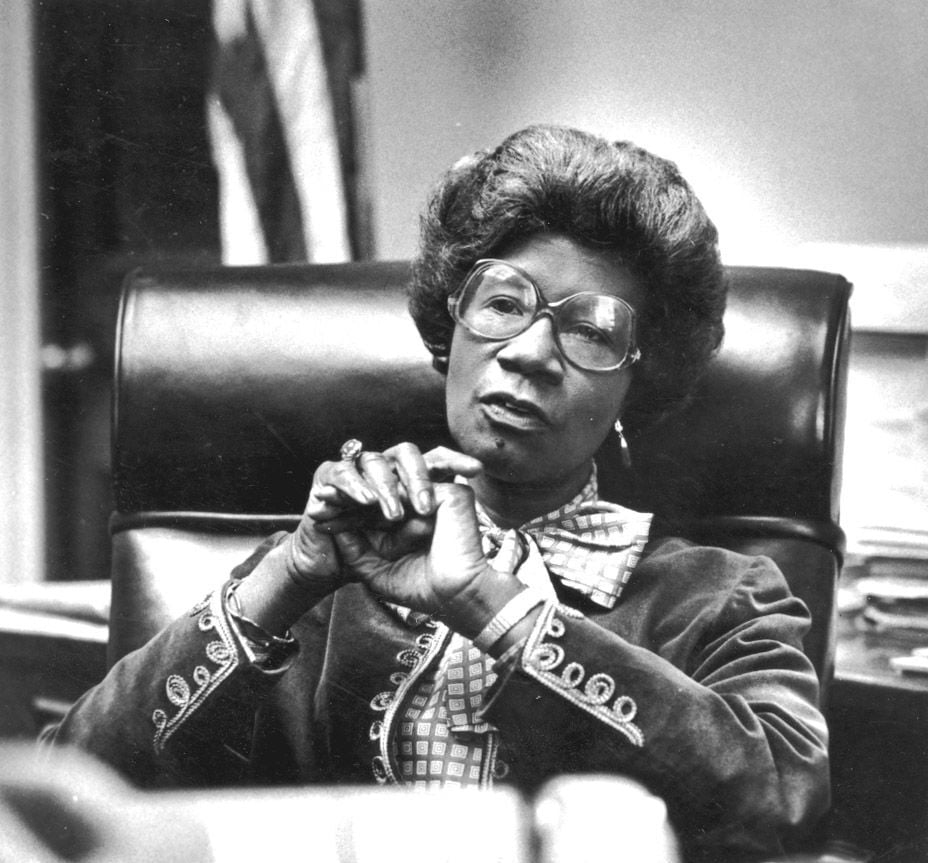 I've been meaning to write about Shirley Chisholm since Kamala Harris, a longtime admirer of the former congresswoman, became vice president. Thankfully, Nada Elmikashfi — who ran a groundbreaking state Senate campaign last year and now serves as chief of staff for state Rep. Francesca Hong — gave me the impetus, when she messaged me last week with the news that Academy Award-winning actress and director Regina King will produce a movie on Chisholm. "I know you're a fan of Shirley!!" she wrote.
I've been a fan of Shirley Chisholm since I was a pre-teen witness to the 1972 Democratic presidential primary campaign as it unfolded in Madison. I've still got my yellow-and-black "Take the Chisholm Trail to 1600 Pennsylvania Avenue" pin, and my red-white-and-blue "Catalyst For Change" badge, along other relics from the intrepid campaign that asked Wisconsinites to imagine that the first Black woman to serve in the U.S. House of Representatives could — and should — be the first Black woman president.
Forty-eight years ago, "People for Chisholm" backers met at the Eagle Heights Community Center and Union South to plot a genuinely grassroots campaign. Chisholm attracted support on the University of Wisconsin-Madison campus and in the lefty wards of the near east and west sides. She even had a cadre of backers in rural Dane County. She won 2,136 votes countrywide in the April 4 primary that year — better than several of the former presidential contenders, senators and House members she was running against, but far from a win.
It was never easy for Chisholm or her backers. The congresswoman from New York asked her party and her country to throw off the racist and sexist politics of the past and imagine a new America.
"I'm a revolutionary at heart now and I've got to run," she said, "even though it might be the downfall of my career."
Chisholm proposed an intersectional politics that would forge multi-racial urban and rural coalitions.
"I am not the candidate of Black America, although I am Black and proud. I am not the candidate of the women's movement of this country, although I am equally proud of that," she said. "I am not the candidate of any political bosses or special interests. I am the candidate of the people."
Against a crowd of white male contenders — some of whom shared her progressive politics, most of whom did not — Chisholm ran as the "Unbought and Unbossed" candidate. A militant foe of the war in Vietnam and a champion of the economic and social justice movements that had organized so effectively during the 1960s, she never minced words. As a co-convener of the National Women's Political Caucus, she declared, "Women in this country must become revolutionaries. We must refuse to accept the old, the traditional roles and stereotypes."
That kind of talk — along with her refusal to reject the endorsement of the Black Panthers — scared party leaders, media commentators and liberal allies who fretted that Chisholm would siphon votes off from better-known anti-war candidates, such South Dakota Sen. George McGovern and New York Mayor John Lindsay. They were not ready for a candidate who promised to "reshape our society," and they afforded her few opportunities to prove herself.
"There is little place in the political scheme of things for an independent, creative personality, for a fighter," Chisholm observed. "Anyone who takes that role must pay a price."
Chisholm had to file a complaint with the Federal Communications Commission to win a place in a televised debate featuring McGovern and former Vice President Hubert Humphrey. Yet, she remained undaunted, maintaining the dignity and determination that characterized a political career that saw her elected twice to the New York Assembly and seven times to the U.S. House.
One of the most remarkable moments of the 1972 campaign came after Alabama Gov. George Wallace, a foe of civil rights who also sought the party's nomination that year, was shot. Wallace was shocked when Chisholm arrived in his hospital room to express her sympathy.
"He said, 'What are your people going to say?' I said, 'I know what they are going to say. But I wouldn't want what happened to you to happen to anyone.' He cried and cried," Chisholm recalled.
The congresswoman's compassion — and her commitment — struck a chord with voters. While she won just one primary (New Jersey's statewide preference vote in June), Chisholm outlasted better-known and better-financed contenders such as Maine Sen. Ed Muskie and Washington Sen. Henry "Scoop" Jackson. At the Democratic National Convention in Miami, she received 151 delegate votes — including that of a young Barbara Lee —and a measure of the respect she was often denied on the campaign trail.
Chisholm did not expect to win the presidency in 1972. But she did expect that her candidacy would inspire others.
"I ran for the presidency, despite hopeless odds, to demonstrate the sheer will and refusal to accept the status quo," Chisholm wrote in her 1973 book "The Good Fight." "I ran because most people think the country is not ready for a Black candidate, not ready for a woman candidate."
"The next time a woman runs, or a Black, or a Jew or anyone from a group that the country is 'not ready' to elect to its highest office, I believe that he or she will be taken seriously from the start," she said. "I ran because somebody had to do it first."
The Chisholm trail would be followed by others: by the Rev. Jesse Jackson Jr., for whom she campaigned in the 1980s; by Barack Obama, who was elected as the first Black president in 2008, three years after Chisholm died; and by Harris, who four days before she was sworn in as vice president wrote, "Shirley Chisholm created a path for me and for so many others. Today, I'm thinking about her inspirational words: 'I am, and always will be a catalyst for change.'"
John Nichols is associate editor of The Capital Times. jnichols@madison.com and @NicholsUprising. 
Share your opinion on this topic by sending a letter to the editor to tctvoice@madison.com. Include your full name, hometown and phone number. Your name and town will be published. The phone number is for verification purposes only. Please keep your letter to 250 words or less.