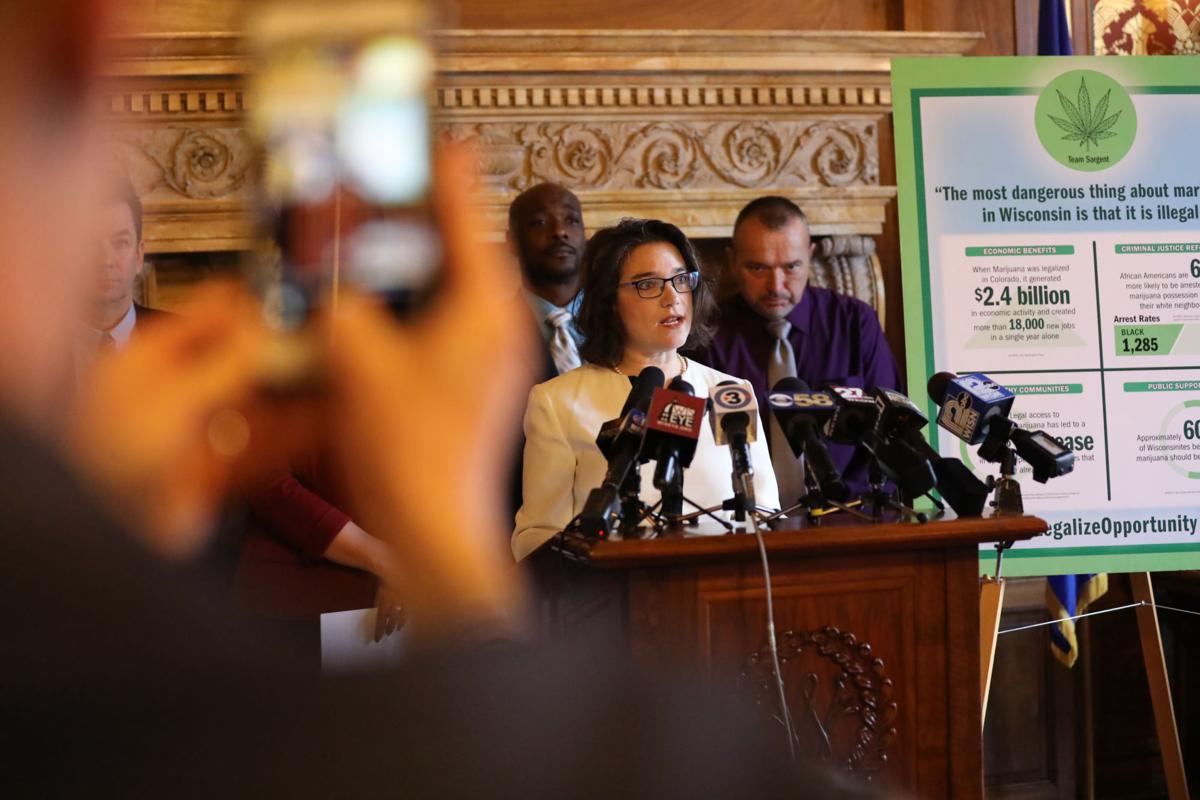 Melissa Sargent has for a number of years now been Wisconsin's most outspoken legislative advocate for legalization of marijuana. The representative from the northeast side of Madison has gained notice for rejecting the cautious language and cautious politics of Republicans, and at least some Democrats, when she declares that "the most dangerous thing about marijuana in Wisconsin is that it is illegal."
"The simple truth," Sargent argues, "is that the legalization of cannabis will bring multifaceted benefits — from economic opportunity, to medicinal relief and addressing egregious racial disparities — for our state. Yet, time and time again, lawmakers here in the Capitol continue to fail to grasp, or choose to dismiss, the importance of truly comprehensive cannabis reform."
That's how Sargent approaches issues. She's an intersectional official who looks at the big picture, recognizes all the complexities and then figures out how to move in the direction of economic, social and racial justice. Supporters such as state Rep. Shelia Stubbs, D-Madison, speak of the energy Sargent would bring to the Senate, while state Rep. Chris Taylor, D-Madison, says Sargent "pushes the envelope in championing needed progressive policies."
Sargent has certainly pushed the envelope on the issue of legalization. She has consistently spoken without apology, challenging the assumptions of those who would go slow — or not act at all — to end prohibition.
"Marijuana legalization offers boundless positive impacts for Wisconsin that we as a state must take advantage of, rather than continuing to be an island of prohibition," she says. "While many outdated and ill-informed prohibitionists call marijuana a gateway drug, they might not be that far off — the reality is that the full cannabis legalization is a gateway. A gateway to equity, opportunity and moving Wisconsin forward."
Legalization is just one of the issues where Sargent has displayed a bigger and bolder vision than most legislators, and a willingness to do the hard work of framing reform measures. The former Dane County Board supervisor is a full-spectrum progressive who takes on a wide range of major issues — from climate change to gun violence to the need to restore collective bargaining rights in Wisconsin. She's done this since she stepped off the picket lines of the Wisconsin uprising and won election to the Assembly in 2012. Now, she's doing so as a candidate for the state Senate seat that has been held for many years by one of the great heroes of the uprising against former Gov. Scott Walker's attack on labor rights: Mark Miller.
As a senator with a four-year term, serving in a smaller chamber where Democrats could conceivably take control this year, Sargent suggests she will be positioned to "roll up my sleeves on day one to continue my work on creating impactful change — addressing the damaging and alarming disparities and inequalities in Wisconsin."
Sargent faces a primary race on Aug. 11 with an impressive opponent, Monona Grove School Board President Andrew McKinney, who initially proposed to run as an independent but later decided to enter the Democratic contest to replace Miller as the senator from the overwhelmingly Democratic district. Voters will make their choice next Tuesday, and there are good arguments to be made for each of these sincere contenders. Like Sargent, for instance, McKinney's an advocate for needed investment in education and expanded access to health care — and he, too, is supportive of ending the prohibition against marijuana.
What distinguishes Sargent's advocacy on the latter concern is the extent to which she has made this fight a signature issue over many years as a candidate and a legislator. That's worth noting because it is morally and practically vital to get the legislature moving on an issue where Democrats should be leading.
A Pew Research Center survey found last fall that Americans back legalization by a 67-32 margin. The numbers spike among Democrats, 78% of whom favor ending this form of prohibition. But there's also majority support — 55% — among Republicans. Among voters under age 30, support for legalization is sky-high.
Enthusiasm for legalization extends far beyond the large number of Americans who are recreational users of marijuana to include millions of people who recognize, as does the American Civil Liberties Union, that "marijuana legalization is a racial justice issue."
"Marijuana has been a key driver of mass criminalization in this country and hundreds of thousands of people, the majority of whom are Black or Latinx, have their lives impacted by a marijuana arrest each year," ACLU policy analyst Charlotte Resing explained last year, while Massachusetts Sen. Elizabeth Warren's presidential campaign argued, "Legalizing marijuana is about more than just allowing recreational use, or the potential medicinal benefit, or the money that can be made from this new market. It's about undoing a century of racist policy that disproportionately targeted Black and Latino communities. It's about rebuilding the communities that have suffered the most harm."
Unfortunately, the national Democratic platform that was approved last week by the party's drafting committee does not include a legalization plank. While Vermont Sen. Bernie Sanders, New Jersey Sen. Cory Booker and House members such as Mark Pocan, D-Town of Vermont, recognize the need to take action on this issue, too many party insiders remain too cautious.
To overcome that caution, and to move the country toward needed criminal justice reforms, Democratic legislators in Wisconsin need to start speaking as Sargent does when she says, "Wisconsin needs to end the senseless prohibition of cannabis and open the gates to the countless opportunities that legalization would bring."
Share your opinion on this topic by sending a letter to the editor to tctvoice@madison.com. Include your full name, hometown and phone number. Your name and town will be published. The phone number is for verification purposes only. Please keep your letter to 250 words or less.
Catch the latest in Opinion
Get opinion pieces, letters and editorials sent directly to your inbox weekly!