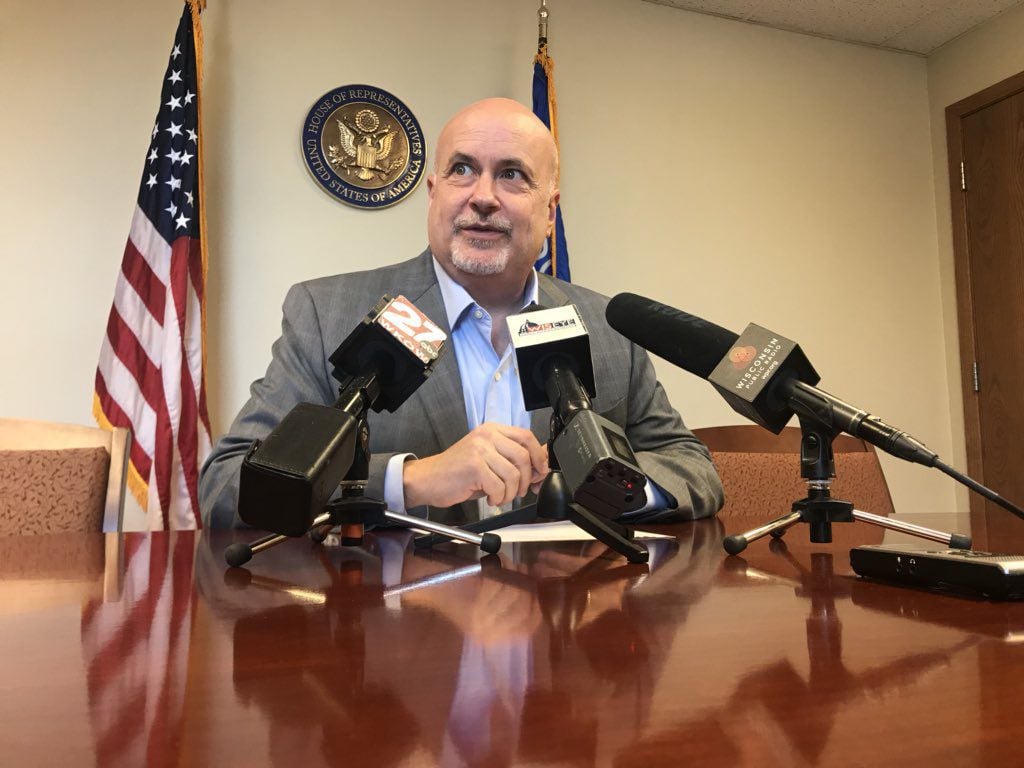 The British government announced Friday that it would launch an ambitious initiative to prevent mass layoffs amid the coronavirus outbreak. The plan will provide grants to cover up to 80% of the salaries of millions of workers whose jobs are now threatened. In return, employers will keep them on payroll during the economic crisis that is only beginning to unfold.
"We are starting a great national effort to protect jobs," declared the chancellor of the Exchequer, Conservative politician Rishi Sunak, when he announced the part of the British response that seeks to avoid nothing less than a depression.
"We want to look back on this time and remember how, in the face of a generation-defining moment, we undertook a collective national effort — and stood together," he tweeted. "It's on all of us."
The British initiative won't save every job or ease all the pain. But U.S. Rep. Mark Pocan, D-Town of Vermont, recognizes that it offers a model for how to save jobs and small businesses that are being upended by the COVID-19 crisis. The example set by the UK's Conservative-led government reminds us, as Democrats and Republicans spar over how aggressively to respond in the U.S, that everything about the federal government's response so far has been miserably uninspired and insufficient.
"(Sunak) said there would be no limit on the funding available to pay people's wages," The Guardian reported. "The payments will be backdated to the start of March, will be up and running within weeks, open initially for at least three months, and could be extended if necessary."
Describing the program in epic terms —  "unprecedented measures for unprecedented times" — the chancellor said, "I know that people are worried about losing their jobs, about not being able to pay the rent or mortgage, about not having enough set by for food and bills … to all those at home right now, anxious about the days ahead, I say this: you will not face this alone."
He also pleaded with companies that are on the brink of collapse to avoid shutting down. "The government is doing its best to stand behind you. And I'm asking you to do your best to stand behind our workers."
There's good reason to believe the plan could succeed.
Work-sharing initiatives are not a new idea in Europe. Germany has long experience with them. In the aftermath of the 2008 financial meltdown, a New York Times headline from August 2010 read, "Defying Others, Germany Finds Economic Success." Reporting strong economic growth when other countries were struggling, the Times piece noted that a "vast expansion of a program paying to keep workers employed, rather than dealing with them once they lost their jobs, was the most direct step taken in the heat of the crisis."
More recently, Deutsche Welle explained, "One of the major reasons — if not the major reason —for the recession back then not ending up in a massive job cull was the unprecedented expansion of short-time work programs especially in the manufacturing and service industries across the nation."
With the coronavirus outbreak spawning an epic economic upheaval in the Pocan, the chair of the Congressional Progressive Caucus, is leading the way in identifying wise responses that prevent mass layoffs, save jobs and keep small businesses afloat. He wants the U.S. to go as big as Britain.
In a letter to House Speaker Nancy Pelosi, Pocan and U.S. Rep. Jamie Raskin, D-Maryland, on Sunday, asked for Congress to consider the approach Britain and other countries are taking to consider plans that would provide direct assistance immediately to keep small businesses from shuttering and to protect their workers.
"In recent days, the British and Danish governments have announced bold proposals to ensure workers can maintain their salaries during the coronavirus pandemic and to ensure employers will be able to meet payroll while also covering operating costs. The government in Britain has committed to covering 80% of workers' salaries in order to prevent mass layoffs; and, in return, employers commit to keeping workers on payroll in order to receive direct grants from the government. We believe this initiative is consistent with our past joint requests to provide direct assistance to small businesses while also dramatically enhancing existing workshare programs," wrote Pocan and Raskin.
"Ultimately," they explained, "the best policy solutions to protecting workers' incomes and the economy will be those that prevent job losses in the first place. We believe the British approach coupled with enhanced workshare arrangements merits further consideration here in America."
Pocan's a realist. He acknowledges that could be a tough sell with the Republican Senate. But he and Rep. Rosa DeLauro, the Connecticut Democrat who chairs the House Appropriations Committee's Subcommittee on Labor, Health and Human Services, Education and Related Agencies, have developed a pair of bills that build on existing U.S. programs to help avoid as many layoffs as possible during the coronavirus pandemic.
These bills, the Preventing Layoffs During a Public Health Emergency Act and the Layoff Prevention Act, would expand federal support for state work-sharing programs and provide additional incentives for businesses that keep American workers on the payroll for at least some portion of the week. Under their plan, companies that are preparing to lay off workers would be able "to reduce hours instead of their workforce — helping them save on rehiring costs — while employees will keep their jobs and receive a portion of Unemployment Insurance (UI) benefits to make up for lost wages."
Pocan is proposing practical and visionary responses to the COVID-19 economic crisis. For the sake of workers and small businesses, let's hope he succeeds on both fronts.
Share your opinion on this topic by sending a letter to the editor to tctvoice@madison.com. Include your full name, hometown and phone number. Your name and town will be published. The phone number is for verification purposes only. Please keep your letter to 250 words or less.
Catch the latest in Opinion
Get opinion pieces, letters and editorials sent directly to your inbox weekly!