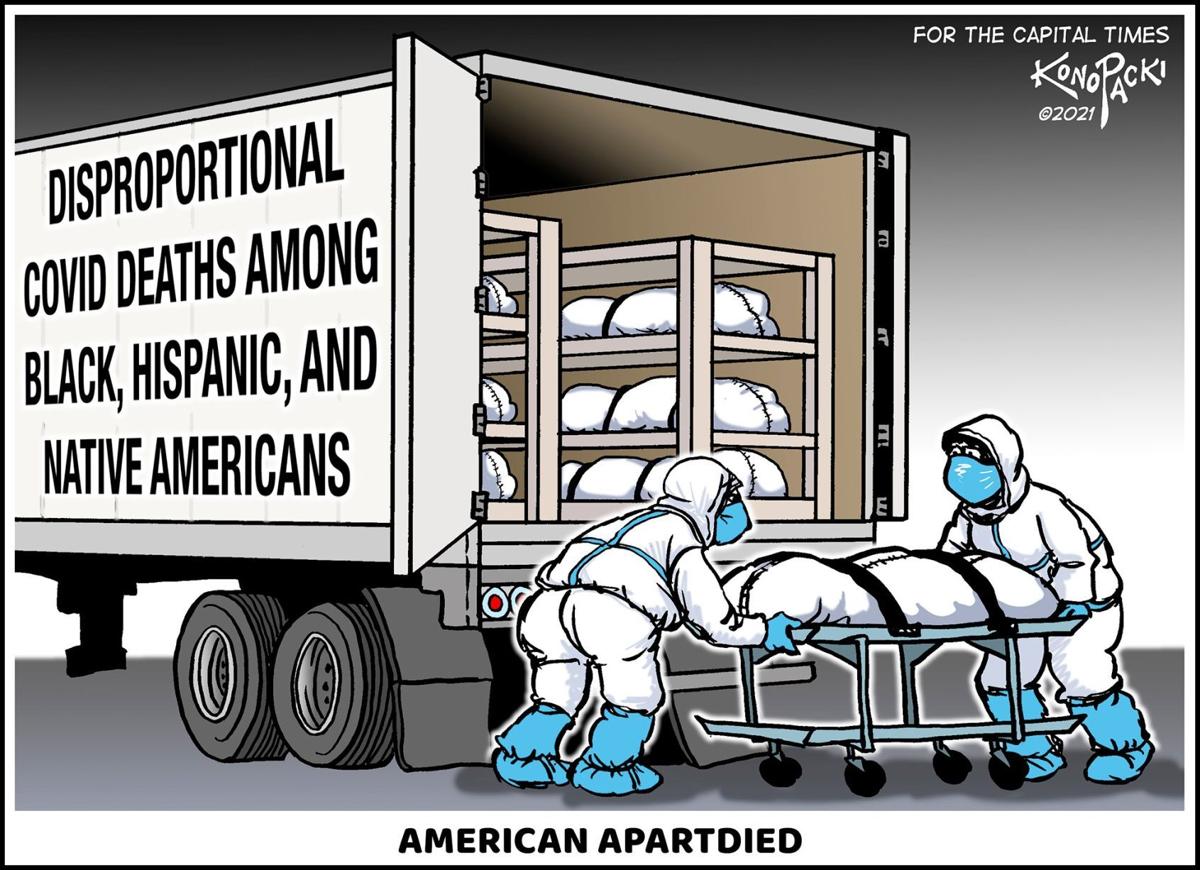 This pandemic has exposed many problems about America's health care system including just how incredibly unequal it is.
Everyone from doctors to social scientists to those who study health care have long warned about the inequalities in a system that has historically left millions without health care coverage and effectively treated the working poor and minorities as second class. It's long been a fact that many poor neighborhoods, in addition to substandard coverage, have limited access to the quality care that affluent Americans enjoy. Consequently, in addition to everything else, many low-income people suffer underlying health conditions to boot.
So it shouldn't have been surprising when COVID-19 deaths disproportionately affected racial minorities including Black, Hispanic and Native American people. In addition to a lack of access, the problem has been exacerbated because many lower-paid workers — those who toil in grocery stores, meatpacking plants and many other essential occupations — face a much greater chance of contracting the virus from others.
The Affordable Care Act, or Obamacare in the words of Republicans who unsuccessfully tried to disparage it, has helped. It isn't the single-payer plan that could have solved our health coverage problem and all its inequities once and for all, but it has made strides in getting millions more covered by insurance.
The expansion of Medicaid, the government-subsidized health insurance for the poor, is a major part of that. The original act would have required states to expand Medicaid and in return the federal government would cover all but 10% of the state's expenses. But, thanks to Republican-sponsored lawsuits, the Supreme Court struck down that provision and allowed states to opt out of expansion.
At first, many states, especially those governed by GOP majorities who wanted to do anything they could to thwart Obamacare, elected to do just that. Wisconsin, as we know, was famously among them. (It does have the state-funded BadgerCare program, which is a partial expansion, but still roughly 83,000 in the state fall through the cracks of what full expansion would provide.)
When it was discovered that the ACA not only worked, but had become popular with the American people, several of those Republican states changed their minds, and now all but 12 have expanded Medicaid so that more poor people are covered — including deeply conservative states like Missouri. Nebraska, Utah and Idaho are on the verge of doing so, and even Kansas voters passed a referendum last fall to expand Medicaid as well.
Wisconsin is still among the holdouts, even though expanding Medicaid here could save the state more than $330 million per biennium because the feds would pick up more of the costs. Democratic state Sen. Jon Erpenbach estimates that the state could have received $1.6 billion in federal money since the ACA was enacted, including funds for the state's financially-strapped rural hospitals. Because we didn't accept expanding Medicaid, those rural hospitals wind up providing treatment to the poor for free.
Assembly Speaker Robin Vos has been a staunch foe of expansion as was his longtime counterpart, the former Majority Leader Scott Fitzgerald. But even though Fitzgerald has gone off to Congress — where he embarrassed the state last week by voting to overturn the electoral votes of two states — his successor isn't any more enlightened about helping more people get health insurance coverage.
And then there's state Rep. Mark Born, who's been selected to take the place of John Nygren as co-chair of the powerful Joint Finance Committee that writes the biennial state budget. Nygren was an Obamacare hater, along with his GOP colleagues, and consistently refused to consider Medicaid expansion, despite the fact many people in his district could have likely used it.
In a recent interview, Born made it clear where he stands on the issue.
Asked by Wisconsin Public Radio where he stood on Medicaid expansion, something that Gov. Tony Evers is likely to propose when he sends his budget requests to the Legislature, this was the response from Born, who hails from Beaver Dam:
"Generally speaking, the legislative leadership and legislative Republican caucus has not been interested in a massive expansion of welfare for our health care system."
That's the kind of attitude that Wisconsin Republican legislators have taken when asked to deal with inequities that have divided the haves and have-nots for far too long in our state.
The Center for American Progress reported at the end of 2020 that the states that did expand Medicaid through the ACA have actually lowered their mortality gaps. Expansion improves health care coverage and care affordability, it added.
"Black Americans are more than three times as likely to have died from COVID-19 compared with their white counterparts, and they are disproportionately more likely to reside in non-expansion states," the Center explained. "New analysis finds a mortality gap between expansion and non-expansion states even among majority-Black counties: 153 of every 100,000 residents died from COVID-19 in non-expansion states, compared with 125 per 100,000 residents in expansion states."
It added a blunt conclusion: "States that have not yet expanded Medicaid should view the pandemic as a wake-up call to do so."
Apparently, we can't expect the Wisconsin Legislature to wake up.
Dave Zweifel is editor emeritus of The Capital Times. dzweifel@madison.com, 608-252-6410 and on Twitter @DaveZweifel.
Share your opinion on this topic by sending a letter to the editor to tctvoice@madison.com. Include your full name, hometown and phone number. Your name and town will be published. The phone number is for verification purposes only. Please keep your letter to 250 words or less.