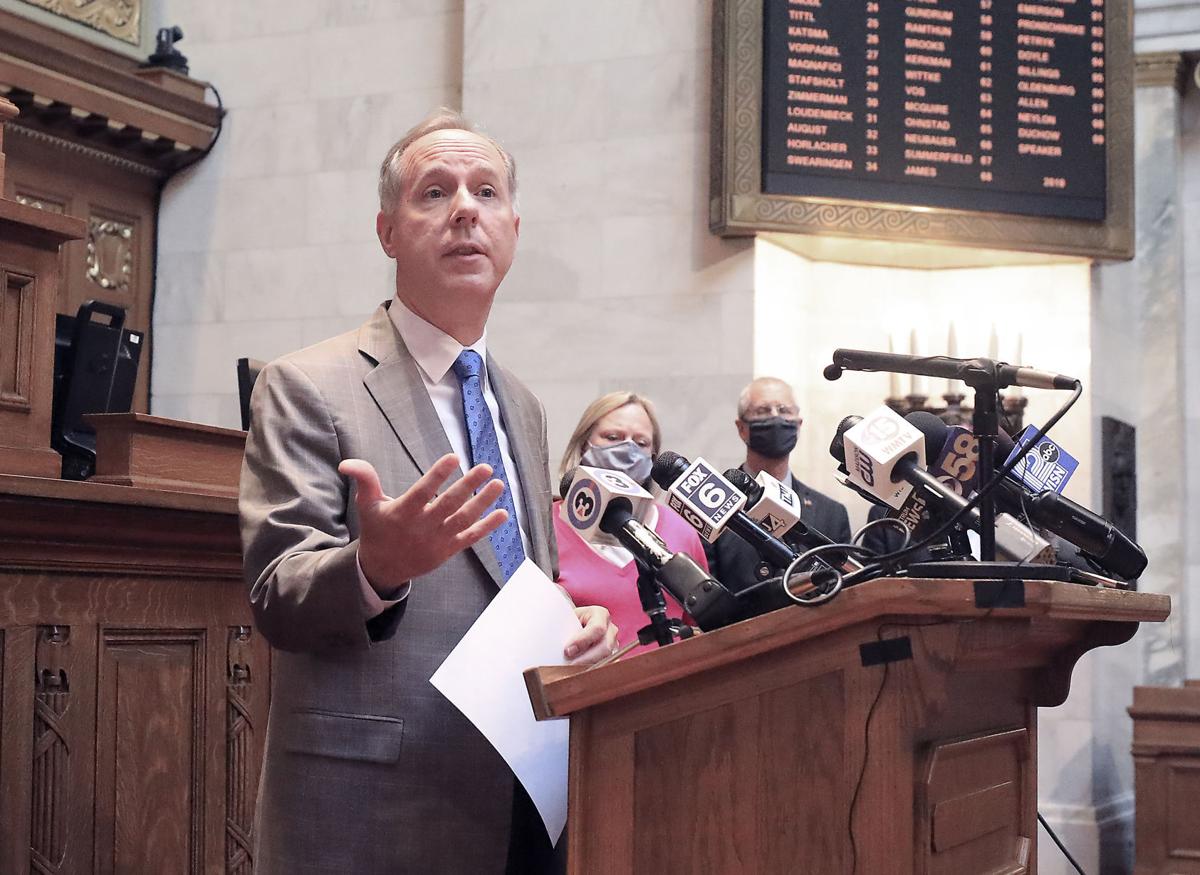 The Republicans who control the Wisconsin Legislature apparently believe the state doesn't need a governor unless, of course, he happens to be one of their own.
They brazenly stripped newly-elected Gov. Tony Evers of several of the governor's historically-held powers in their lame-duck session back in December of 2018, a few days before Evers was to replace Scott Walker as the state's chief executive.
That was bad enough, but now the likes of Assembly Speaker Robin Vos and his lock-step compatriots want to use the coronavirus pandemic as another excuse to move executive decision-making to their purview. All this after sitting on their hands for the past eight months while Wisconsin's health officials and the governor struggled to contain the outbreak.
Instead, they lobbed lawsuit after lawsuit to upend any of their attempts to contain the spread of the virus. Individual liberties were at stake, they claimed — liberties, apparently, to infect other people.
Now, after all that waiting, Assembly Republicans this week announced a list of proposals that are, in a word, shameful. The most barefaced is a plan to give the Legislature's Joint Finance Committee — the state's most partisan legislative body, which consists of 12 Republicans and four Democrats — veto power over how the soon-to-be available vaccinations will be administered in Wisconsin.
That's just what we need during this incredible health crisis that has killed more than 3,500 Wisconsin citizens and hospitalized another 17,500 — politicians, not health experts, deciding who and how vaccines will be distributed. Perhaps to the biggest Republican campaign contributors first?
As egregious is their proposal to prohibit local health officers from ordering closures or capacity limitations on specific types of business unless the restrictions apply to all types of business. In other words, you can't place limits on taverns and restaurants unless they apply to everyone, an obvious attempt to make it more difficult to target areas that health officials find to be major problems.
This is a head-scratcher from the Vos-led Assembly, since Vos has repeatedly insisted that the governor shouldn't enact statewide mandates, but leave those decisions up to local officials who know their own unique situations better. So much for consistency — but no one's ever accused Vos of being consistent.
Others have pointed out that the GOP plan would more likely spread the virus than contain it. They would require that all state buildings be reopened for public access and all executive branch employees return to work in person by Jan. 31. And, of course, school districts would need to reopen in-person learning regardless of the situation, plus nursing homes would have to allow family members to make in-person visits.
Gordon Hintz, the Assembly's Democratic leader, said Vos' plan "is politically driven, undermines Gov. Evers' efforts to combat the virus, and ignores the reality our state is facing."
The good news is that the Assembly Republicans' ideas have little chance of advancing. Senate Republicans have no plans to call a session before the end of the year and even if they would, Evers would be able to veto a bill that is likely to cause more agony than relieve it.
Vos' buddies came up with their plans on the very day that a record number of Wisconsin citizens died from the virus.
And nationally, Washington Post columnist Brian Klaas pointed out this Thursday that 2,403 people died in the attack on Pearl Harbor, 2,977 were killed on Sept. 11 — and on Dec. 2 there were 2,885 deaths from the coronavirus.
By all means, let's open things up.
Dave Zweifel is editor emeritus of The Capital Times. dzweifel@madison.com, 608-252-6410 and on Twitter @DaveZweifel.
Share your opinion on this topic by sending a letter to the editor to tctvoice@madison.com. Include your full name, hometown and phone number. Your name and town will be published. The phone number is for verification purposes only. Please keep your letter to 250 words or less.