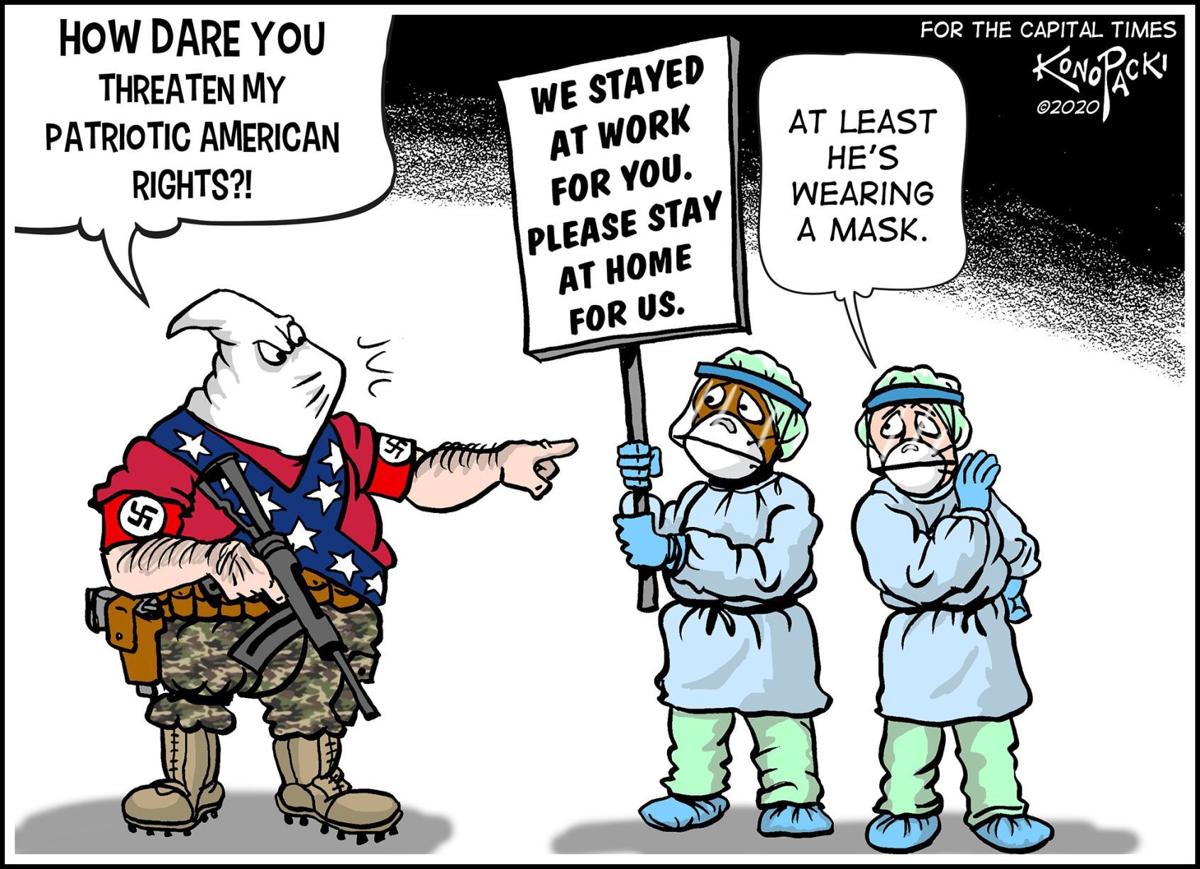 I'm able to understand the frustration many people are enduring over the safer-at-home orders issued by Wisconsin Gov. Tony Evers and many other governors in their attempt to limit the death toll of this terrible coronavirus.
And I totally agree that they have every right to voice their displeasure, even if their brandishing of military-style assault weapons and the flying of Confederate flags and signs with Nazi slogans is nothing short of disgusting.
But, what I can't understand is the absolute disregard for human life and the safety of others that so many of these self-proclaimed "patriots" proudly put on display whenever they go out in public, whether it's to take part in a demonstration or to go to the grocery store.
I'm talking about their asinine refusal to wear a face mask, as if the reason our forefathers fought for their independence was to make sure no one could tell us to wear a face mask during the height of a pandemic.
As Dr. Deborah Birx, the White House coordinator for the coronavirus task force, told a Fox News audience no less, not wearing face masks where there's close proximity to strangers is "devastatingly worrisome to me personally because if they go home and infect their grandmother or their grandfather who has a co-morbid condition and they have a serious or unfortunate outcome, they will feel guilty for the rest of their lives."
Perhaps that's giving some of these yahoos too much credit, for I wonder if they have a sense of responsibility over their own selfishness at all. It's much more than grandmas and grandpas, it's the safety of all those workers and their families and the incredible strain on our doctors and nurses and health care staffs that can only be made worse by self-pitying behavior.
But, this is yet another puzzling front in America's culture wars that have been escalating thanks to the man who serves as our president, a bumbling politician who believes he's making things better by turning people against each other.
There have been reports of confrontations at grocery and hardware stores between those not wearing masks and those unnerved by the behavior. In Flint, Michigan, a security guard at a Family Dollar Store was shot dead after he asked a woman to put on a mask and a scuffle ensued.
One of the best commentaries on this latest phenomenon has been making the rounds on Facebook recently. Former executive director of the Center for Media and Democracy Lisa Graves and others sent it to me last week.
Written by a man named Craig Jaeger, it was inspired by a post he saw calling for boycotts, membership cancellations and other actions against Costco for requiring customers to wear masks when shopping in the store. He was stunned that some 600 people had joined the anti-Costco crusade.
"You don't need to be a doctor, or a scientist, or an expert or anything else on this particular issue," Jaeger wrote. "You just need to be able to see in front of your nose."
You are not the center of the universe, he tells them: "Our supply chain is struggling. Retailers are spread crazy thin and cannot handle more of their staff being sick or quarantined if they can help it. Hourly retail workers have parents and children and spouses who are medically fragile and they simply want to work in the safest possible environment."
"I know," he admonishes the whiners. "How dare they?"
"There are bigger assaults on one's 'freedom' and autonomy. Did you know that many adult women can't get their tubes tied without their partner's consent? Abortion bans. Child trafficking. Sex trades. Discrimination of age, gender, religion, sexual preference. Blink. Blink. Blink." he continues,
"The bottom line is, don't be a dick," he adds. "Just put a mask on your self centered, mouth breathing face and let the greeter see the smile in our eyes as we head off to buy our cases of bottled water, pool floats, ten pound bags of Cheetos, bulk items and cheap pre-mixed margaritas. You'll be fine."
That would be a real patriot.
Dave Zweifel is editor emeritus of The Capital Times. dzweifel@madison.com, 608-252-6410 and on Twitter @DaveZweifel.  
Share your opinion on this topic by sending a letter to the editor to tctvoice@madison.com. Include your full name, hometown and phone number. Your name and town will be published. The phone number is for verification purposes only. Please keep your letter to 250 words or less.
Concerned about COVID-19?
Sign up now to get the most recent coronavirus headlines and other important local and national news sent to your email inbox daily.