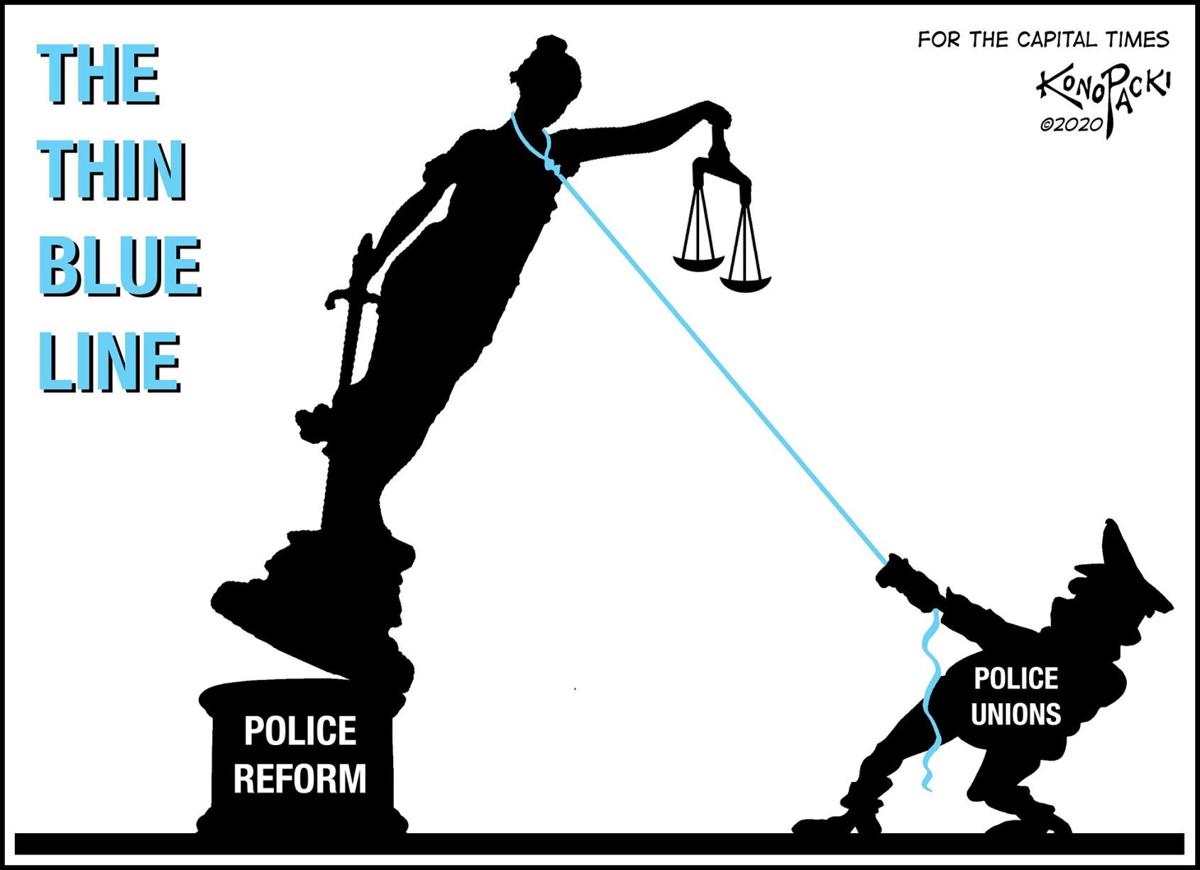 There's a growing debate rumbling around the country during this summer of racial discontent that raises the question of whether police unions are standing in the way of meaningful reform.
It hasn't helped that the leaders of some of the most powerful big-city police unions — New York, Chicago, Philadelphia and dozens of others — have jumped in with both feet to champion Donald Trump's reelection, siding with the guy who lumps most protesters of police violence with "thugs" and "criminals."
Suddenly, the party that hates unions finds that these union leaders are really okay. It's not coincidental that while many police departments have become more diverse, their unions are still led by white men who defend the status quo above all. 
The question is, how can you expect Black and brown Americans to have trust in law enforcement if their unions stand staunchly behind politicians who refuse to recognize the insidious role race and bigotry continue to play in our society? If you don't want to build an us-versus-them narrative like the one we're experiencing now, it might be wise to stay out of the over-heated political fray.
The leverage law enforcement has had in shaping disciplinary processes — both at the state and local levels — has sparked an examination of the effect this inordinate power has had on squelching efforts to address the institutional racism that multiple studies have shown permeates law enforcement. In recent weeks, the New Yorker, the New York Times, Chicago Tribune and Minneapolis Star Tribune have all weighed in on the issue.
Even the anti-union Scott Walker recognized the power these unions wield, exempting them from his assault on other public and teachers' unions with his infamous Act 10. In return, Milwaukee's police union endorsed Walker for reelection. So did the union representing State Patrol troopers.
Let's make no mistake about it — police unions, like all unions are necessary voices for working people. They secure higher pay and benefits and better working conditions for their members and guard against unfair or unjust discipline or dismissal.
But, police officers aren't your average workers. They have jobs that often puts them in harm's way, especially in a society ravaged by gun violence and easy access to firearms. They also have the power of life and death and, as we are exposed to the George Floyds and Jacob Blakes and countless others who have been victims of brutality, people find it hard to understand how the union can stand by a member who kills a Black man by kneeling on his neck or shoots an unarmed Black man in the back seven times. And worse, many are circling the wagons to fight any reform to police procedures that might just prevent this kind of violence in the future.
Predictably, Wisconsin conservatives led by the Wisconsin Institute for Law & Liberty and buoyed by the many liberal critics of police unions, are now gleefully promoting a Walker-patented "Act 10" to neuter them as well.  No matter the problems that have served all too often to embolden bad cops, this is not the answer.
Rather, the unions need to admit that there are inequities built into statutes, ordinances and contract language that stifle accountability. Rather than fight every effort to seek change, they must work with those who are pushing for responsible solutions instead of throwing down a gauntlet, insisting that nothing is wrong.
Earlier this month, the Wisconsin Professional Police Association, which represents some 10,000 Wisconsin law enforcement personnel in 300 police local unions, provided an example of how that might work.
Jim Palmer, the organization's executive director and one of the few union officials who loudly condemned the officers involved in the George Floyd incident, earlier this month unveiled what he calls a "blueprint for change."
It includes deescalation training, a ban on choke holds except in life or death situations, equipping all officers with body cameras, and an expansion of civilian oversight by increasing the size of police and fire commissions, including appointees recommended by the NAACP, Centro Hispano, and police and fire associations.
Palmer stressed that the initiative requires "collaboration, understanding, bipartisanship, community involvement and, above all, action."
The WPPA's blueprint also calls for establishing "riot" criminal penalties for those who intentionally participate in "public violence and destruction" and a law to punish "unnecessary, racially-motivated calls to police that are intended to humiliate, harm or harass others."
It won't mollify everyone, but at least it's a start. If our policing problems are going to be solved, the police and their unions need to take part.
This column has been corrected to note that the Wisconsin Professional Police Association condemned the actions of the officers in the shooting of George Floyd, but has not done so in the shooting of Jacob Blake. 
Dave Zweifel is editor emeritus of The Capital Times. dzweifel@madison.com, 608-252-6410 and on Twitter @DaveZweifel.  
Share your opinion on this topic by sending a letter to the editor to tctvoice@madison.com. Include your full name, hometown and phone number. Your name and town will be published. The phone number is for verification purposes only. Please keep your letter to 250 words or less.
Catch the latest in Opinion
Get opinion pieces, letters and editorials sent directly to your inbox weekly!