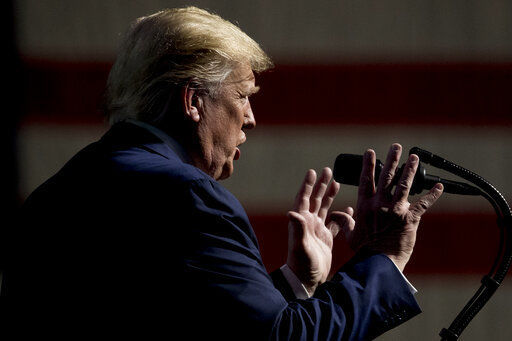 Writer Gracy Olmstead penned an op-ed for the New York Times earlier this month that carried the headline, "Taking from the poor, giving to the wealthy."
I thought to myself that there's been an awful lot of that going on lately.
Olstead was talking about the Trump administration's plans to make it tougher for some people to qualify for food stamps or SNAP, as the program's now called. Agriculture Secretary Sonny Perdue announced the feds will no longer grant states waivers from requiring able-bodied adults to work at least 20 hours a week in order to receive help.
Some states, particularly those that have areas of economic distress — in other words, few job opportunities — have been granted permission not to enforce the federal rule.
Perdue quipped that "we need to encourage people by giving them a helping hand but not allowing it to become an indefinitely giving hand." His action means that 700,000 low-income Americans will lose their eligibility.
Olmstead pointed out that Perdue isn't so persnickety about government handouts when it comes to wealthy agribusinesses under his purview. Yes, we all understand that there's a financial crisis in the agriculture industry thanks to declining milk prices and, of course, Donald Trump's tariff war.
But, the $28 billion package to assist farmers has mainly gone to the big corporate farms, not those struggling family farms we all care about. According to the Environmental Working Group, one farm alone has received $2.8 million — more money than it actually lost during this crisis.
Then there's that 2017 tax cut, supposedly Donald Trump's signature domestic achievement. As we get deeper into that "tax reform," it's being discovered that the poor aren't faring well. Under the act, for instance, the federal child tax credit was increased to $2,000 per child.
But, low-income families are now discovering that because their jobs don't pay enough, the tax credit is nowhere near that figure. According to a Columbia University study, among those excluded from the full credit are 50% of Latino individuals, 53% of black individuals and 70% children with single mothers.
Nor have the cuts resulted in increased wages as had been promised. Big corporations that had stashed money overseas brought it back, all right, but didn't invest it in wage hikes, using it instead to buy back stock from investors. Meanwhile, we now learn that many of these corporations have been able to avoid federal income taxes at all. The average tax load on corporations has now dropped to less than 12%, the rate paid by individuals earning more than $13,851.
Here in Wisconsin, you couldn't help but notice the irony in the squabble last week over whether the Foxconn deal needs to be rewritten, Assembly Speaker Robin Vos vigorously defending the $4 billion subsidies to the highly profitable international conglomerate.
And at the very same time, Vos applauded the Legislature's Joint Finance Committee for refusing to cave in to Gov. Tony Evers and release $3 million to help bolster homeless programs in the state. Legislative leadership found it necessary, though, to give itself a raise in per diem money.
So, yes, there's a lot of taking from the poor and giving to the rich these days.
If I have one wish for 2020, it's that it will be a year when we return to our senses.
Dave Zweifel is editor emeritus of The Capital Times. dzweifel@madison.com, 608-252-6410 and on Twitter @DaveZweifel.  
Share your opinion on this topic by sending a letter to the editor to tctvoice@madison.com. Include your full name, hometown and phone number. Your name and town will be published. The phone number is for verification purposes only. Please keep your letter to 250 words or less.