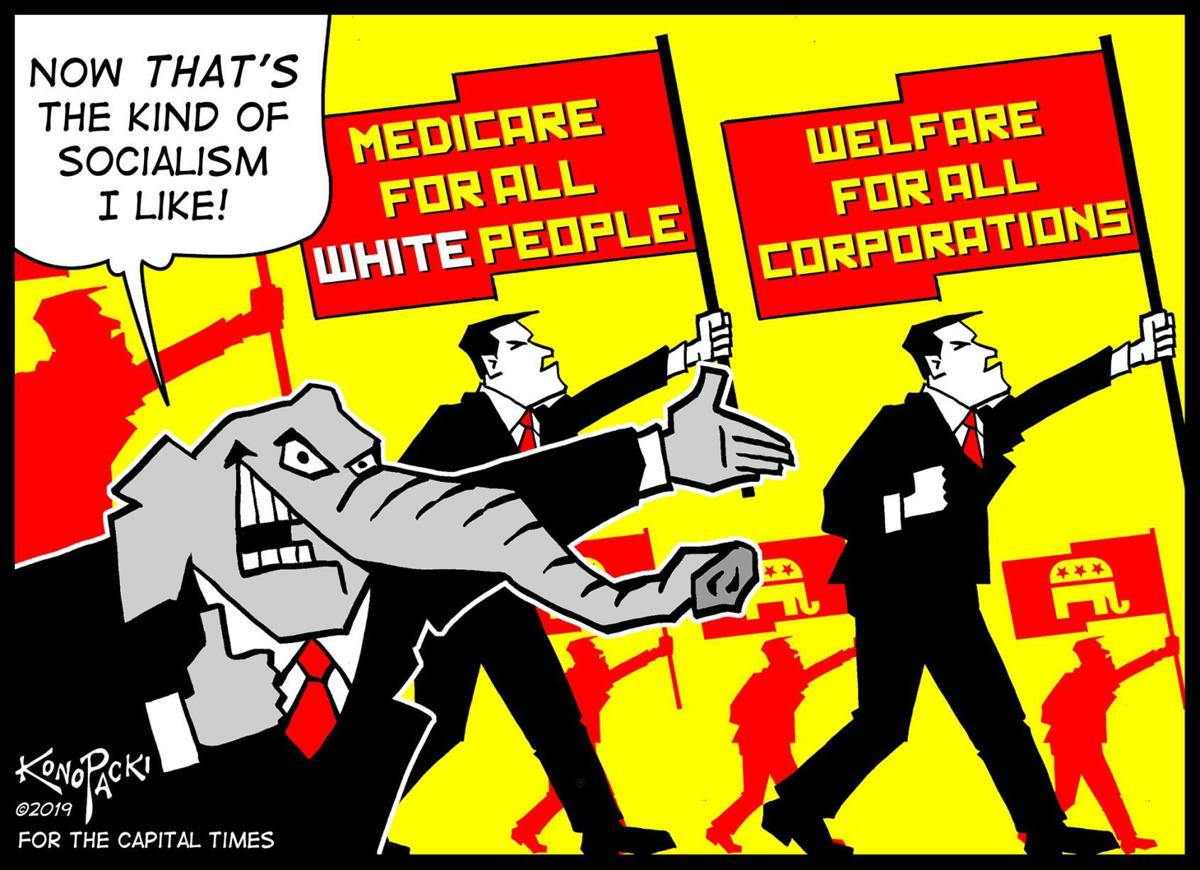 To read some of the pundits these days, you'd think that the "far left" Democratic candidates for president are pushing radical, out-of-the-mainstream ideas that will surely lead to the re-election of Donald Trump if the party is foolish enough to nominate them.
It's not only the "conservative" commentators who think it necessary to "advise" the Democrats about being foolish, forgetting their own foolishness in letting Donald Trump take over their own party, but many of the "liberal" commentators are chiming in, too, believing the likes of Bernie Sanders, Kamala Harris and others who represent the "far left" spell doom. They wring their hands, claiming those "lefties" will blow the Dems' chances.
They contend that universal health care, the so-called Green New Deal and a new immigration policy are too radical and smack of "socialism," flying in the face of too many Americans — especially the independents whose votes will be so sorely needed in November of 2020.
If that's indeed the case, then what do you suppose they think of Franklin D. Roosevelt, Harry Truman or the other progressives who successfully governed America through its best times by convincing the people to take bold "radical" steps, believing the role of government needed to be based on doing the greatest good for the greatest number of its citizens?
Sanders' cry for "Medicare for All" isn't any more radical than was Harry Truman's call for universal health care way back in 1946. Nor is the call by the likes of Fox News' favorite villain, U.S. Rep. Alexandria Ocasio-Cortez, for a more humane and liberal immigration system any more leftist than Truman's belief that America could prosper by allowing more immigrants in the country, especially refugees were being mistreated by repressive governments after World War II.
But, during Truman's day, like now, Republicans and southern conservative Democrats didn't want Jews, Italians and others from southern and eastern Europe tainting white America. Nor, of course, did they want Mexicans. (Fortunately, he and even his Republican successor, Dwight Eisenhower, saw to it that refugees did get into the country.)
In early 1952, after Truman had declared he wouldn't run again, he gave a talk in which he predicted that the Republican Party would play the "socialist card."
In his book, "The Gifted Generation," David Goldfield quotes from the president's Jefferson-Jackson Day talk:
"They will go to the people and say 'Did you see that Social Security check you received the other day — you thought that was good for you, didn't you? That's just too bad! That's nothing in the world but socialism. Did you see that flood-control dam the government is building over there for the protection of your property? Sorry — that's awful socialism! That new hospital that they are building is socialism. Price supports, more socialism for farmers! Minimum-wage laws? Socialism for labor! Socialism is bad for you, my friend. Everybody knows that."
"And here you are," Truman continued, "with your new car and your home and better opportunities for the kids and a television set — you are just surrounded by socialism!"
The GOP did prevail in that '52 election, but even under Eisenhower government was operated to do things for the people that they and the private sector couldn't do for themselves. Labor and management were on level playing fields. The middle class grew. The Kennedy and even the Nixon years saw government acting more as a partner than some evil institution.
That all came to an end during the Ronald Reagan years when government was vilified. Politicians — even some Democrats — pandered to the rich, and the income gap grew by leaps and bounds thanks to a cult-like belief in "trickle-down" economics. The playing field suddenly favored the few over the many.
Today's Democratic "left" wants to change this nonsense that has left America in the hands of the privileged few by returning to the days when politicians like Roosevelt and Truman captured the steadfast support of the working people.
At the very least, the party should be embracing its disparate factions, if only to showcase the ideas and plans to make government work for the many. Would Medicare for All be opposed by Americans with private insurance? Perhaps if Democrats debated and fully explained the concept instead of dismissing it as some wacko idea, maybe not.
These aren't crazy ideas any more today than they were years ago when working people knew who was on their side.
Unfortunately, sometimes today it's hard to figure it out.
Dave Zweifel is editor emeritus of The Capital Times. dzweifel@madison.com, 608-252-6410 and on Twitter @DaveZweifel.  
Share your opinion on this topic by sending a letter to the editor to tctvoice@madison.com. Include your full name, hometown and phone number. Your name and town will be published. The phone number is for verification purposes only. Please keep your letter to 250 words or less.