Republicans' release of an outline for the overhaul of our nation's tax system raises more questions than it answers.
Being billed as the biggest tax cut in history and a boon to middle-income working families, there is little in the details to suggest that any of that is true.
We are being told that cutting the top tax rate for corporations, which are experiencing record profits, and a stock market on steroids, is somehow necessary to stimulate the economy.
But if tax breaks for corporations and the very wealthy actually produce a booming economy, Wisconsin should be near the top of the list in job creation, instead of dwelling near the bottom. Wisconsin's private-sector job growth ranked 33rd in the country in 2016, according to numbers released by the Bureau of Labor Statistics, and over the past six years Wisconsin's private-sector labor force grew by about 7.9 percent, trailing the national rate of 13.2 percent from 2011 to 2016 and ranking 34th among all the states.
Statistics from the U.S. Department of Labor, the Bureau of Labor Statistics and the Office of Management and Budget suggest that cutting the top tax rates hinders rather than helps job creation. Between 1980 and 1992, after dramatically cutting the top marginal tax rate to as little as 28 percent, Ronald Reagan and George Bush produced an average of 1,240,000 fewer jobs per year than Jimmy Carter, their Democratic predecessor, who had a top marginal tax rate of 70 percent. Admittedly, there are many factors that are in play in determining job growth, but the claim that tax cuts are a key or even a significant factor in promoting job growth is simply not supported by the record.
More recently, after raising the top marginal tax rate to 36.9 percent, an average of 1,539,000 more jobs were added to the economy per year under President Barack Obama from 2013 to 2016 than were added to the economy under George W. Bush from 2003 to 2008 with a tax rate of 35 percent in effect.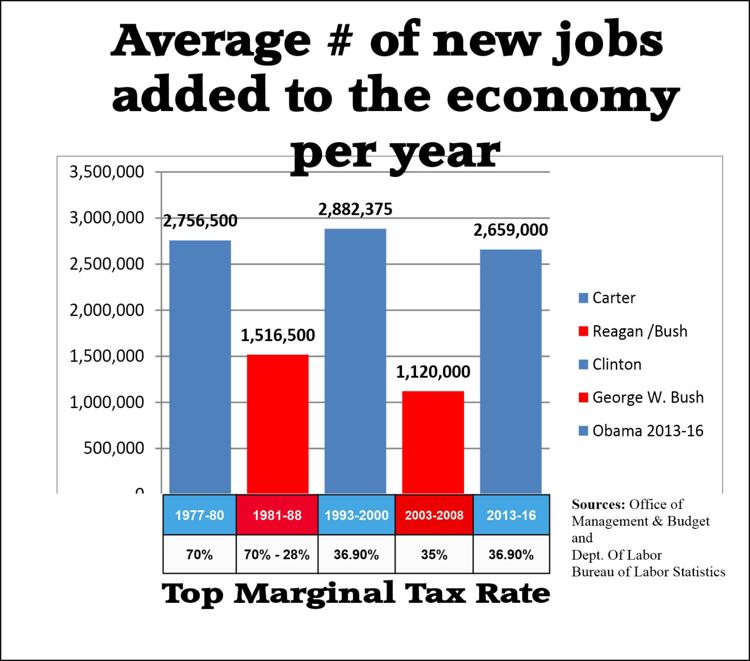 What produces economic growth isn't trickle-down tax cuts, but increasing wages and investments in things like education, infrastructure and basic research that provide an attractive environment for business growth and development.
Our next-door neighbor, Minnesota, provides an example. When he took office in January 2011, Minnesota Gov. Mark Dayton inherited a $6.2 billion budget deficit and a 7 percent unemployment rate from his Republican predecessor Tim Pawlenty, who managed to add only 6,200 jobs to the state's economy. Despite raising the top income tax rate to the fourth highest in the nation, between 2011 and 2015 Dayton and Minnesota added 172,000 new jobs to the state's economy — 165,800 more jobs in Dayton's first term than Pawlenty added in two terms combined.
While the Great Recession admittedly had an impact during Pawlenty's tenure, after raising taxes Minnesota is now projecting a budget surplus of between $1.65 and $1.9 billion and is planning additional spending on pre-school programs and education. Over the past decade, while the median household income in Wisconsin has declined by $2,000, Minnesota's median household income has steadily increased and is now about $8,000 higher than Wisconsin's.
While President Donald Trump is quick to take credit for what he describes as a booming economy, an average of 50,000 fewer jobs per month have been added during his presidency than were added monthly between 2010 and 2017 under Obama. An average of 139,750 new jobs have been added per month since February of this year when Trump took office. Under Obama, between January 2010 and January 2017 an average of 190,210 jobs were added to the economy per month, according to the Department of Labor's Bureau of Labor Statistics.
The net effect of Republicans' proposed "tax reform" will be to further widen the income gap between those at the top and middle- and lower-income families who are struggling to make ends meet. The record suggests that if you want to increase employment and stimulate the economy, raise taxes on corporations and the rich and invest in education and infrastructure.
When asked to comment on proposed cuts to Milwaukee's public transit system Timothy Sheehy, president of the Metropolitan Milwaukee Chamber of Commerce, reportedly observed: "You can't cut your way to prosperity." Perhaps Donald Trump, Paul Ryan and the Republicans should heed his advice.
For those who still think all the answers lie in an unconstrained "free market," I might ask: "When was the last time banks bailed out the taxpayers?"
Charles Uphoff is a retired, long-time resident of Wisconsin, former coordinator of Wisconsin's Governors Conference on Children and Families for Republican Gov. Lee Sherman Dreyfus, former member and president of the Fitchburg City Council, former member of the Oregon School Board, and treasurer of The Madison Institute.
Share your opinion on this topic by sending a letter to the editor to tctvoice@madison.com. Include your full name, hometown and phone number. Your name and town will be published. The phone number is for verification purposes only. Please keep your letter to 250 words or less.