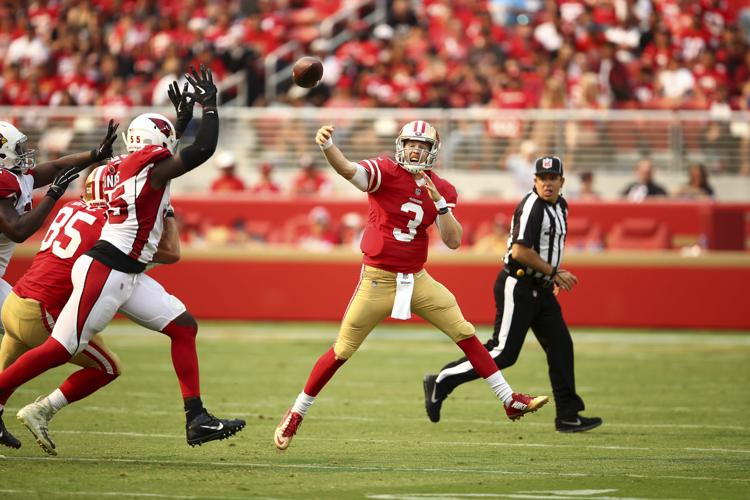 One of Packers defensive coordinator Mike Pettine's first hires as the Cleveland Browns' head coach in 2014 was Kyle Shanahan, as his offensive coordinator. Now the 49ers head coach, Shanahan is trying to make do without his star quarterback (Jimmy Garoppolo) and his No. 1 running back (Jerick McKinnon) because of season-ending knee injuries. Relegated to starting C.J. Beathard at quarterback and Alfred Morris at running back, it might be easy to look past the struggling 1-4 49ers.
That would be a grave mistake, Pettine said. In last week's 28-18 loss to Arizona, Beathard completed 34 of 54 passes for 349 yards with two touchdowns, and the 49ers rang up 447 yards of total offense. Surely their five turnovers (two interceptions, three fumbles) did them in. So, Pettine said, his guys can't allow a letdown.
"You can't get into looking at an opponent and saying, 'Their record is this, and we're here; this is a big game because this is a better team.' You can't function that way in the National Football League. The phrase 'Any given Sunday' is a cliché for a reason," Pettine said. "There's examples of it every week. We have to be on top of our business to start with, and we're not anywhere near feeling like we're on top of where we should be – just from a detail standpoint and some of the things within the scheme that we have to get cleaned up.
"If you truly study the film, if you look at the last couple weeks without Garoppolo in there, they've done a good job offensively. Obviously, my history with Kyle – I know the system well; it's always been productive (with) yards and points. He can take a C.J. Beathard and plug him in there (and be productive). Now, they've turned the ball over, and that's been the issue. But you don't put up 30 first downs and 400-and-some yards by accident against an NFL defense. We have our hands full. The tape doesn't lie. You put the tape on, you take the turnovers out of that game, they dominated the game. It was just that it didn't show up on the scoreboard."