A 17-year-old from Illinois accused of killing two men during an August protest in Kenosha appeared Thursday in a preliminary hearing in the case. 
With Rittenhouse sitting in his Racine office, attorney Mark Richards presented a series of photographs that he argued show the teenager was acting in self defense. 
At the preliminary hearing — held remotely due to the COVID-19 pandemic — the prosecution presented brief testimony from Kenosha Police Detective Ben Antaramian about Rittenhouse's actions on Aug. 25 when he is alleged to have shot and killed Joseph Rosenbaum, 36, of Kenosha, and Anthony Huber, 26, of Silver Lake, and shot and injured Gaige Grosskreutz, 26, of West Allis.
Attorneys for both the State of Illinois and for Kyle Rittenhouse have now filed briefs regarding whether the 17-year-old should be extradited back to Wisconsin to face two homicide charges related to the Kenosha civil unrest in late August.
Antaramian testified that Rittenhouse is seen on video shooting the three men.
In his cross examination, Richards used photographs taken from videos showing the moments before and during the shootings, attempting to show that Rittenhouse shot the men in self-defense. He characterized Rosenbaum as a criminal.
The detective testified that Rosenbaum was chasing Rittenhouse before he was shot. After that shooting, he said, Rittenhouse was running away and fell to the ground, shooting Huber after Huber hit Rittenhouse with a skateboard. Another man, who was seen on video trying to kick Rittenhouse, was never identified, Antaramian testified.
"The state is trying to put forward a one-sided view of what happened, protecting someone who does not deserve protection, he's a masked robber," Richards said of Rosenbaum.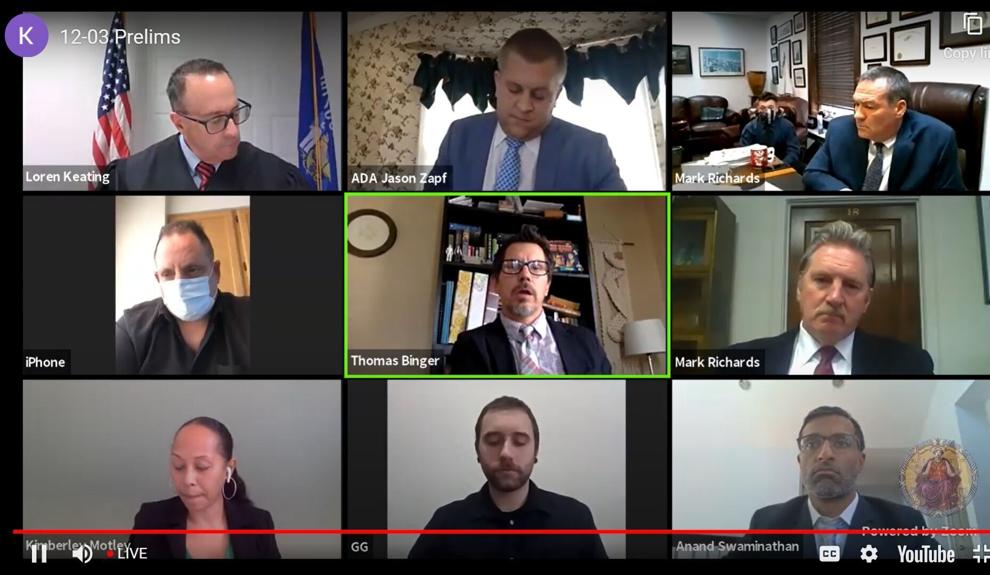 Probable cause a felony occurred
The purpose of a preliminary hearing is to establish that there is probable cause that a felony was committed and to bind someone over for trial. Kenosha County Assistant District Attorney Thomas Binger said the evidence is clear that Rittenhouse shot three people and that evidence exists that a felony was committed. "With regard to the defense claim that it is self defense," Binger said, that issue can be addressed at trial.
The Kenosha County Court Commissioner agreed, finding there was probable cause in the case.
"The government can go off on their chaotic quest but the evidence is clear," Richards said.
Rittenhouse is charged with first-degree intentional homicide for the death of Huber, first-degree reckless homicide for the death of Rosenbaum, and attempted first-degree intentional homicide for shooting Grosskreutz. He is also charged with recklessly endangering safety for shooting his AR-15 in the crowded street, and with possessing a dangerous weapon as a minor for carrying the gun.
Rittenhouse has said that he came to Kenosha during protests following the shooting of Blake because he and a friend were hired to protect the Car Source car lot, which had been largely destroyed during rioting on Aug. 23, the night Blake was shot. The owner of the Car Source has said in past interviews that he did not hire anyone to protect the lot.
On the same night the shooting happened, a large number of armed counter protesters had come to the city following a social media call to militias from former alderman Kevin Mathewson, characterizing himself as "commander" of the Kenosha Guard.
Armed supporters show up outside
The case has become a political flashpoint, with conservative groups and gun rights activists calling Rittenhouse a hero and those on the left arguing the case is an example of the danger of armed militia groups.
Rittenhouse's attorney also argued at the hearing that the gun charge against his client should be dropped, along with one of the recklessly endangering safety charges. He argued that there was not evidence that the man cited in the criminal complaint on the recklessly endangering safety charge had been in danger from gunfire.
Defense argues against gun-possession charge
Richards also argued that Wisconsin law allows minors to carry rifles, and that the possession of a dangerous weapon charge should be dropped. State law allows minors to carry rifles and shotguns for hunting, and only prohibits minors from carrying such weapons if they have shortened barrels, Richards argued.
Binger said state law clearly aims to keep teenagers from carrying weapons.
"This is a situation when a teenager went running around the streets of Kenosha after curfew with a very dangerous weapon," Binger said. "We don't trust (teenagers) with these weapons because of exactly what happened in this case."
While Richards cited law related to hunting regulations with guns, Binger argued those did not apply. "This was hunting humans, not deer," the prosecutor said.
Keating agreed, rejecting the defense argument to dismiss the two gun-related charges.
Also on Thursday morning, prosecutors filed a motion fighting admission of Rittenhouse's attorney, John Pierce, to practice in the state, saying "serious questions exist" whether he will follow Wisconsin's rules of conduct for attorneys. 
Rittenhouse is next scheduled to appear in court for an arraignment Jan. 5.
---