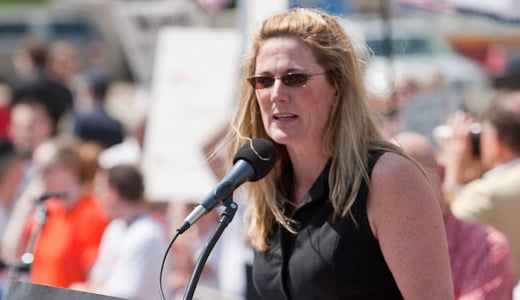 Republican state Senate candidate Kim Simac is apparently a graduate of the Sharron Angle School of Constitutional Scholarship.
Angle was the 2010 Republican nominee for the U.S. Senate from Nevada who famously suggested that problems in Washington might require "Second Amendment solutions." That was a reference to the use of guns, and its effect was to creep out enough Nevadans to sink Angle's challenge to Senate Majority Leader Harry Reid.
Simac is the challenger that national special-interest groups are spending hundreds of thousands of dollars to try to elect in a recall race against state Sen. Jim Holperin, a no-nonsense North Woods Democrat who has been targeted for defeat because he stood up for the rights of working families, for public education and local services, and for local democracy in Wisconsin.
Like Angle and Minnesota Congresswoman Michele Bachmann, Simac fancies herself a constitutionalist.
"I believe that the citizens of Wisconsin are good people and can be trusted with the responsibilities that are an integral part of living in a free society," claims Simac. "I support the rights that are guaranteed by the U.S. Constitution, and believe it is our responsibility as good citizens to exercise those rights, and to refrain from infringing on the rights of others."
So what's the primary right that Simac focuses on in her campaign materials? That's right, Sharron Angle's "Second Amendment solution."
"I believe an individual has the right to use force as a means of protecting themselves, their families, and their homes from aggressors," she argues.
Holperin is a steady defender of gun rights, so the candidates have no real difference on Second Amendment issues.
But Holperin has a record of taking the whole Constitution seriously.
He has championed the right to speak, to assemble and to petition for the redress of grievances. He has worked to protect the right to privacy.
And he understands, respects and defends the founding ideal that our elected representatives should serve the people — as opposed to a governor who acts as the "elected despot" that Thomas Jefferson and his contemporaries most feared.
Simac would be a rubber-stamp Republican, going along with Gov. Scott Walker as he implements an agenda dictated by Washington "think tanks" and billionaire campaign donors.
Holperin is, and hopefully will continue to be, one of those rare legislators who recognizes the wisdom and the necessity of a system of checks and balances that the founders outlined, that Wisconsin embraces and that, now, we must all defend against the abuses and excesses of Scott Walker and his cronies.
Share your opinion on this topic by sending a letter to the editor to tctvoice@madison.com. Include your full name, hometown and phone number. Your name and town will be published. The phone number is for verification purposes only. Please keep your letter to 250 words or less.
Catch the latest in Opinion
Get opinion pieces, letters and editorials sent directly to your inbox weekly!