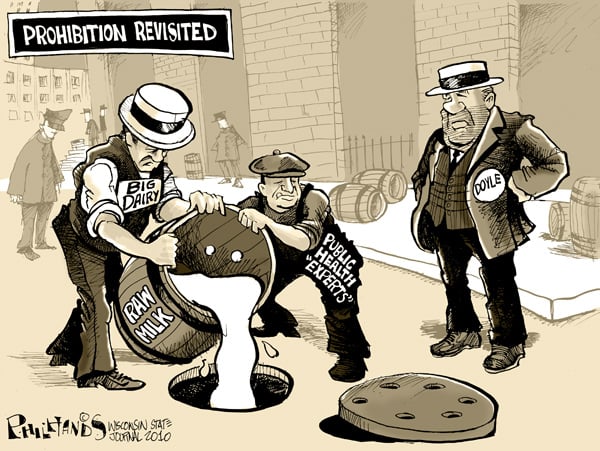 A month ago, I would have told you comparing the raw milk ban to prohibition was silly.  That was before government officials starting raiding family dairy farms that were selling the unpastuerized milk to willing customers. 
Now the comparison is apt, and this sepia-toned cartoon makes that point. Had a busy week, and was looking forward to not having to color the cartoon for Sunday.  Of course, I spent twice as much time as I usually spend coloring a cartoon, getting this one to look right with the sepia tone. In the end though, I'm really happy with the result.
I've said this before, and I'll say it again: I don't have any interest in drinking raw milk, and I don't think it has any of the health benifits that its proponents claim it does.  In fact, the idea glugging down a glass of fresh milk, bacteria and all, sort of grosses me out.  But it should not be a crime for small scale dairy farms to sell this milk to the people who want to buy it. 
Our state is in crisis.  School are laying off teachers and the University system is raising tuition to make ends meet while state aid falls.
Frankly, I can think of lots of better places for my tax dollars to be spent, than on keeping people from buying unpasturized milk.