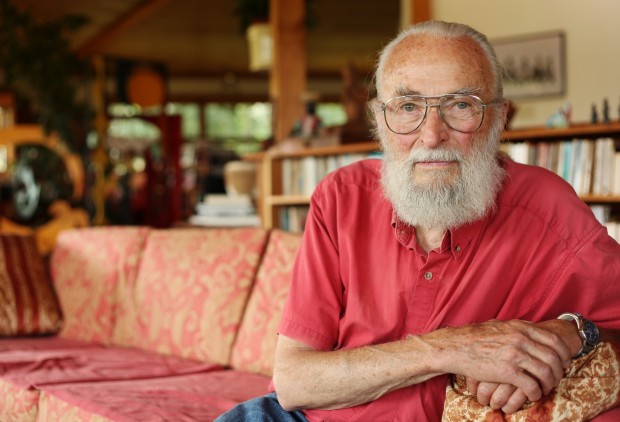 Gene Farley and I shared a deep affection for Tommy Douglas, the Baptist preacher-turned-statesman who as the leader of Saskatchewan's Cooperative Commonwealth Federation established the framework for what would become Canada's single-payer national health care system.
Douglas, who is often recalled as "the Greatest Canadian," had a congenial style that belied his determination to address social and economic injustices he knew to be immoral. "The inescapable fact," he argued, "is that when we build a society based on greed, selfishness, and ruthless competition, the fruits we can expect to reap are economic insecurity at home and international discord abroad."
Paraphrasing Tennyson, he roused Canadians with a promise: "Courage, my friends; 'tis not too late to build a better world." That line always came to mind when I was with Gene, who died Friday at 86.
Gene was an internationally renowned physician who finished a distinguished academic career as chair of the department of family medicine at the University of Wisconsin. But his great passion was as a "build a better world" campaigner.
With his beloved wife, Dr. Linda Farley, he devoted two decades of "retirement" to advancing a broad justice vision that — after Linda's death in 2009 — has taken shape in the remarkable ecological and community-building work of the Linda & Gene Farley Center for Peace, Justice and Sustainability.
Because of their professional background, Gene and Linda focused particularly on advancing the cause of universal health care. With their longtime friend Dr. Quentin Young, they were prominent figures in the "Physicians for a National Health Program" movement, which for decades has sought "an expanded and improved version of Medicare (to) cover every American for all necessary medical care."
You have free articles remaining.
Gene knew he was working in a time "when society is going toward selfish extremes … when (governments) pay anything to build up the military but don't want to give to the social good." Still, he remained "fantastically optimistic." And that optimism was often rewarded.
Though he warned that the Affordable Care Act, with its deference to insurance companies, was more complicated and costly than need be, he recognized it as a station on the road to a single-payer system. When we traveled in Canada together last month — with his dear friends Dr. Michael Klein and Bonnie Sherr Klein, and their daughter Naomi — we spoke a good deal about the difficulty of implementing what has come to be known as "Obamacare."
Yet Gene recalled that Canada went through decades of bitter wrangling before finally establishing a universal health care system that delivers longer life expectancy more efficiently and at a lower cost than the American system. "We have to be patient, but we have to be determined," he said, explaining that the establishment of the principle that "health care is a right" is not just a medical mission, not even an economic or social responsibility. It is, Gene said, "about morality."
Canada came to recognize that morality, embracing the vision of Tommy Douglas.
And, yes, America will come to recognize that morality, embracing the vision of Gene Farley.
A memorial service for Dr. Farley will be held at 7 this evening at the First Unitarian Society, 900 University Bay Drive.
John Nichols is the associate editor of The Capital Times, Wisconsin's progressive newspaper. jnichols@madison.com @NicholsUprising