For awhile Luther was the hardest-working cat in Dyer.
Now the furry feline may be the most famous.
When the Dutch-themed Windmill Brewing opened at 2121 Gettler St. in the shadow of the neighboring Franciscan Health hospital, the owners knew the barley and wheat they used for brewing would be a magnet for mice. So they looked to address the issue in the traditional, time-honored way that breweries have deployed over the centuries: by getting a cat.
"It's a large, warm building with sacks of grain," owner Justin Verburg said. "As a brewery, we wanted to be eco-friendly and use a natural pest control option. There's a long history of mice being drawn to breweries since our ingredients are their food. Breweries have long had a symbiotic relationship with cats."
So Windmill Brewing went to a local rescue that was at first skittish about letting them have a cat.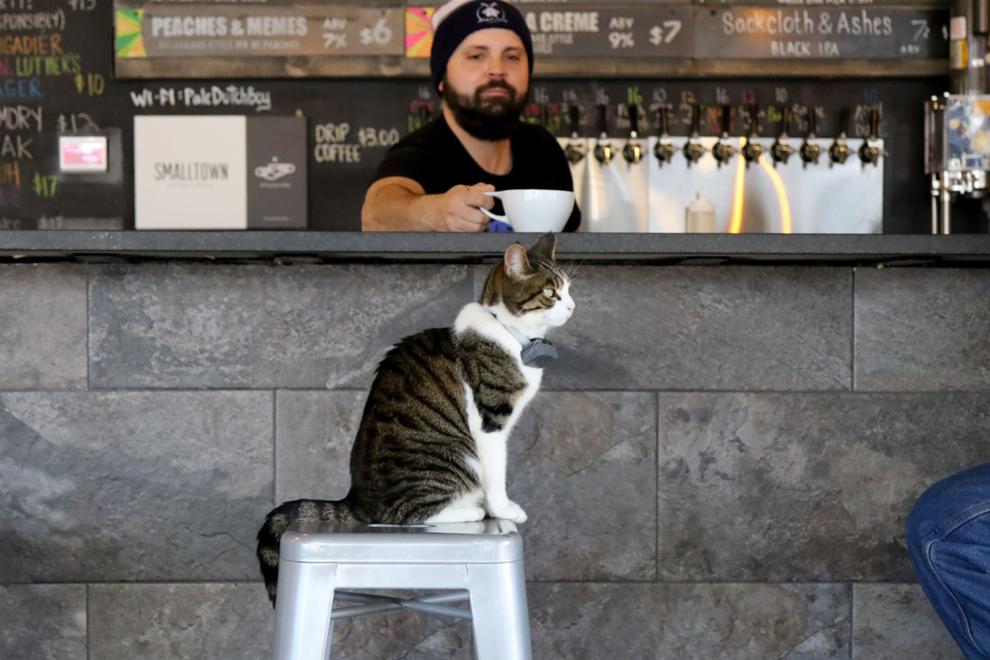 "They were more looking to find cats 'forever homes' rather than give them to businesses," he said. "But they had a cat they didn't think was adoptable because he wasn't good with people, and had just seen an article on a Cats at Work program in Chicago for semi-unadoptable or feral cats being used for natural pest control. Some of them turned around and became people cats. So they said, 'we'll do it.'"
Windmill Brewing brought on Luther as a mouser in December of 2016.
He was a natural at his job — at first.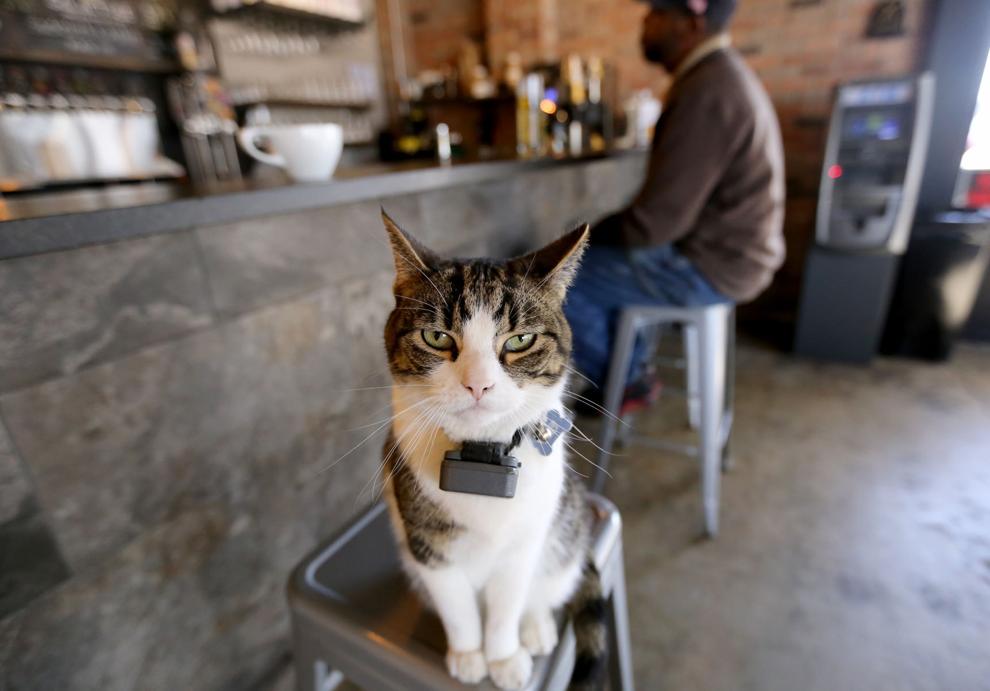 "He was skittish around people and hung around the back room," Verburg said. "He caught a couple."
But Luther's attention began to stray from his assigned duties.
"He started wandering into the taproom and snuggling on people's laps," Verburg said. "While we initially employed him for his mousing ability, now he's primarily entertainment. He's got a great personality. Hands down, he'll always find the person who doesn't like cats and will jump on their laps. He's endless entertainment."
Customers have come to love Luther, who strolls around the brewpub as he likes, sometimes approaching people and demanding pets.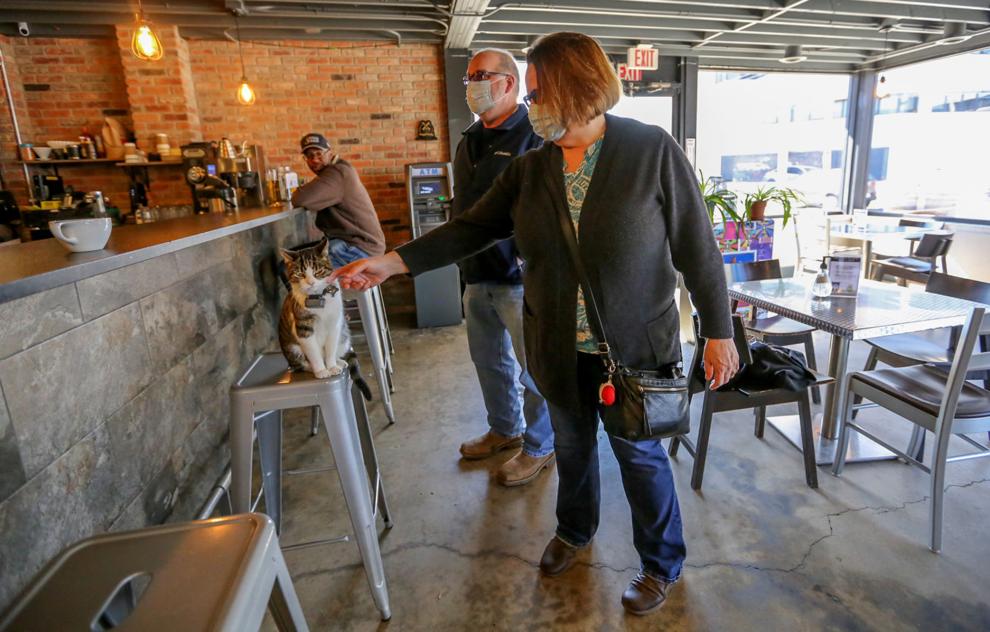 "People who aren't even beer drinkers come in to see him," Verburg said. "They bring him treats, cat toys, and even a cardboard food truck, an El Gato taco truck that speaks to how cats like to sit in boxes and also has scratching posts. People just love him. He's fun."
Customers bring Luther so many treats Windmill Brewing now has to moderate his intake.
"We have to regulate it because he'll eat as many as you give him," he said. "That could lead to bladder problems or being overweight. He had a few too many and we had to take him to the vet."
Luther lords it up at the brewpub and relishes the attention, Windmill Brewing customer Steve Patterson said.
"Forget the owners — Luther runs Windmill. He's become so much more than a back-of-the-house stray cat, he's become the face of that place and he knows it," Patterson said. "Sometimes he's got time for you, but mostly he'd rather wander. Or nap. Calling to him generally won't work, and he's usually not into being picked up — he's finicky that way — but leaving a winter coat or puffy backpack on a chair is a sure way to get his attention, as it makes for a warm spot for a nap."
Luther is allowed at the brewpub because it just serves craft beer and no food. He was exiled to the production area for a few months when Smalltown Coffee operated there during the daytime hours, offering pastries that made keeping an animal in the taproom a no-no, according to health department guidelines.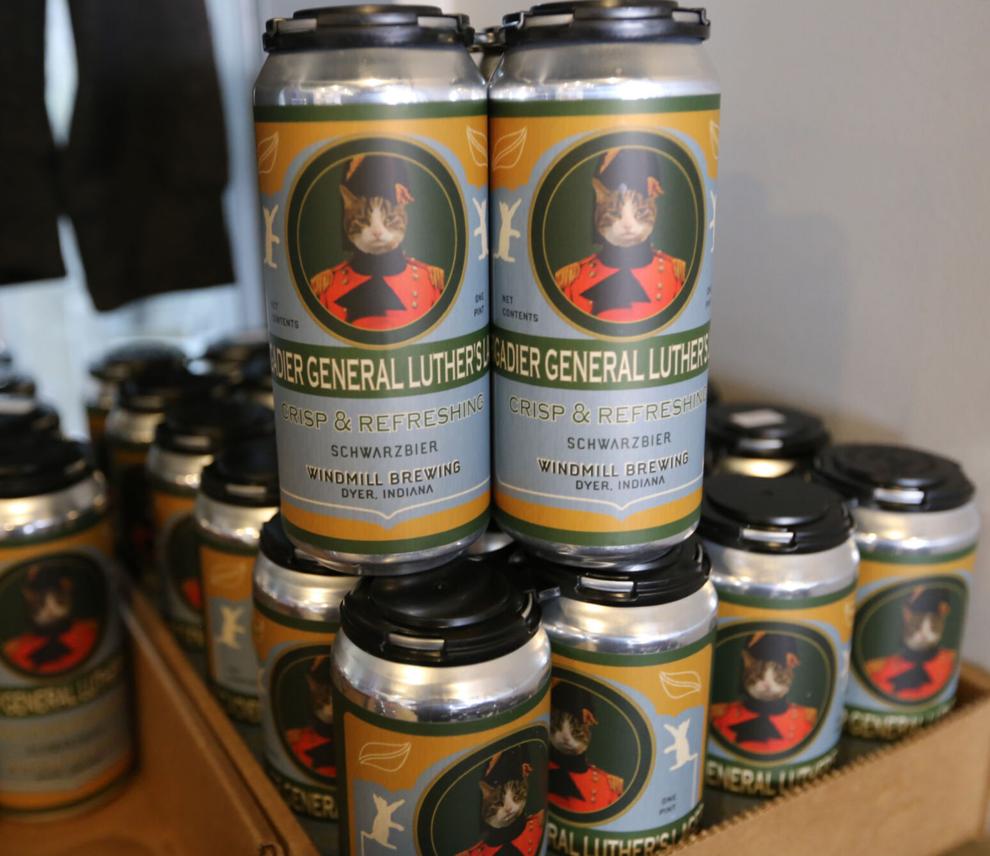 "It was heartbreaking to see him stare out from the brewery windows," Patterson said. "It just wasn't right not having Luther in there and we were all glad when he was finally able to again freely wander his kingdom."
Like a bodega cat in New York City, Luther adds tremendously to the ambiance of the place, Patterson said.
"It's crazy to think how much a random stray cat can change the dynamic of a place," he said. "Or cause someone like me, who isn't a cat person, to think about adopting a cat 'if it could be just like Luther.' But then I remember Luther is one-of-a-kind. Still, I have no doubt that many years from now, Gettler Street will be re-named Luther Lane. That's how much he means to everyone."
Luther declined to comment for this article but did arch his back for pets. His owners said it would be "pawesome" to profile him.
The American Shorthair cat features prominently in the brewery's marketing. His face has graced the cans of at least 10 different beers, as well as merchandise like stickers, shirts and glasses. A local popcorn place has approached Windmill about creating a special Luther-themed popcorn blend. There's even a framed painting on him hanging on the wall.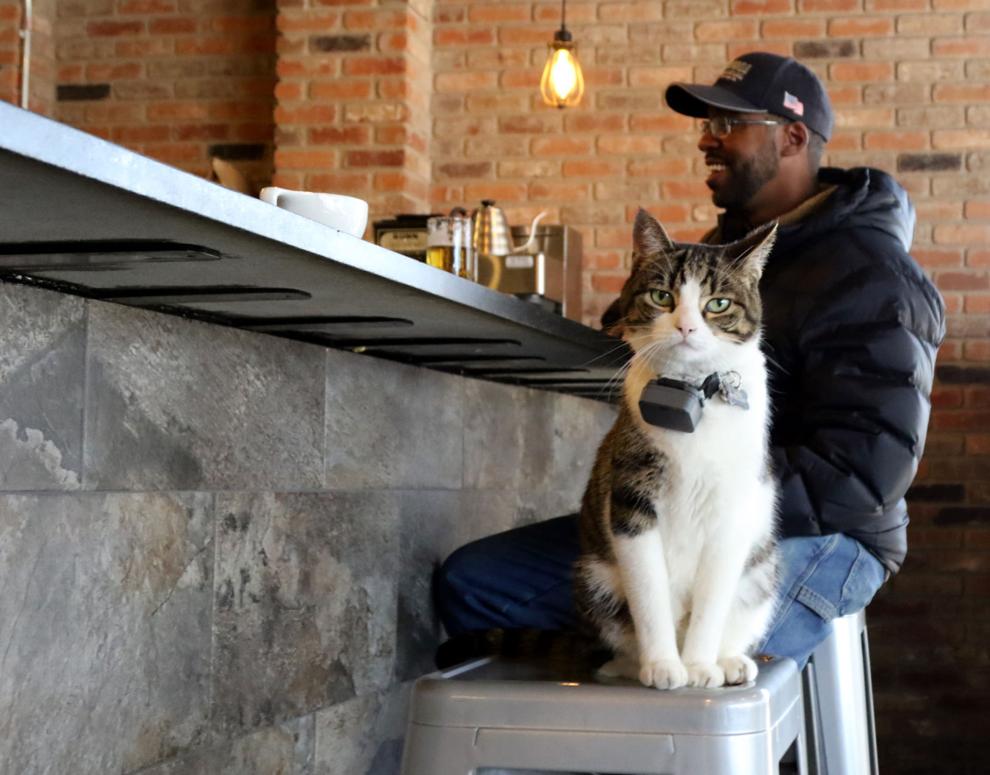 "He's become as big a part of our identity as the windmill," Verburg said. "People just love him; he's fun."
Luther has appeared on the cans of beers like El Gato Lima and Luther's Paws Mango Lychee. He's the namesake and official face of the lager series that includes Brigadier General Luther's Lager, Admiral Luther's Lager and Captain Von Luther's Lager, a Vienna lager.
Via the magic of Photoshop, he appears in military regalia on the cans, including in the historically authentic uniform of Captain von Trapp of "The Sound of Music" fame.
Luther lives at the brewery, spending the nights there. He often jumps up on the bar, where bartenders give him saucers of water that he instantly starts lapping up. When it's slower, he roams around in search of sunbeams, often settling by the front door.
"He's so often in a warm ray of sunshine by the front door, we've joked about getting him a host stand and bow tie so he can act as the greeter," Verburg said.
He's gained some fame on the internet and been featured a few times on the national Cats on Tap Instagram account. People have even come from as far as southern Indiana to visit him in person after seeing him on the internet.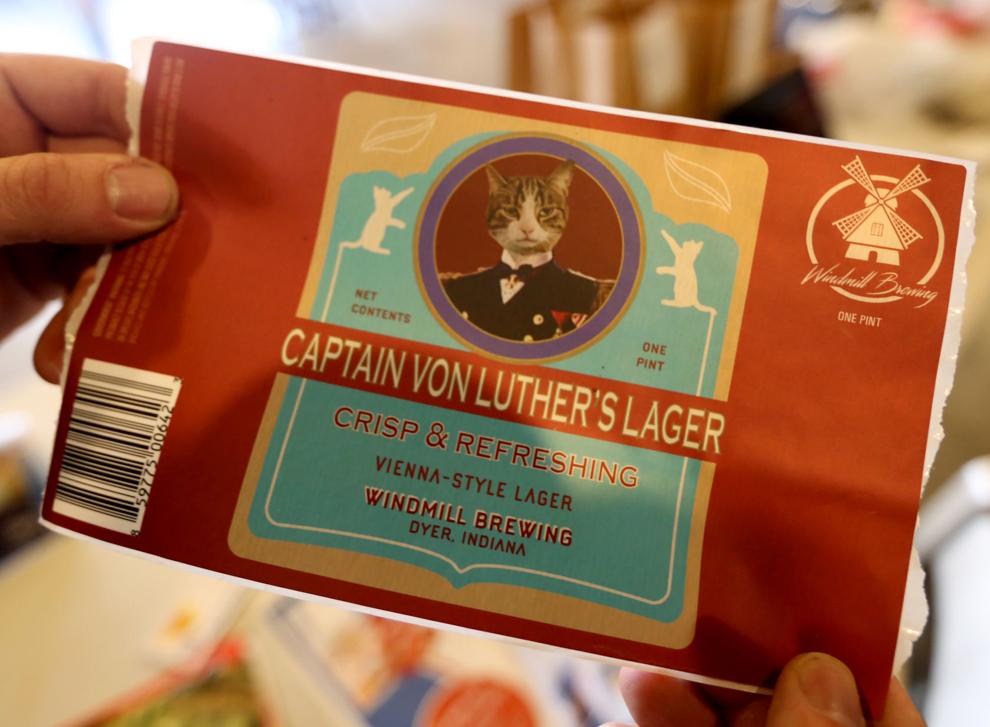 "His posts get more likes and shares than when I post about a new beer," Verburg said. "I have the quantitative data."
People have asked the brewery to set up its own Instagram account for Luther, sales rep Chris Knight said.
"A lot of people know him from Instagram and his presence on social media, but those who don't are usually excited and say, 'oh you have a cat,'" he said. "It's awesome when he jumps up on a barstool and starts drinking water next to everyone drinking beer. Everybody instantly pulls out their phone."
The brewery will move Luther out of the taproom to the back if any customers with cat allergies request it. But he's almost always well-received, Knight said.
"He's like the mascot of this place," he said. "He's very friendly and super-chill with people. I tell people if you try to get him to come play with you, he won't, but if you ignore him, he'll come hang out. He definitely adds to the ambiance of the place."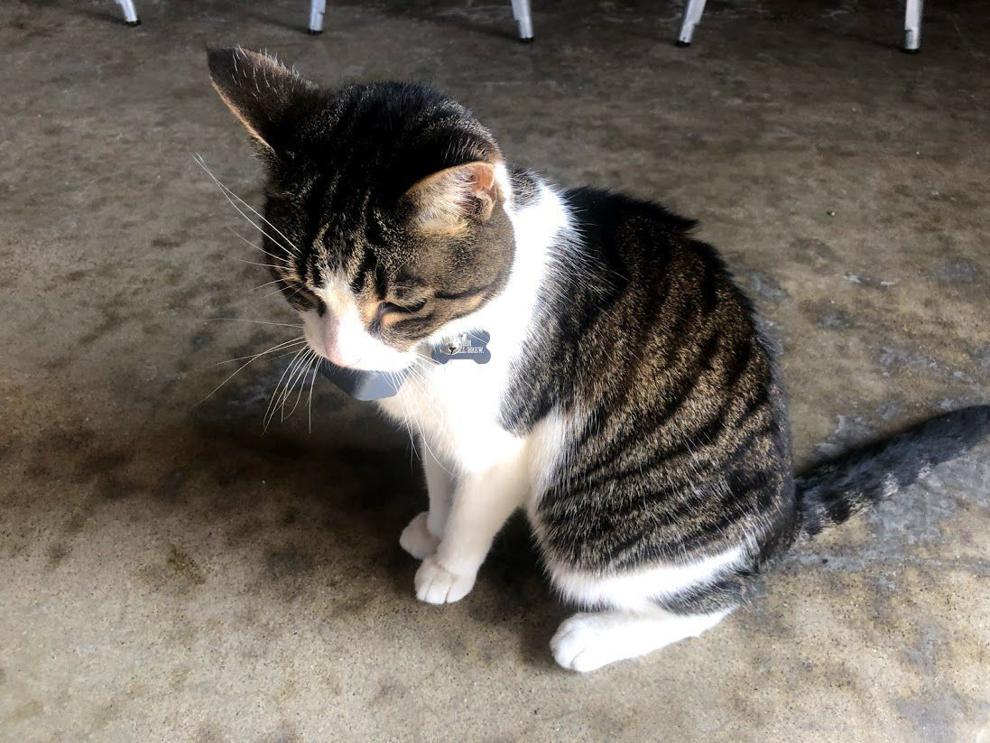 Luther, who's believed to be 6 or 7 years old, has even inspired customers to talk about adopting their own cats.
"He's a neat feature of the taproom," Verburg said. "He's very affectionate and loves nice warm laps. He pretty much owns the taproom, knows it, and walks around with that sort of attitude. He loves the attention and when he's done with the attention he'll just walk off. He's such a cat."