A United States Senate hopeful who seems attracted to teenage girls, details of which emerge years later, and a scandal that makes the front page of most newspapers.
We're talking about Alabama's Roy Moore, right?
Not entirely.
More than a century ago in Montana, the state's richest citizen, who also happened to be one of its senators, William Andrews Clark, found himself embroiled in a scandal that parallels what the embattled Moore is facing today.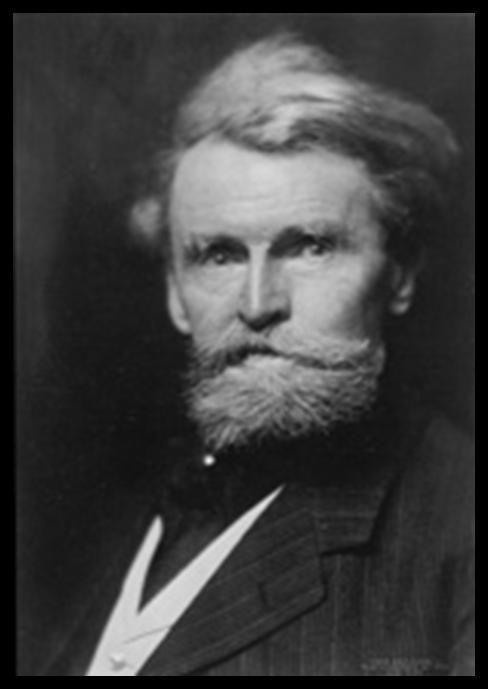 Four in '04
Arguably the richest man in America at the time, Clark — er, Sen. Clark — found himself in a predicament to which he was thoroughly unaccustomed. The man who had made fortunes in nearly every business he touched, from merchandising to banking to mining to railroads, found himself on the verge of the being derailed.
At least four women had captured the interest of the press in connection with Clark, who had been widowed in 1893. He certainly felt the walls closing in on him.
He was being sued by Mary McNellis for $150,000 for breach of contract in New York City because he allegedly "seduced, debauched and impregnated her," while promising marriage. 
The judge in the case ruled against her, but the case itself remains sealed. Later, it was discovered that McNellis' lawyer had suddenly sold his interest in a Canadian mine to none other than Clark — everyone assumes for a tidy profit. 
In Bill Dedman's book "Empty Mansions," he noted that McNellis and Clark had met during the Democratic National Convention in Chicago in 1896, and apparently kept in contact. McNellis claimed that Clark had wooed her with a dinner of oysters and champagne at the Waldorf Hotel in New York City in October 1900, according to Dedman. 
Clark, using a defense that seems strikingly modern, claimed that indeed he had known McNellis and she was "rather agreeable and very intelligent."
But Clark stopped short of admitting anything inappropriate.
"(I did not promise) to marry Miss McNellis, or ever made love to her or induced her to believe that I was going to marry her," Clark was quoted as saying.
The case disappeared, although some have speculated Clark's money eventually bought her silence. 
Meanwhile, noted abolitionist Hattie Rose Laube was still warring with Clark and his family because she claimed Clark had written her a promise of marriage while the senator was traveling in Europe. 
Everyone seemed to want him — or his money.
But McNellis and Laube were the adult women.
There was also Kathlyn Williams, who was just a girl when Clark agreed to "sponsor" her. 
Williams was described as a "blonde beauty" who came from modest means in Butte. She caught Clark's eye while acting in Butte's theater circuits. 
The details of their relationship remain clouded, but Clark sent Williams to New York to study opera. Later, he bankrolled her career switch to acting.
He was 40 years her senior. 
Williams would go on to have a noted career as an actress on stage, and during the early days of silent film she appeared in several dozen films and several "talkies."
She would later credit Clark for helping her career and, she added, the careers of other "boys and girls." As Dedman notes, "The names of no boys survive."
These reported dalliances almost certainly caught the attention of a young woman in France, Anna La Chapelle.
So she became the fourth woman to emerge in 1904 as one of Clark's lovers. But, she had something those other women didn't have — Clark's child.

Handsome child to Mrs. Millionaire
Likely reading about her rivals and worrying that she, too, may be discredited or discarded, La Chapelle asked Clark for a "competency," a quaint old-fashioned term hiding a racy reality. A competency, or settlement, was money that would have ensured financial stability for La Chapelle and her child, Louise Amelia Andrée Clark, who would later be called "Andrée."
In his kiss-and-tell biography of the family, William Mangam, who worked for the Clarks for more than a quarter-century, claimed Andrée's first and real given name was Wilhemina Andrée, a feminine form of her father's name, William Andrews. However, that report, like so many surrounding Clark, has never been corroborated.
Clark had sent La Chapelle from Montana to France when she was 16 to study music. Eight years later, Clark made a move as shrewd as any he had ever made in business.
Knowing that he'd have a difficult time disputing La Chapelle or the child — Clark's own sister had been serving as her chaperone — he couldn't simply deny or ignore the reports. Acknowledging paternity of Andrée might cause a stir, but an even larger scandal might break out when some nosy reporter put together the rest of the story — that Clark would appear to abandon a girl who'd been in his care as a teenager and with whom he'd fathered a child. Leaving La Chapelle disgraced might tarnish his reputation, which was still recovering from the shame of not being seated in the U.S. Senate four years earlier when it was revealed he'd bribed the Montana Legislature for his seat.
So Clark did the only other thing he could think of: he fabricated a complete but effective lie.
The firestorm of public attention that erupted when a 65-year-old senator married a 20-something musician broke in a Montana newspaper, and not the one Clark himself owned.
On July 12, 1904, The Anaconda Standard ran with a front-page story that had the headline:
THEY'RE MARRIED
AND HAVE A BABY
The Anaconda Standard, which had been owned by Clark's arch-enemy and rival Marcus Daly before he died, delighted in breaking the news that Clark had not only been secretly married, but had a child, too.
The paper reported the story that Clark and his bride concocted a tale that gave everyone cover, but hardly had a scrap of verifiable truth.
The Standard mocked, "The ceremony was performed that made the handsome child of the western mining fields the bride of the many-times millionaire."
Clark claimed the couple had actually been married more than three years earlier on May 25, 1901. That date was convenient on several counts. First, Clark had indeed been in France at the time, so it was plausible. More importantly, the date was also more than nine months before the birth of Andrée on Aug. 13, 1902. 
Keith Edgerton, chairman of the history department at Montana State University Billings, wrote an article on the curious romance of Clark and La Chapelle in the most recent edition of Montana, The Magazine of Western History.
In "A Copper King's Mysterious Marriage," Edgerton reviewed the purported circumstances surrounding the nuptials and found, like others who tried piecing parts of it together, the story was virtually free of facts.
Clark had indeed been in France at the time, but because of his status as one of the richest men in the world, and because Clark craved the spotlight, his 1901 trip to France was well covered in the press. A check of his itinerary revealed Clark was having a good time touring France, but no mention is made of a marriage.
For example, Edgerton notes that Clark was in Blois and allegedly married the next day in Marseilles, a distance of 500 miles. In order for the story to be true, Clark would have also had to skip a honeymoon, rush off to London to meet his son, and forget to tell William Jr. that he had just married a woman, leaving her behind in France. 
The Clarks also claimed they'd been married by a priest in Marseilles, but no record of the wedding or document has ever been discovered. Clark was known as a stalwart Presbyterian and Mason, and yet claimed the ceremony was performed by a Roman Catholic priest.
Several years later, when Anna La Chapelle Clark wanted to come home with her two children, she signed an affidavit that said, "no record of said marriage is known to exist."
After news of the surprise marriage broke, Clark's spin doctors at The Butte Miner newspaper responded on July 13 — a day later — to the salacious story that had been gleefully reported by its rival.
It claimed that La Chapelle had been taken in by Clark as a ward when her father had died. Later, another flourish was added to the story: La Chapelle's father had perished in one of Clark's Butte mines.
But Pierre La Chapelle was not a miner. He was a quack doctor who likely lived long enough to see his daughter leave for France. Pierre La Chapelle had his own fake stories as authorities in Butte had charged him with practicing medicine illegally.
The Standard followed up its coverage and claimed that nearly a decade earlier, a young La Chapelle had asked a local banker to support her fledgling acting career. The banker declined, but sent La Chappelle to Clark. The Standard's implication was obvious: Everyone knew Clark wasn't likely to turn down a teenage girl.
"There was one thing that Clark loved more than money," said a source in Edgerton's article. "That one thing was what women had to give."
Dedman's book puts it this way, "(He) was an ardent admirer, if that's what one wishes to call it, of the fair sex."
Later, almost a decade after the bombshell wedding announcement, Clark would tell the story differently, that he had first noticed La Chapelle playing the piano and a violin duet at a commencement where Clark was keynote speaker. 
Clark's recollections don't mention how La Chapelle, whose parents had to take in boarders in one of Butte's grittiest neighborhoods to make ends meet, had managed to scrape together tuition for a college 70 miles away in Deer Lodge where Clark just happened to be a trustee. 
After graduation, Clark claimed, he agreed to help the teenager by sending her to study in Paris. At that time, both of La Chapelle's parents were still living, not dead from a mining accident. 
After La Chapelle was sent to France, Clark started to provide financial support for her mother, Philomene, as well as Anna's two siblings, Arthur and Amelia. 
Damage control or no big deal 
What may be most difficult about Clark and these relationships is knowing the exact nature of them. Unlike today and unlike the allegations against Roy Moore, few details and specifics of these relationships have been disclosed.
In the case of McNellis, in which she argues Clark impregnated her, the court record was sealed.
It's impossible to know the exact nature of Clark's odd relationship with teenage actor Kathlyn Williams. And it's even harder to pinpoint when and how Clark and La Chapelle met.
Edgerton, who has studied Clark for years, said there's no definitive evidence of improper sexual relationships between Clark and teenage girls. Yet, Clark's behavior doesn't seem normal, even by Victorian standards.
"Is it weird because we don't know about it and are looking at it through our lens of today?" Edgerton asked. "Or is it just weird?"
To make matters more difficult, it's even harder to tell what the average Montanan thought of these events because there was no social media, no feedback sections, and even letters to the editor were heavily scanned for propriety and selectively chosen. In Montana, many mining companies found the easiest way to control their message was to own a newspaper, Edgerton said. 
The only possible clue is how the newspapers positioned the story; the Clark marriage made the front page in both Butte and Anaconda. Usually, the front page was reserved for world events. Local stories were usually only moved to the front page when they were considered huge news. 
The Butte Miner, Clark's mouthpiece, seemed to be in full damage-control mode after the news broke. 
Having been beaten on a story about its owner, The Miner triumphantly declared, "(the marriage) is not a surprise to their relatives and close friends in Montana. It had been known for many years that the Senator was very fond of his young ward and his marriage was known to his legal advisers and closest friends both in this country and in Europe."
The same article seemed to grasp at ways to describe the romance of the senator and a woman 39 years his junior.
"He learned that his early affection for this beautiful girl had ripened into love," the paper said in an article that contained a picture of Clark, La Chapelle and baby Andrée. "It was a happy moment in Senator Clark's life when he understood that his love for Miss La Chapelle was reciprocated."
Some of his relatives, legal advisers and closest friends may have known about Anna and Andrée, but one group didn't.
His other children.
Poor Papa
Anna La Chapelle was younger than any of Clark's four living children, a fact they seemed to disapprove of only slightly less than the concern about what would happen with their father's estate and vast fortune.
Mangam's book recounts a "dejected and dispirited" old man moping to visit his two daughters in New York City, late in June 1904, just two weeks before the news hit the papers.
Katherine Clark Morris writes to her brother, William Jr., to urge him not to be too angry with "dear father."
The letter from sister to brother arrived just five days before The Standard broke the news:
"While both May and I are greatly grieved and dreadfully disappointed we must all stand by dear father and try and make it as easy for him as possible as already he realizes his mistake — your heart would have ached could you have seen him the night he left us for St. Louis, and indeed I can't get over the way he looked so badly ... and dear, be as good and kind to him as you can for it is hard for dear father."
Mangam also manages to recount the note Clark wrote to his son about the situation, a letter the senator apparently ordered his son to destroy.
In it, Clark urged his son to understand the "alliance" he made with Anna, and that it wouldn't change the relationship with his older children.
Clark assured his son that Anna would not be permitted in his mansion on Fifth Avenue, and also said that "previous civil marriage is necessary to validate a marriage in France, but not necessary in the case of a citizen of the United States and Montana whose laws relating to the solemnization of marriages are familiar to you."
In other words, the made-up story was just the cover he needed to make the story hold up back in the United States.
But word of the family's dissatisfaction with the marriage had already leaked back to Butte, and The Miner was once again forced to go on the defensive. It published a column-long statement from Clark himself: "It has been stated that my family objected to this union. Whatever apprehension, if any, may have existed in this respect on my part, it was entirely dissipated when the facts were disclosed by cordial reception of the information and their approval of these relations which were so essential to my happiness." 
After all, Clark continued, the real reason for all of this fuss and sudden announcement, had nothing to do with him, a scandal, his career or his family.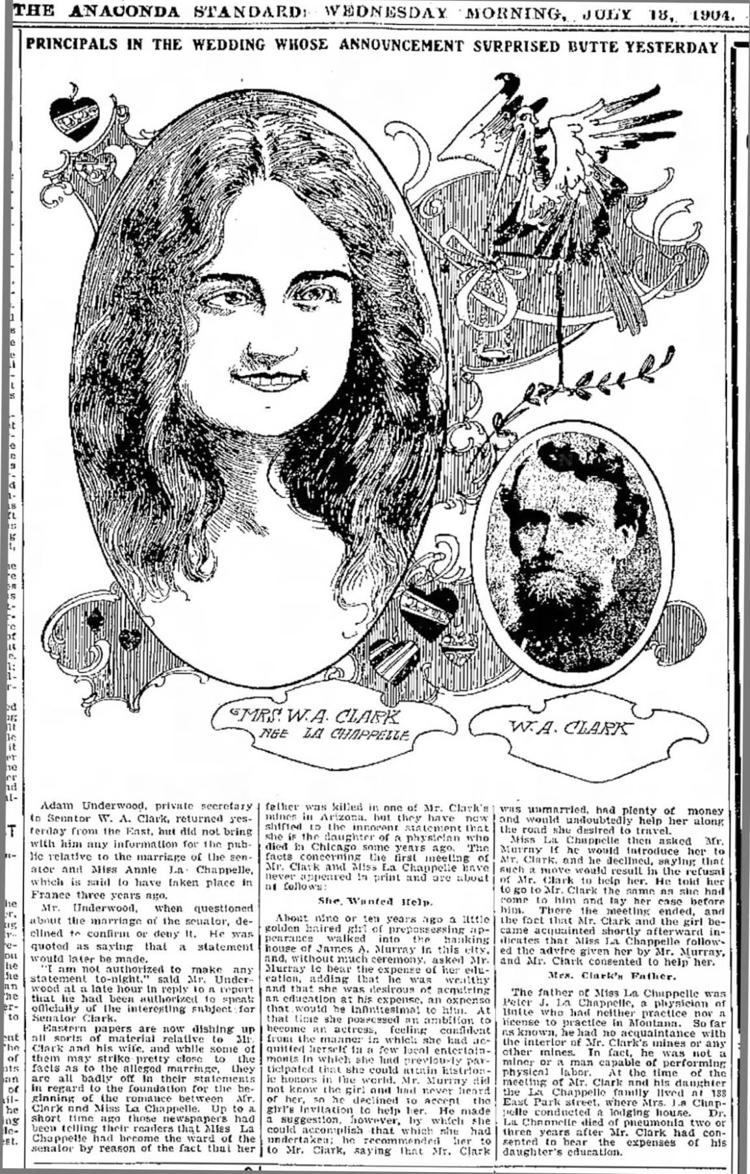 "I wanted my child to be educated in America and brought up as a resolute and patriotic American," Clark closed, 
Meanwhile, just over the hill in Anaconda, The Standard had published a slightly different take.
It showed a cameo portrait of the aging senator, who was then 65. Next to it, a much larger line drawing of La Chapelle, who looked like a slightly cross-eyed teenager. The pictures were enhanced by cartoon hearts.
And a very noticeable stork.