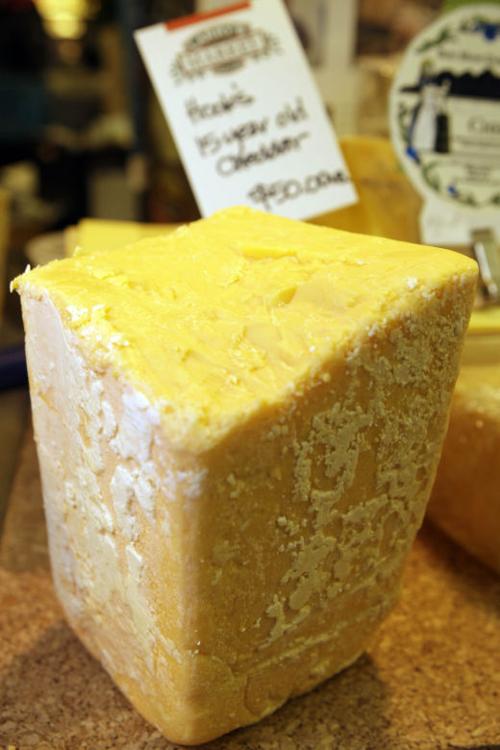 Patience might pay off for Tony Hook, but people who love his cheese will have to move a little quicker.
The Mineral Point cheesemaker is releasing a 20-year cheddar this spring, and cheese lovers are already lining up to make sure they get a nibble of it.
Hook, whose 15-year cheddar created a national stir in the food world when it debuted in late 2009, set aside nearly 500 pounds of cheese for five more years after that. Despite a price tag of more than $200 a pound, people are eager to order it now even though it won't be available until the end of May.
"In another week, it's going to be gone," said Jeanne Carpenter, specialty cheese manager at Metcalfe's Market, which is taking quarter-pound orders for the cheese. "There's not going to be any for sale on the shelf. I just requested another 10 pounds and they're scattering around trying to find me some more because I'm out of my allotment."
At Fromagination on Capitol Square, the cheese can also be ordered in advance but only in quarter-pound increments that cost $52.25.
"We want as many people who are willing to indulge in this to get a chance," said Fromagination owner Ken Monteleone. "We're not trying to sell it to people who want 1 pound; then they'll try to resell it and that's not the goal. We want to celebrate what the Hooks have done."
Both Metcalfe's and Fromagination are selling it for $209 a pound, which is the same price the Hooks will be setting when it debuts May 29 at their Mineral Point shop and May 30 at their stand at the Dane County Farmers' Market. It will be available at other stores and restaurants, and the Hooks are still taking orders.
"The reality is I should be charging $360 a pound for it but who is going to pay that?" Monteleone said. "We're not looking at it as our moneymaker. We look at it as a chance to create excitement about artisan cheese."
When Hook's released the original 15-year cheddar, it was believed to be the oldest cheese that had been commercially available. In 2012, a cheese owner in Oconto found some 40-, 34- and 28-year in the back of a cooler when he closed his shop. It was sold at a cheese shop in Milwaukee, with 40-year going for $10 an ounce.
The Hook's cheese wasn't a case of lost inventory but a plan that was put in place after the 15-year was such a success. Hook checked the cheese a couple times a year since setting it aside, though he hasn't tasted it since the fall.
"It's really, really good," he said.
The main difference, he said, will be in the crunch. As cheese ages, it develops calcium lactate crystals, something many cheese eaters either love or hate. The flavor itself won't be that different from the 15-year, he said.
"You're going to notice it but the 15-year is so good already," Hook said. "It's just something that's special. We're not planning to release it every year like we do the 15. This is kind of a one-shot deal for now."
Because cheese dries as it ages, this cheddar will be extremely crumbly, like its 15-year sibling. Cutting a quarter pound will be a challenge, but that's as much as Metcalfe's is going to sell per person, too.
"We're going to have to weigh it very carefully and cut it very carefully," Carpenter said. "Every crumb is going to count."
Carpenter said many people who are ordering it are planning to go in on a purchase with friends for a get-together.
"I'm telling people to just eat it," Carpenter said. "Do not waste it in a recipe. Open it up, get four or five of your friends together and eat it. Then remember where you were when you tasted 20-year cheddar."
Even the mild-mannered Hook feels a bit sheepish about the price but knows it's what the market is about. It's all a far cry from when Hook and his wife, Julie, opened their factory in 1976 and earned pennies on the pound making cheese that was sold under other companies' labels.
When the 15-year was first released, Tony Hook priced it at $37.50 a pound while everyone else priced it at at least $50. Eventually, he raised it.
"You never know for sure," Hook said. "You think of people who have high-falutin' jobs that can afford things like this, but over the years, with the 15-year, we've got what you could call the common folk. There's a cab driver who stops every year the first day we have the 15-year out.
"I feel sort of bad in a way because everyone should be able to afford good things in life," he said.
Hook has nothing to feel bad about, Monteleone said.
"If I put aside money 20 years ago, I'd expect a return on it," Monteleone said. "He took a big risk. He should be rewarded."