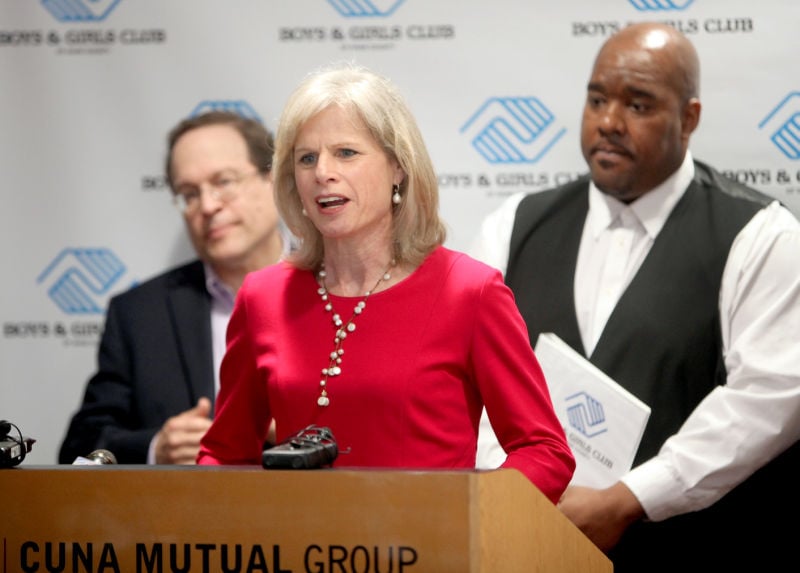 Democratic gubernatorial nominee Mary Burke defended her jobs record as Wisconsin's Commerce secretary, saying slower jobs growth from 2005 to 2007 than experienced recently came amid a different time in the state's economic history.
In an interview broadcast on WKOW-TV's "Capitol City Sunday," Burke was asked by host Greg Neumann to address the jobs gains posted by the state during her stint at Commerce from February 2005 to November 2007 and how they compared to those made by Gov. Scott Walker, her Republican opponent, since he was inaugurated in January 2011.
Figures from the federal Quarterly Census of Employment and Wages show that Wisconsin added 49,647 private-sector jobs from December 2004 to December 2007. From December 2010 to December 2013, the state gained 91,813 jobs.
"Those numbers really are comparing apples and oranges," Burke said in the interview. "The fact is when I was Commerce secretary, we had nearly 50,000 more people employed than we do right now. The unemployment rate was 4.8 percent. When Gov. Walker came into office, we had nowhere to go but up. We were coming out of the depths of a recession. There were twice as many unemployed people than when I was Commerce secretary, and the fact is we haven't gotten back the same number of jobs as the U.S. (as a whole)."
The economy has been a major theme in the gubernatorial race, just as it has been for most of Walker's first term in office.
"We know we're not keeping pace with the rest of the country in terms of coming out of this recession," Burke said. "But they were two very different times. I was Commerce secretary; I'm proud to have presided over one of the best times in Wisconsin's economy in terms of employment. But we have a long way to go, and the fact is under Scott Walker we are dead last in the Midwest in terms of job creation. We're not keeping pace with the rest of the country and we are far from getting back to where we were pre-recession."
Trek was founded by Burke's father, Richard, and she worked for the Waterloo-based company in heading strategic planning and European operations.
"What I know is that we have a sitting governor, Gov. Walker, who chose for political purposes and his own personal ambitions, to drag a great Wisconsin company, Trek Bicycle, through the mud," Burke said. "This is a company that was founded by my dad nearly 40 years ago, and I'm certainly proud of the role that I played in growing it to nearly 1,000 employees right here in Wisconsin. But it's not good for our business climate, it's certainly not good to attract businesses to the state when a sitting governor drags a great Wisconsin company with nearly 1,000 employees right here through the mud."