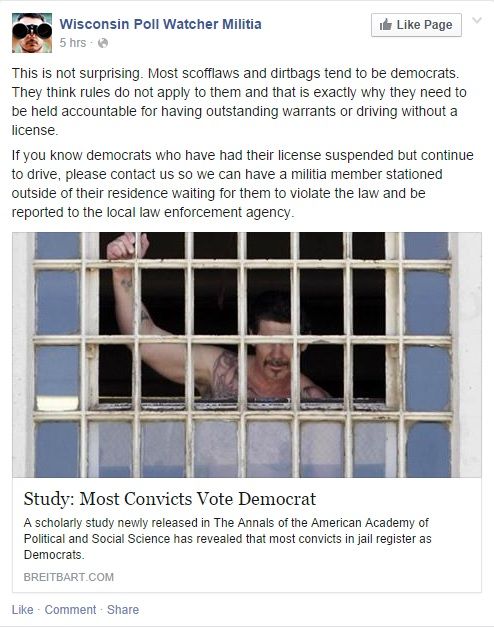 A self-described militia group claims to be checking names on the 2012 Scott Walker recall petition and plans to confront those found to have outstanding warrants or tax defaults at the polls on Nov. 4.
"We prefer our people be armed," reads a Facebook post by Wisconsin Poll Watcher Militia, screen captured on a blog at Politicususa.com. "Some will be heading to some of Milwaukee, Racine, and Beloit's worst areas. We will be armed with a list of people to look for at each location."
The exchange posted on Politicususa continues:
Patrick Murray: "Just so you are aware, I will not report Republicans. Only Democrats."
Wisconsin Poll Watcher Militia: "We will be targeting heavy democrat districts, so it is doubtful this will even be an issue."
Another entry from the group's Facebook page, which has 31 likes as of Friday afternoon, reads: "Please private message us names of people you know are active voters and wanted on warrants. We can get our agents to watch their polling location, identify the individual, and then follow them to their residence. A call the police and they will be picked up for processing."
Another: "Attention all members: Militia training will be at HQ on September 20, 2014 at 0930. We will hand out updated watch lists, duty assignments, and discuss rules and regulations. Expect it to take around 2-3 hours. After our discussion we will be headed to the range for anyone who wants to participate."
To compile the list of names, the group is using the website Put Wisconsin First, which has divided petition signers into categories. For instance, the "Tax Delinquents for Recall" category lists 571 petition signers who are in tax arrears. One category lists 444 sex offenders and another lists Democratic political donors.
Another page on the site allows users to search petition signers by offense, everything from homicide to speeding.
The website got a recent shout-out from none other than radio talker Rush Limbaugh, who tied the tax dodgers to every liberal who protested Gov. Scott Walker's crackdown on public workers. 
Limbaugh said the website was the work of an "anonymous researcher."
"Thanks to his hard work, we finally know who is not paying their fair share of taxes in Wisconsin," he said.
Politicususa called the group's efforts a violation of the federal Voting Rights Act and invites readers to contact the Justice Department to ask that the Nov. 4 election be monitored.
"The fact that they are targeting a specific group of individuals based on race and perceived political affiliation means that their operation is a violation of the Voting Rights Act," writes Jason Easley on the website.
A Wisconsin Poll Watcher Militia response on Facebook reads: "We can assure you that we will be targeting all democrats, not just black ones. If you think we meant blacks only it is because you are a racist who thinks the only people with warrants are black. We know better because we have a nice list of people who are wanted democrat activist types. Most are actually white. We will target everyone."