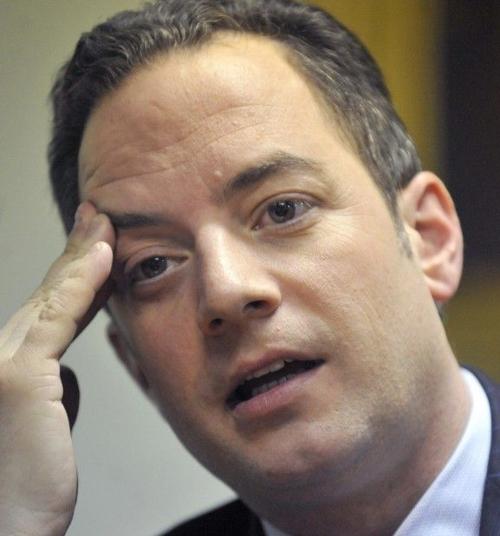 Looks like USA Today got a headline wrong last March. It says, "GOP chairman urges tolerance for views of gay marriage."
Now it turns out that the GOP chairman isn't exactly enamored with the word "tolerance."
"I don't know if I've used the word 'tolerance,'" Reince Priebus told David Brody of the Christian Broadcasting Network Monday. "I don't really care for that word myself. I don't have a problem with it, I just think it has another meaning politically that can go the other direction."
You might remember Priebus not only as the former chairman of the Republican Party of Wisconsin, but also as the thoughtful Republican National Committee chairman who a few months ago issued the findings of an "autopsy" of the GOP's shellacking in last year's national elections. Priebus then said the party needed to reach out to women, African-Americans, Asians, Hispanics and gay voters — a prospect that sparked immediate push-back from conservative Republicans and hand-wringing from evangelicals.
"Evangelicals start to grab the Excedrin bottles when they hear 'tolerance' because they think 'Oh no, the GOP's changing' and the whole gay marriage situation," Brody tells Priebus. "Why don't you address this and maybe put evangelicals at ease a little bit — or can you put them at ease?"
You have free articles remaining.
"A hundred percent," Priebus says. He goes on to try to rebuild the party's evangelical cred.
"Our principles are sound," he says. "I do believe and I still will tell you that our party believes that marriage is between one man and one woman. Our party believes that life begins at conception. I think those are foundational issues."
If that didn't patch things up, he had this to seal the deal:
"What you will see is a party that embraces life, a party that embraces marriage, and a chairman that understands that there's only one sovereign God."
The bottom line: Any talk of moderation within the GOP might look good to women, minorities and gays, but it's hard to swallow for evangelicals and the tea party faction, which sees possible presidential contenders Scott Walker and Paul Ryan as too moderate to bear the GOP standard.
"If Paul Ryan does run, it won't be as the conservative darling but instead the establishment figurehead," Iowa tea party activist Ryan Rhodes tells Real Clear Politics, talking about the man who has made it his mission to shred the social safety net. "To shake that label, he would need to make some significant changes to his policies."