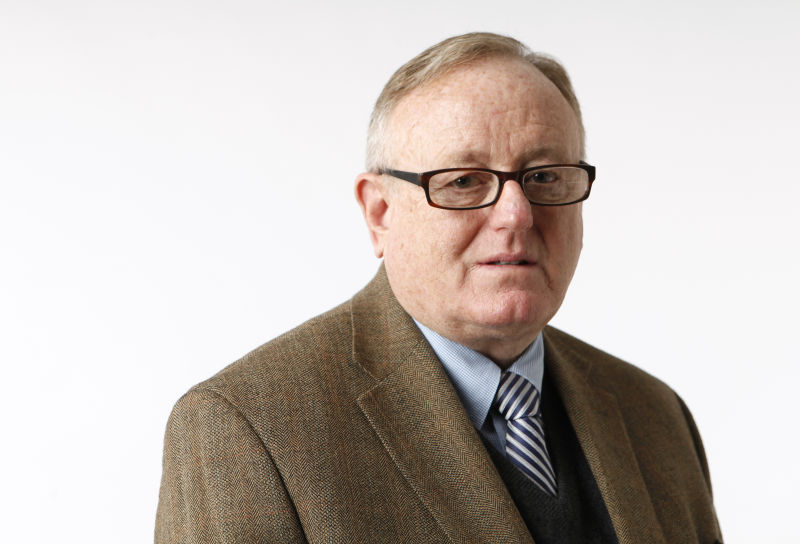 Jerry Hancock isn't your typical minister. A clergy member at First Congregational Church of Christ, Hancock is one of a handful of former law enforcement officials — most prominently former Madison Police Chief David Couper, who left the police to become an Episcopal priest — who have entered the spiritual realm.
"When I was working through my transition, people would say, oh, you're just like Couper," Hancock says. "And that of course, was and continues to be a compliment. David is very concerned about gun violence."
Reducing gun violence also has become a top priority for Hancock, who runs the prison ministry at First Congregational. He and others in the faith community have recently established a local chapter of Wisconsin Anti-Violence Effort (WAVE), a Milwaukee-based group that since 1995 has been calling for gun-control measures similar to those proposed by President Barack Obama after the Dec. 14 Newtown, Conn., massacre. The group's director, Jeri Bonavia, recently met with Vice President Joe Biden as he was putting together recommendations for the president's proposals.
The local chapter's first official event was a well-attended candlelight vigil last week against gun violence, which coincided with a petition campaign calling on Gov. Scott Walker to endorse background checks for all gun buyers.
Hancock says his interest in sensible gun-control measures stems from his work at the state Department of Justice, where he spent seven years when Gov. Jim Doyle was attorney general, four of them as head of the state Crime Labs. Before that he worked as a Dane County prosecutor, eventually attaining the position of deputy district attorney, when Doyle served as district attorney. Including his time as a public defender, Hancock has spent 35 years in the criminal justice field.
The Capital Times: Why did you decide to start a WAVE chapter at this particular moment in time?
Jerry Hancock: I think a number of people in the faith community were seriously upset by the shootings in Connecticut just before Christmas and some of us came together to think about what we might be able to do in Madison in response. I had known the founder of WAVE, Jeri Bonavia, for nearly 20 years from when I was head of the state Crime Labs at the Department of Justice and we were working on gun-control efforts back in the day. I knew that WAVE had been the most consistent and faithful voice trying to end gun violence over those 20 years, certainly in Wisconsin and in some ways throughout the nation. They were always there and didn't just come up in response to some mass shooting. So their credibility was really high.
CT: WAVE has gained a reputation as an effective research and educational clearinghouse on gun violence issues. How do you see your partnership with the group working?
JH: We would not see ourselves as having any kind of independent role other than sort of supporting and amplifying what WAVE was doing statewide. So to be able to utilize their terrific data in Madison and raise the visibility of efforts to end gun violence in Madison, in a sense making WAVE's impact even greater in Madison, is our hope.
CT: Has your work with the prison ministry played a role in your stance against gun violence?
JH: Since I became ordained, my full-time job has been director of the prison ministry project. We're in prisons 200 times a year listening to stories of men and women in prison. Many of those stories have elements of gun violence in them, either being victims of gun violence or perpetrators of gun violence. A lot of the guys we see in prison are from Milwaukee or Chicago. There were 40 gun deaths in Chicago in January, so it's a big part of the communities they come from, and are likely to go back to.
You have free articles remaining.
CT: What do you make of the rush to buy guns after each mass shooting?
JH: I think part of it is opportunistic marketing by gun retailers and manufacturers. And part of it is a certain amount of uncertainty as to what is likely to happen. I think that uncertainty is prompting people to think they should act now instead of later. I think that feeling is completely misplaced. As a lawyer I know what the jurisprudence is on the Second Amendment. It's very clear that the Second Amendment does allow people to bear arms, to have guns. And nobody is going to take those guns away.
CT: But there's a very real possibility that some guns could become unavailable.
JH: (The Second Amendment) also allows the government to reasonably regulate the kinds of firearms that are allowed in private possession. And that's been true for at least 70 years. If you look back, sawed-off shotguns and machine guns were outlawed in the '30s by federal law because they were considered to be weapons used by criminals. This is not new. The idea that you can regulate some kinds of guns has been around for a long time. But people are uncertain about what the law really is, so they think, "I'm going to get mine now because things could change." The fact is, things are not going to change dramatically.
CT: Some people see the potential for an assault rifle ban as pretty dramatic.
JH: I think people are feeling, "If I want to be sure I can have an assault rifle I'd better buy that now," and there's some justification for that. And also, "If I want to have a large-capacity magazine I should buy that now." The question is, why would you want an assault rifle and why would you want a high-capacity magazine? And why in the world would you want one in your home? But those are question I really can't answer. I pray about it but I don't have any answers.
CT: You called the president's proposals a good first step toward stemming gun violence. If his proposals are adopted, what should be next?
JH: To allow cities and metropolitan areas to have a greater ability to regulate the kinds of guns that come into their jurisdiction. In Wisconsin, for example, state law pre-empts the city of Milwaukee from adopting really meaningful gun regulations in terms of what kinds of guns can be sold. That is reserved for the state level.
CT: But didn't the U.S. Supreme Court limit local gun control laws?
JH: I think there is the constitutional limitation that says you cannot ban the sale of all guns inside a city, but I think that it would be constitutional to regulate the sale of some guns within a city. This came up 20 years ago. There was an effort to prohibit the sale of small-caliber handguns called Ravens that were used in a very high percentage of homicides in Milwaukee. Milwaukee and Madison were both considering limiting those. Madison actually passed an ordinance, and Milwaukee was considering it, and the state then stepped in and pre-empted local units of government from regulating the sale of guns.
CT: At any rate, all this talk of gun control may turn out to be just that, talk — at least as long as Republicans run the House of Representatives at the federal level, and the entire government at the state level.
JH: Never say never. Look, I used to be a lawyer and used to analyze things that way. Now I'm a minister and my faith has gotten greater. So I have faith that as a society we can come together to reduce the level of gun violence.