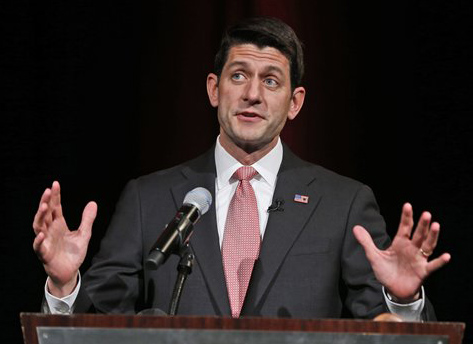 Paul Ryan on Wednesday said the federal government should stay out of the regulatory business when it comes to global warming.
"Climate change occurs no matter what," said the Republican U.S. representative from Janesville. "The question is, can and should the federal government do something about it? And I would argue the federal government, with all its tax and regulatory schemes, can't."
Ryan, the chairman of the House Budget Committee and a potential Republican presidential contender, was speaking at a Christian Science Monitor event in Washington. He was responding to President Barack Obama's proposed restrictions on greenhouse emissions from coal plants. Ryan called those efforts "outside of the confines of the law."
"I don't see a solution here," Ryan said at the event. "I see an excuse to grow government, raise taxes and slow down economic growth."
Ryan's statements come as the Obama administration mounted a vast effort to sell the proposed Environmental Protection Agency regulations.
"The Obama administration and its supporters fanned out around the country Tuesday to press the case for acting on climate change, arguing on the Hill, at packed Environmental Protection Agency hearings and in a new White House report that the price for doing nothing is far too high," read a Politico story on Wedensday.
The story points out that targeting climate change is seen by liberals as a winning political strategy leading up to Congressional elections in the fall, though "moderate Democrats struggle to defend President Barack Obama's policies in key states that could flip the Senate in November."
The Obama administration, in a report issued this week, argues that inaction on climate change could cost $150 billion a year for efforts to mitigate carbon emmissions.
"It will come in the form of damage to public health and biodiversity, as well as physical impacts from rising seas and more severe storms, droughts and wildfires," says this story from Inside Climate News.
Democratic strategists are betting that the climate change initiative will resonate with women, young voters and enviromentalists.
"Not since the failed push to pass a cap-and-trade bill in Obama's first term have the White House, congressional Democrats and their green allies mounted such a coordinated drive to sell an environmental policy," says Politico.
Ryan's comments also come in the wake of a House resolution to sue Obama over alleged abuse of his executive powers, a measure that Ryan said he supports. While the suit centers on the Obama administration's decision to waive the employer mandate for the Affordable Care Act, Republicans have pointed to a general misues of executive power.
"Republicans say their lawsuit was prompted by several instances where Obama has used executive action when he should have consulted Congress," reads this Washington Examiner story. "Examples include a recent decision to swap five Taliban prisoners held at the Guantanamo Bay detention camp for an Army soldier held captive in Afghanistan. Republican lawmakers believe Obama also overstepped his authority by implementing new rules to reduce pollution from coal plants and by stopping deportations of many young illegal immigrants."