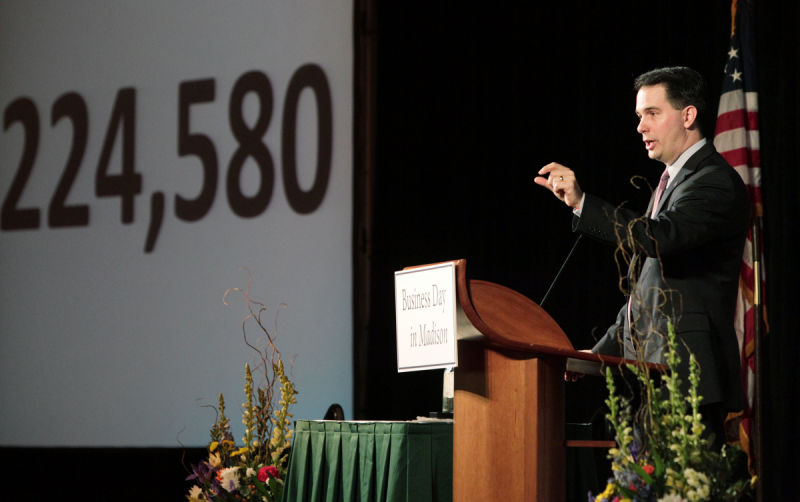 Florida Gov. Rick Scott's decision to expand Medicaid signals a possible reality check among some Republican governors, seven of whom now plan to buy into Obamacare.
Here's a good graphic from the New York Times showing where states stand on Medicaid expansion.
And here's the accompanying story on the GOP governors who have decided to embrace the federal dollars that fund that expansion.
Scott's reversal is notable because he vociferously led a legal fight against the Affordable Care Act and vowed not to implement it even after it was upheld by the U.S. Supreme Court. As Florida Senate President Don Gaetz, R-Niceville, said: "I don't know that I'd say the governor flip-flopped. I'd say he made a very long journey from 'no-no-hell-no' to 'yes.'"
Walker remains in the "hell-no" camp, along with sixteen other Republican governors who have turned away the federal money to expand Medicaid.
But in Wisconsin, according to this article in Governing, Walker was able to take advantage of a loophole in the Affordable Care Act because, unlike most states, the state already covers childless adults with incomes up to 200 percent of the poverty level in its BadgerCare program. Many of those — the ones making between 100 and 200 percent of poverty level — would be shoved into the new health insurance marketplace under Walker's plan.
"Most states either have a much lower level of eligibility for that population or don't offer any Medicaid coverage to childless adults at all," the Governing article says.
Walker says his move is intended to get people off the welfare wagon.
"I want to have fewer people in the state who are uninsured," he said last week. "But along with that I'd like to have fewer people in the state who are dependent on the government."
Nevertheless, Walker's getting hammered for turning away the federal dollars, which U.S. Sen. Tammy Baldwin says, in a letter to Walker Thursday, would have amounted to $1.1 billion by 2016, $1.3 billion in economic activity, and more than 10,500 news jobs. Over the next decade, Baldwin says, Wisconsin would have seen $10 billion from the feds.
"At a time when Wisconsin needs leadership growing our economy, strengthening and growing our middle class, and creating broad-based prosperity for our state, you chose to turn away a job-creating federal investment in Wisconsin," Baldwin wrote in the letter.
And one health care policy analyst, a critic of Obamacare, called Walker's plan "crazy."