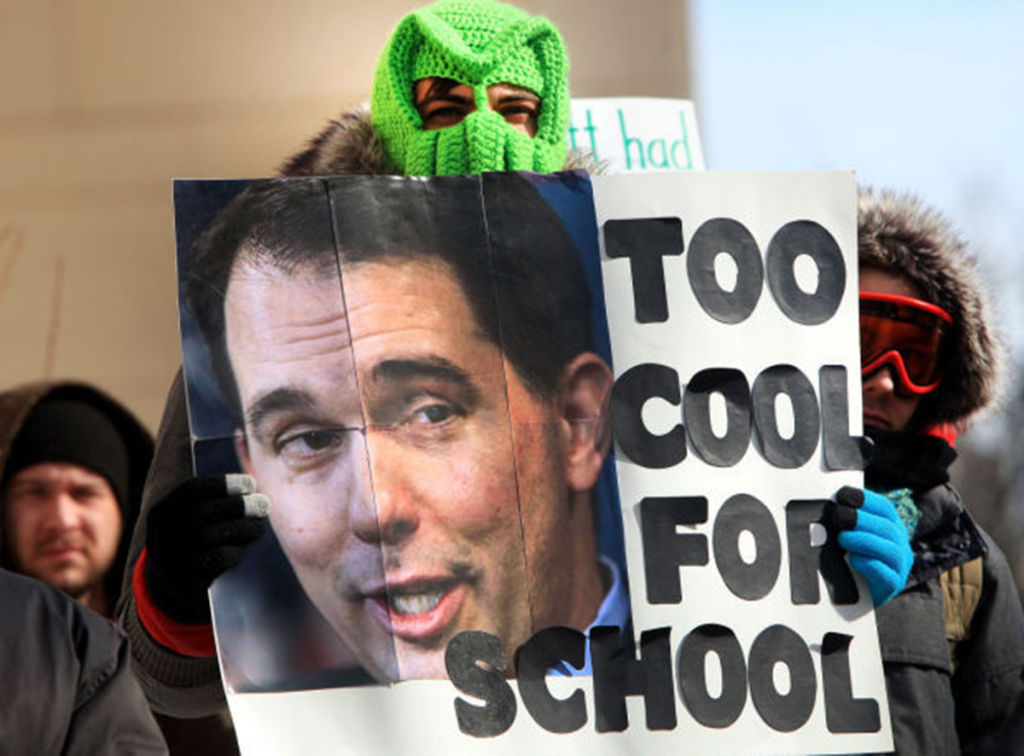 I'd written a column about what I called the "politics of hate," describing how an academic study concluded that politics has become the biggest divider of Americans, trumping even the traditional wedge of race. Most people, the study said, hesitate to express racist opinions, but across the left-right political divide, it is always open season to say the worst about the other side.
Veronica Rueckert, the co-host of "Central Time" on Wisconsin Public Radio, asked me on air whether I think I contribute to this climate through my writing. My columns, I'd stipulate, are consistently contemptuous of the extreme positions of Gov. Scott Walker and fellow Republicans who rule state government with an iron fist.
It seems unavoidable, I answered, given the historic extent of progressive disenfranchisement. For decades in Wisconsin politics, I said, whichever side was in power governed on behalf of all of residents, not just for its most strident political base. Republican Tommy Thompson, for example, was first elected governor in 1986 by a margin similar to Walker's 53 percent in 2010, but eight years later won a breathtaking 67 percent because he sought to be everyone's governor, now an antiquated, repudiated notion.
But here's the thing: By focusing with such zeal on Walker, might we be bolstering his brand by allowing issue debates to occur on the GOP's rhetorical turf?
That's what a reader on Facebook suggested and pointed me toward George Lakoff. So I contacted and interviewed Lakoff, a nationally noted author and professor of cognitive science and linguistics at the University of California-Berkeley.
Well, yes, was Lakoff's answer. Unending progressive rants about Walker, absent a coherent and overarching alternative moral message, help him and other Republicans because they then control how issues are discussed, how they are framed.
His central thesis is that people make political choices from cognitive and moral intuitions. He says those on the political right see society as a family ruled by a strict father, while the left thinks of it as a family guided by a set of nurturing parents.
For progressives, he says empathy is at the center of the idea of democracy, a governing system in which citizens care about fellow citizens and work through government to provide public resources for all. In short, in a democracy, the private depends on the public.
Conservatives think liberty is the freedom to do what they want and not care about others, he says, so providing public resources is immoral, taking away personal responsibility, making people dependent, lazy, unable to take care of themselves.
Lakoff maintains that voters do not choose leaders based on the sum of a candidate's positions but on this larger, moral frame. Issues must be tied together in this big frame, and conservatives have dominated the moral debate by consistently asking which side best stands for liberty.
Progressives should effectively counter "liberty" with "freedom," Lakoff argues, but have failed to do so. Here, in staccato phrases, is what he's getting at:
If you get cancer or break a leg and do not have health insurance, you are not free.
If you can't get a decent education, you are not free.
If you are a woman and do not control your body, you are not free.
If you cannot marry someone you love, you are not free.
If your work largely benefits only the wealthiest of the wealthy and not you, you are not free.
If you are treated with suspicion or disdain because of your race, you are not free.
If a few billionaires determine election outcomes, you are not free.
If you cannot easily vote, you are not free.
If you are not protected from harmful products and fraudulent business practices, you are not free.
If companies are allowed to foul the air you breathe and the water you drink, you are not free.
Get the picture? Government not as the evil enabler of a nanny state, but as an indispensable agent for freedom.
On all of this, Lakoff does not give high marks to Democrats in Wisconsin: "I think the Democratic Party got Scott Walker elected and re-elected and the Democratic Party in Wisconsin has been absolutely awful on running campaigns and messaging and so on," says Lakoff, who tracks state politics and has visited the state. In Wisconsin, for example, Lakoff wrote just after the recall election that conservatives framed the Act 10 protests as unions fighting for their own interests and progressives failed to show them as an effort to protect everyone who works.
"What happens (in Wisconsin and elsewhere) is progressives constantly argue against conservatives using conservatives' language," he said recently in an interview with me. "When they do that they activate conservative frames in the people who hear them, and when you activate a frame, you strengthen it and you weaken the opposite one."
Lakoff says the liberty approach to democracy, the one perfected by conservatives, produced the tea party: "It's the liberty to do anything you want without worrying about anybody else. The liberty to have personal responsibility, therefore you should not accept anything from anybody else or you'll become dependent and you believe everybody should be the same way."
Sounding evangelical, Lakoff then riffs at length about how he thinks Democrats fail to effectively frame things. Here's a sample: "Take pensions. What is a pension? A pension is payment for work already done. If you cut pensions you're stealing people's money that they've earned. Or health care paid for by employers, so-called 'benefits.' They're not gifts. They're part of salaries. You cut benefits, you're cutting the salary.
"Those obvious things need to be said. Unions are about freedom from corporate slavery or wage slavery. They're freedom from an employer telling you that you have different work hours every week, that you're not going to get paid for overtime and or you have to work under dangerous conditions. I mean unions free you from stuff like that. They free you from that kind of slavery. People have to say it out loud."
In summary, Lakoff asserts, "Politics is primarily about morality. What the conservatives are very good at is getting their moral views out there." Progressives, he says, not so much. In fact, he says, they are pretty much "disastrous" at messaging in moral terms.
Well then, let freedom ring.
Share your opinion on this topic by sending a letter to the editor to tctvoice@madison.com. Include your full name, hometown and phone number. Your name and town will be published. The phone number is for verification purposes only. Please keep your letter to 250 words or less.