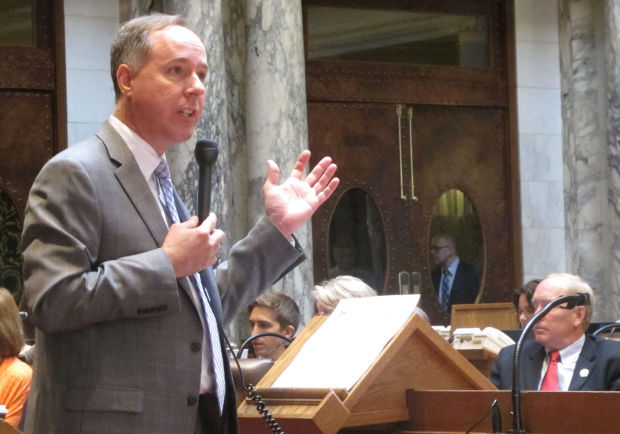 It may come as no surprise that state Republican leaders, in the flush of electoral victory, are targeting University of Wisconsin funding in the next legislative session. But the scorn for the university evident in Assembly Speaker Robin Vos' post-election remarks struck some observers.
Vos, who led an assault on university officials over fund reserves last year and backed Gov. Scott Walker's tuition freeze, said this week that he wants to ensure that faculty at the university spend more time teaching and that research ought to be geared toward helping the state's economy.
"Of course I want research, but I want to have research done in a way that focuses on growing our economy, not on ancient mating habits of whatever," said Vos. "So we want to try to have priorities that are focused on growing our economy."
Researchers at UW-Madison are focusing their responses to Vos' remarks on how the university already boosts the state economy through research and places a high priority on quality teaching.
"Research conducted here at UW-Madison already brings a very big economic boost to the area, on the order of $1 billion a year," Steve Ackerman, associate vice chancellor for research in the physical sciences, said of the influx of mostly federal grant money to the campus.
As an example of university efforts to transform research into economic stimulus, Ackerman pointed to UW-Madison's D2P, or Discovery to Product, partnership with the Wisconsin Alumni Research Foundation designed to bring UW-Madison-inspired innovations to market.
"The Wisconsin Idea is about how to take the things we know and benefit our state," Ackerman said. But it is hard to predict whether study of the fundamental aspects of science, undertaken without specific applications in mind, will pay off in the end," he said.
"Basic research is about trying to figure out and understand things we don't know," Ackerman said. "It's hard to take the title of a project or federal grant proposal and transpose that into something. But it often leads to bigger discoveries, better understanding and, potentially, economic benefit. Although certainly not always. That's the way it works."
Ackerman said he was disappointed in Vos' remarks and would like to see a broader understanding in general of what basic research is and what it does.
UW-Madison already puts an "extraordinary emphasis" on faculty teaching, using it as a criterion in tenure evaluations to a degree that is unusual at research universities, said David Krakauer, professor of genetics and director of Wisconsin Institutes for Discovery.
"It's very hard to imagine a university that takes it more seriously," Krakauer said. "That's an empirical reality."
Krakauer said it is not possible to predict how it will happen, only to look back and see how the prosperity of the nation and state depend to a great degree on ideas that come out of basic research. That's a concept better understood in other parts of the world, he said.
In the United States, it's a challenge to researchers to communicate the importance of basic science, he said.
"The situation for researchers is that on one hand we are criticized because we are falling behind Brazil, India and China," Krakauer said. "And on the other hand criticized not doing more applied work with immediate short-term benefits."
"This is a tension politicians need to grapple with in a more subtle way," Krakauer said.
For example, at UW-Madison, the accidental discovery of the advantages of irradiating milk and generating vitamin D cured the world of rickets and led to the establishment of WARF, a research foundation with an endowment in excess of $2 billion, he said.
"If you look at the most prosperous regions in the United States — San Francisco, Boston, Chicago — it's no surprise that nearly all of them are affiliated with research institutes," Krakauer said.
"If U.S. universities don't continue with basic research, within the next decade, what appears in the marketplace will be not an Apple computer, but another company where the revenue won't be directed back to Wisconsin, but to another continent," he said.
It's the responsibility of UW researchers to explain why complicated ideas are valuable.
"Look to history, look to Einstein working in the patent office discovering this unbelievably bizarre world of physics, which makes GPS possible," Krakauer said.
That's the kind of incremental advancement in the understanding of scientific principles — and their applications — that is not possible to glean by simply reading a research project title, he said.