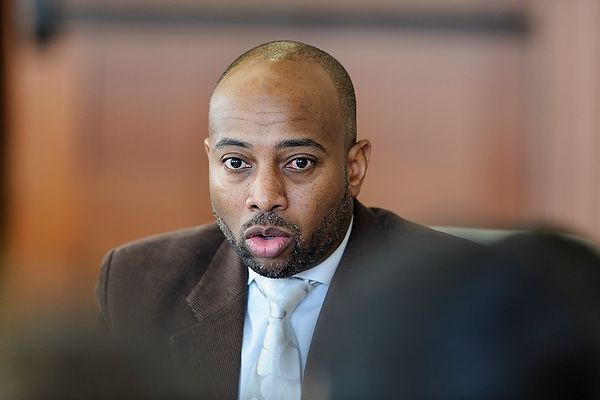 Better training and more accountability are needed to improve the educational opportunities for black men and boys from pre-K through college, says an emerging coalition of education research centers, including the Wisconsin Equity and Inclusion Laboratory.
The group's new report, "Advancing the success of boys and men of color in education: Recommendations for federal policymakers," is intended to reshape the discourse around educational outcomes, says Jerlando F.L. Jackson, WEI Lab director and Vilas Distinguished Professor of Higher Education at UW-Madison.
"We want the discussion to move from one focused on problems and deficit challenges to one that is solution-oriented," Jackson said in an interview. "We are very aware of the challenges in federal initiatives drilling all the way down to the classroom."
The report, released this week, cites 2013 U.S. Department of Education statistics showing the black boys scored lower than white, Hispanic, Asian or Native American boys in reading and math proficiency exams.
Only 12 percent of black boys in 8th grade were proficient in reading, for example, and 13 percent of black boys in 8th grade were proficient in mathematics, according to the National Assessment of Educational Progress.
The disparities persist into college, where only 33 percent of black males earn a bachelor's degree in six years, compared to 45 percent of Latino males, 57 percent of white males, and 64 percent of Asian male students, according to 2012 Department of Education statistics.
WEI Lab's partners on the report are the Center for the Study of Race and Equity in Education (University of Pennsylvania), the Minority Male Community College Collaborative (San Diego State University), Morehouse Research Institute (Morehouse College), Project MALES and the Texas Education Consortium for Male Students of Color (University of Texas at Austin), Todd Anthony Bell National Resource Center on the African American Male (Ohio State University), and UCLA Black Male Institute (University of California, Los Angeles).
The report brings to policy discussions the voice of researchers whose work shows great promise for better education outcomes for black boys and men, Jackson said. "The policymakers and those carrying out research are not always in the same room or even talking to each other," he said.
Tyrone Howard, director of the UCLA Black Male Institute, said that the significance of the collaboration "cannot be overstated. At a time when the value of the lives of young boys of color continues to come into question, our report provides research-based interventions, responses, and solutions to vexing problems that policymakers, philanthropic organizations, and community-based institutions sorely need to take to heart," Howard said in a news release.
Among the report's 15 policy recommendations are:
1. Mandate that pre-K-12 schools and postsecondary institutions create equity plans to improve outcome disparities for boys and men of color.
2. Adopt data tracking systems to identify pre-K-12 schools with disproportionately high suspension and special education placement rates and low participation in gifted education and other accelerated education programs
3. Focus on increasing men of color as teachers, principals and school counselors.
4. Implement sustained professional development structures to better train educators (teachers, school counselors, and administrators) to effectively work with boys of color.
5. Require all postsecondary institutions to implement an institutional-level, early alert system to identify students in need of support interventions.
There are not many school districts in the country meeting the standards met in the report, Jackson said. But the Madison Metropolitan School District has adopted a new discipline code aimed at reducing suspensions and is taking steps to hire a more diverse educational staff. "Madison is in a position to respond to the challenges," Jackson said.
UW-Madison's new diversity plan calls for establishing an "early warning system" for struggling students. The campus also has several pipeline programs intended to recruit and support black male students, among other underrepresented groups. Now it's necessary to evaluate the success of such programs, Jackson said.
"UW-Madison has spent a great deal of effort to put infrastructure in place to address these challenges, but has a little more work to do in being able to show these efforts have materialized in significant change," Jackson said. An external evaluation of the PEOPLE Program, for example, is now underway, he said.
The coalition of educational research labs has occurred organically, Jackson said. The WEI Lab offers the group research that looks at how males of color fare as professionals after completing their education, he said.
How influential the group's report will prove to be is difficult to say, Jackson said. "We feel that as the nation is building momentum around capturing talents and resources to be competitive globally, there is great value in assuring that the no group is lost in the equation."