Tom Solberg is not a scientist.
But that doesn't stop him and about two dozen others from spending a late August Friday night at the Wisconsin Institutes for Discovery on the UW-Madison campus interacting with the science behind IceCube, a $271 million telescope constructed deep in Antarctic ice to detect elusive cosmic particles called neutrinos.
"I'd rather learn about science directly from the people who are doing the work than reading, watching You Tube or something like that," Solberg, a retired policy analyst with the state, says. "I enjoyed the opportunity to get not only a sense of what the science is, but also what some of the physical challenges are to make science happen — what it takes to do this kind of work."
Ranging in age from 20s to 60s, Solberg and the other attendees at the "DIY Science" session — billed as "Science… all grown up" — test the ice-drilling properties of ordinary water and step into a "cave" that simulates the flashes of neutrinos as they pass through IceCube, deep beneath the South Pole. The program providing an introduction to the National Science Foundation-funded project got good reviews from attendees for both its educational and entertainment value.
Brian King of Madison, semi-retired from a career in marketing, says the program is "a cool thing to do on a Friday night." He is pleased at the chance to get a glimpse of what's happening on the UW-Madison campus that might affect his daily life.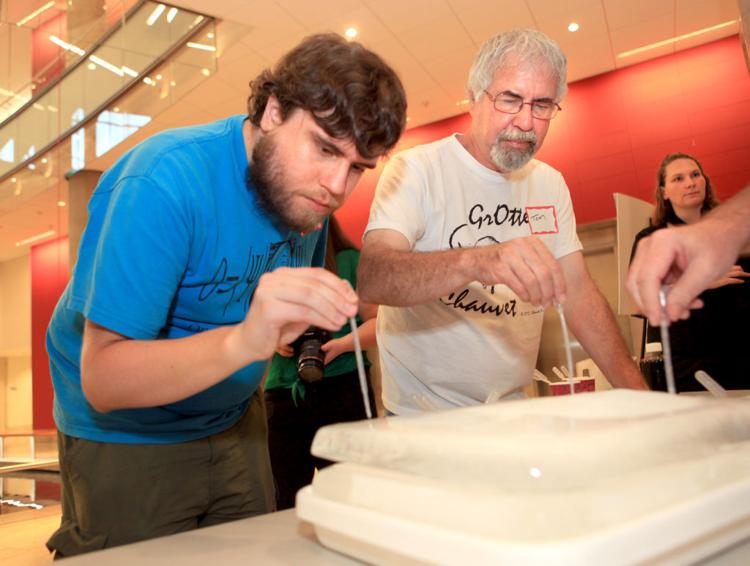 "When we do 'big science,' it's not just for the geeks of the world to look for cool stuff," King says. "We don't think enough about the practical results of research and development — where did integrated circuits come from? How about lasers? Who knows what will result from this in terms of practical applications? And from an entertainment perspective, the cave environment was fantastic!"
DIY Science is just one of an array of programs at UW-Madison designed to inform the public about scientific research on campus. Roughly 375 academic staff members work in science outreach, which helps fulfill the Wisconsin Idea, UW-Madison's guiding principle to share the university's resources to improve the lives of state citizens.
The university's scientific outreach efforts also play a role in its goals of remaining competitive in winning research-sustaining grants and of creating a more diverse scientific community.
Marsha Mailick, interim vice chancellor for Research and Graduate Education, puts it this way: "Science outreach is a fundamental underpinning of the Wisconsin Idea and a hallmark of the UW-Madison. It puts breakthrough research in the hands of Wisconsin citizens so that they can imagine and access new ideas, technology, and products to improve the quality of life of the residents of our state and beyond. That has been our tremendous tradition, and is a part of our compact with the citizens of Wisconsin."
Science research is a big part of UW-Madison's mission. The campus recorded $1.16 billion in research expenditures in 2012, the third highest among research universities in the nation, after Stanford and University of Michigan, Ann Arbor. Federal research awards to the campus were $535.7 million in 2012-13, with $252.5 million from the Department of Health and Human Services, $93.1 million from the National Science Foundation and $74.4 million from the Department of Energy. An additional $314.8 million in research funding came from private sources, including the UW Foundation.
Academic staff members participating in outreach are largely paid from those research grants, says Kevin Niemi, director of the newly formed Wisconsin Institute for Science Education and Community Engagement, or WISCIENCE. In addition, Niemi says, an integral part of the job for all faculty members is "public service" functions related to their work. Faculty public service work was valued at $183 million in 2010-2011, the last year for which figures are available.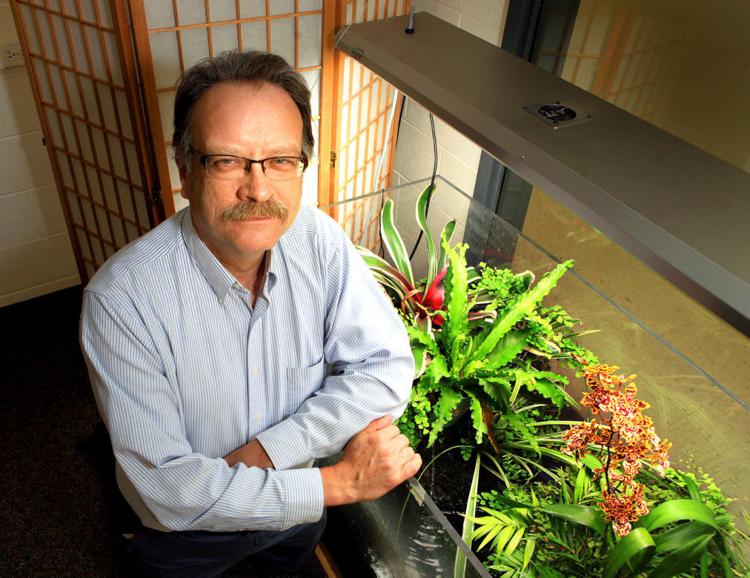 Outreach is a priority for federal funding agencies, Niemi says. NSF, for example, recently launched BIONIC, a $500,000, five-year initiative involving six universities – including UW-Madison – to encourage education and outreach efforts that communicate the value of taxpayers' investment in federal scientific research.
Bassam Shakhashiri, the chemistry professor whose popular holiday season shows over four decades make him probably the best known science ambassador on the UW-Madison campus, says public engagement is important to the future of science — and society.
"Just as we have professional football and hockey players and so on — and also have sports fans — we need professional scientists and we need science fans," Shakhashiri says. Just like sports fans, science fans devote time and energy to studying issues and can make judgments about what the experts are saying on important, sometimes controversial matters, he says.
It is vital to have such an educated citizenry, Shakhashiri argues.
Most big universities have large, public science venues where people are introduced to the research conducted there, says Tom Zinnen, an outreach program manager at UW-Madison's Biotechnology Center. Visit the University of California-San Diego and you'll find Birch Aquarium; at University of Colorado-Boulder, it's Fiske Planetarium and Science Center; in Ann Arbor, it's the University of Michigan Museum of Natural History.
A natural history museum was part of Science Hall, one of the UW-Madison campus' early buildings, but the specimens burned in an 1884 fire, Zinnen says. The museum was never rebuilt, although there was some talk in the late 1990s about converting the dairy barn on Linden Drive into a public science venue, he says. A decade later, attention turned to constructing a new facility on campus and in 2010, the Institutes for Discovery opened at 330 N. Orchard St.
A joint project of the privately funded Morgridge Institute for Research and the publicly funded Wisconsin Institute for Discovery, the building now known simply as "Discovery" is designed to foster innovation and cross-fertilization among scientists working at UW. Its ground-floor Town Center, with science programs like DIY Science, Science Cafes, Saturday Science at Discovery and the Wisconsin Science Festival, is the campus' largest public science venue, Zinnen says.
And while Town Center is at the heart of science outreach, the scientific work that campus visitors can see and interact with is not limited to Discovery. The university offers what Zinnen calls a "constellation" of two dozen smaller science venues on campus and beyond, including the Geology Museum on Dayton Street, Babcock Hall Dairy Plant and Store on Linden Drive and the Space Place on South Park Street.
A map of those venues leads campus visitors on a self-guided tour of the more accessible sites and allows groups to enjoy customized field trips with, for example, visits of a few facilities, Zinnen says.
"That's remarkable infrastructure," says Zinnen. "To synergize these science venues is a hugely intelligent thing to do."
Publicizing science research at UW-Madison is fundamental to its mission of educating and engaging the public, says Zinnen, who remarks that the university has been doing it for a century through its cooperative extension program and agricultural research stations.
But science outreach is also in the university's best interest, he says, particularly when dealing with politicians who are critical of UW funding or public spending on scientific research.
"If we don't do it, how much traction are we going to have in the Legislature and in Congress?" he asks.
And UW-Madison is considered a good model for how to engage scientists with the public, says Niemi. That's one reason the campus was selected along with five other universities to be part of NSF's new BIONIC community of outreach innovators, he says.
"BIONIC is a way to share best practice with others across the country," Niemi says, adding that a summit on the universities' efforts to help scientists convey the importance of their research to society is scheduled for April at UW-Madison.
Many campuses have offices that oversee broader impact programs for scientific research. At UW-Madison, science outreach had been organized through the Science Alliance, a loose network of some 90 outreach programs. But with formation of WISCIENCE, which emerged from what Niemi says is a 20-year evolution of the former Center for Biology Education, "we'll be making decentralized efforts by coordinating – not mandating – activities," Niemi says.
The mission and activities of WISCIENCE are still developing, Niemi says. But the institute's work will be one prong of a renewed emphasis on recruiting underrepresented groups to science, technology, engineering and math programs — or STEM — that Chancellor Rebecca Blank pledged at a White House summit of college presidents in January.
"If you don't know what scientists do in the fourth grade, you're not going to become a scientist," Niemi says. So part of his charge is to expand pre-college programming with the assistance of a number of partners.
Federal agencies that use public funds to support research at universities also are under pressure to get the word out on how they are spending the money, Niemi says.
"They're getting pushback on some of funding decisions and areas of emphasis in research, so they are having to more clearly articulate the value of scientific research to Congress and the public," he says.
Establishing relevance includes explaining to Congress and other stakeholders what NSF is about, but also extends to the "sacred trust that every generation makes to those of the next generation that we will build on the body of knowledge we inherit and continue to push forward the frontiers of science," Cordova said.
One frustration is that "not enough of our fellow citizens understand how relevant the research we've conducted is to their daily lives," she said.
The changing political climate around scientific research is leading to greater enforcement of the "broader impact" aspect of federally-funded scientific research, Niemi says.
NSF rules call for grant proposals to be analyzed equally on the intellectual merit and broader impact potential of the research project, says Cora Marrett, a professor emerita at UW-Madison and recently retired deputy director at the federal agency.
The broader impact – or influence beyond the research community – can include practical applications or how the research addresses matters of fundamental curiosity, Marrett says. But it often means outreach of some kind.
"A lot of the programs through which people try to address broader impact are targeted to the formal education system, informal education or to the general public in trying to more generally address 'science literacy.' That's probably the way 'outreach' has most often manifested," Marrett says.
There is a growing emphasis on evaluation and assessment of all broader impact functions, she says.
Niemi says that in his national work with outreach organizers, he has heard from scientists who resist making outreach efforts around their work.
"They say, 'Just give me the money to do my science,'" Niemi says. "They don't want to be bothered trying to justify their research to the public."
But UW-Madison is known for its outreach to school populations and adults.
"That makes sense," Marrett says. "Given the university's long tradition of the Wisconsin Idea, it's not as alien as it is in some places."
Some researchers may have difficulty developing outreach functions around their work, but UW-Madison's many centers of science education help overcome that.
"We work with them to help them explain their research in a way that is effective and engaging to people," Gillian-Daniel says. "So people walk away saying 'I really do care that you are making coatings for extended-release medicine. Even if it takes a long time, we want you to work on that.'"
People are hungry for science information, Gillian-Daniel says.
"We're at a high point in interest," she says. "You can't be ignorant of science at this point – there are too many decisions to make about technology, the environment, even about the medications we take. People just need to know. And kids like science because its very nature involves discovering things, touching things and exploring things. That's sort of what kids do all the time."
It's both exciting and a little scary to be educating the future generation, she says.
"We're educating these kids and we have no idea what they're going to need," she says. "How do you train someone for a job you don't know is going to exist?
"So we have to teach people to be thinkers and understand information. We try to get people to think about what science means to them. A lot of times, people think they need to go along with science and technology, but that's not true," Gillian-Daniel says.
There are bigger stakes in furthering scientific understanding among the public, she points out.
"I feel we're really at a precipice now, especially with climate change," says Gillian-Daniel. "In 50 years, our generation is going to be known as the people who really made an effort to make things better, or just let 'this' happen. I don't know what 'this' is going to be – but we will be the ones who let it happen."
Shakhashiri, too, believes that a broad understanding of what science can and cannot accomplish is important for the well-being of society.
His philosophy is spelled out in the mission statement of the Wisconsin Initiative for Science Literacy, which he founded.
"Science literacy enlightens and enables people to make informed choices, to be skeptical and to reject shams, quackery, unproven conjecture and to avoid being bamboozled into making foolish decisions where matters of science and technology are concerned. Science literacy is for everyone – chemists, artists, humanists, all professionals, the general public, youth and adults alike," it reads.
There's a lot at stake in some areas of science, Shakhashiri says.
"Between now and the time I die, If I do not succeed in having an intelligent conversation with my neighbors about evolution, I will be very disappointed," he says. "If I do not succeed in having an intelligent conversation about climate change, the consequences can be catastrophic and beyond belief."
Shakhashiri would like to see more faculty members directly involved with public engagement over scientific research and related public policy issues, he says.
"Part of their obligation is to share what science is and what it does to advance the human condition," he says. "That's the goal. How to go about it is the challenge."